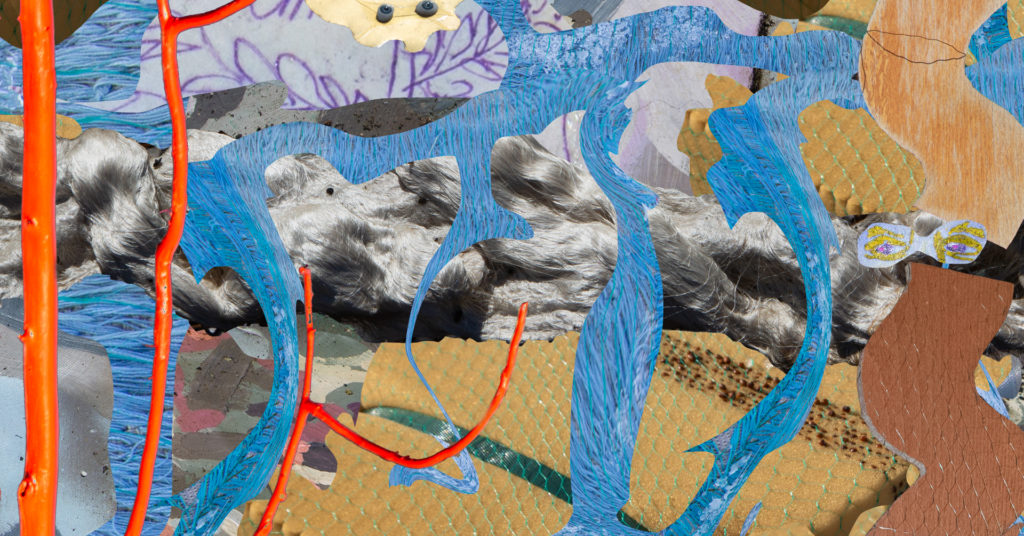 FIN
Avajaiset torstaina 9.12.2021 klo 18–20
Tapahtuma lauantaina 11.12.2021 klo 15–16
Weathering on vuonna 2019 alkunsa saanut pitkäkestoinen näyttelyprojekti, jossa kokeillaan erilaisia tapoja jäljittää aikaa, vastata tuntemattomaan sekä tunnistaa muutos. Projektia ohjaavat kuraattori Katie Lenanton ja taiteilija Bogna Wiśniewska, ja se muotoutuu vuoropuhelussa taiteilijoiden Josephine Baan, Bebetton (Eeva Rönkä & Jani Purhonen), Biitsi (Kaino Wennerstrand & Heidi Wennerstrand), Océane Bruel, Jessie Bullivant, Teelah George, Gian Manik ja Minna Miettilä kanssa.
Projekti alkoi kutsulla luovuttaa erilaisista materiaaleista tehtyjä taideteoksia, kuten herkkiä piirroksia, pavuilla täytettyjä vaahtomuoviveistoksia sekä tiheitä kirjontatöitä, sään armoille. Osa teoksista asetettiin suojaan tai niistä tehtiin säänkestäviä, kun taas toiset joutuivat alttiiksi talvelle. Toiveena oli, että näyttelyyn tulevat seitsemän kuukautta Bebettonin katolla olleet teokset toisivat esiin hoidon, tuen ja hoivan merkityksen kollektiivisissa prosesseissa.
Projektin loppunäyttelyssä Titanikilla on tarjolla rajoitettu määrä ilmaisia taideteoskalentereita vuodelle 2022. Kalenterit dokumentoivat Weathering-prosessia ja jatkavat projektin rytmejä tulevalle vuodelle. Kalentereiden lisäksi esillä on Josephine Baanin, Bebettonin ja Océane Bruelin kausiluonteisia teoksia, avajaisten taidebaari, jossa on viime marraskuussa Mustarinda-residenssissä tehtyjä sieni-infuusioita, Bogna Wisniewskan kollektiivisuutta kuvaavia tekstiilejä sekä loppuosa Jessie Bullivantin teokseen "A Bad Sign", joka on ollut esillä näyttelyiden välissä Titanikin toimiston ikkunassa maaliskuusta lähtien.
Lauantaina 11.12. klo 15:00-16:00 Tervetuloa kahviviininmaistajaisiin bebettonin kanssa.
Projektin dokumentointi, yhdessä A Bad Sign -teoksen kanssa, löytyy Instagramista: @something.is.weathering.
Kiitos kaikille tahoille, jotka ovat tukeneet taidetiloja, joissa on esitetty Weatheringin aiempia vaiheita: Mustarinda Resdenssi (Hyrynsalmi), Bebettonin katto (Roihuvuori) ja SIC (Kannelmäki). Kiitos Taikelle ja SKR:lle tämän projektin tukemisesta. Kiitos Mirjami Schuppertille, Titanikin väelle ja Arte-yhteisölle vieraanvaraisuudesta ja tuesta.
Kuva: Bogna Wiśniewska, Weathering Bits, 2021. Digitaalinen kollaasi osallistuvien taiteilijoiden teoksista.
---
EN
Opening: Thursday 9 December 2021 6–8 pm
Event: Saturday 11 December 2021 3–4 pm
Weathering is a durational exhibition project that began in 2019, experimenting with different ways to trace time, respond to unknowns, and recognise change. It is guided by curator Katie Lenanton and artist Bogna Wiśniewska, and shaped in dialogue with artists Josephine Baan, Bebetton (Eeva Rönkä & Jani Purhonen), Biitsi (Kaino Wennerstrand & Heidi Wennerstrand), Océane Bruel, Jessie Bullivant, Teelah George, Gian Manik, and Minna Miettilä.
It began with an invitation to entrust the weather with artworks made of different materials, including delicate drawings, bean-studded foam sculptures, and dense embroideries. Some were protected and weather-proofed, while others endured being exposed to the winter. It was hoped that after seven months outside on Bebetton's rooftop, the resulting exhibition would articulate—through artworks—the importance of care, support, and protection within collective processes.
To conclude the project at Titanik, a limited number of free 2022 artwork-calendars will be distributed. The calendars document the Weathering process, and continue the project's rhythms into the new year. These will be presented alongside seasonal contributions by Josephine Baan, Bebetton, and Océane Bruel; an opening art bar featuring mushroom infusions made in Mustarinda Residency last November; textiles by Bogna Wisniewska capturing collectivity; and the conclusion of "A Bad Sign", by Jessie Bullivant, which has been unfolding in between exhibitions in Titanik's office window since March.
On Saturday 11.12. between 15:00-16:00, you are welcome to join a coffee wine tasting led by bebetton.
Documentation images of the weathering process—along with each episode of A Bad Sign—are archived via the Instagram account: @something.is.weathering.
Thank you to those involved in supporting the art spaces that have hosted previous phases of Weathering: Mustarinda Residency (Hyrynsalmi), Bebetton rooftop (Roihuvuori), and SIC Space (Kannelmäki). Thank you to Taike and SKR for supporting this project. Thank you to Mirjami Schuppert, all Titanik people, and the Arte community for their hospitality and support.
Image credit: Bogna Wiśniewska, Weathering Bits, 2021. Digital collage of artwork contributions from participating artists.
---
SVE
Vernissage torsdag 9.12.2021 kl. 18–20
Evenemang lördag 11.12.2021 kl. 15–16
Weathering är ett långsiktigt utställningsprojekt som inleddes år 2019 och som experimenterar med olika sätt att spåra tiden, reagera på det okända och identifiera förändring. Projektet leds av kurator Katie Lenanton och konstnären Bogna Wiśniewska, och formas i dialog med konstnärerna Josephine Baan, Bebetton (Eeva Rönkä & Jani Purhonen), Biitsi (Kaino Wennerstrand & Heidi Wennerstrand), Océane Bruel, Jessie Bullivant,Teelah George, Gian Manik och Minna Miettilä.
Projektet började med en inbjudan att låta konstverk skapade av olika material, bland annat känsliga teckningar, skumgummiskulpturer fyllda med bönor och tätt sydda broderier, utsättas för väder och vind. En del av verken fick en skyddad placering eller gjordes väderbeständiga, medan andra utsattes för vintervädret. Förhoppningen var att verken som nu bildar utställningen, efter sju månader på Bebettons tak skulle manifestera vikten av vård, stöd och omsorg i kollektiva processer.
Under projektets avslutande utställning på Titanik erbjuds ett begränsat antal kostnadsfria konstkalendrar för år 2022. Kalendrarna dokumenterar processen med Weathering och låter projektets rytmer fortsätta in på det nya året. Vid sidan av kalendrarna presenteras säsongsbetonade verk av Josephine Baan, Bebetton och Océane Bruel, under vernissagen en konstbar med svampinfusioner gjorda i november vid Mustarinda-residenset, textilier med kollektivitetstema av Bogna Wisniewska och den avslutande delen av Jessie Bullivants verk "A Bad Sign", som sedan i mars har visats i fönstret till Titaniks kontor mellan utställningarna.
På lördag 11.12. mellan 15:00-16:00 är du välkommen att delta i en kaffevinprovning ledd av bebetton.
Projektets dokumentation finns tillsammans med verket A Bad Sign på Instagram: @something.is.weathering.
Tack till alla aktörer som understött de konstutrymmen där tidigare faser av Weathering har visats: Mustarinda-residenset (Hyrynsalmi), Bebettons tak (Kasberget) och SIC (Gamlas). Tack till Taike och SKR för stöttandet av det här projektet. Tack till Mirjami Schuppert, alla på Titanik och hela Arte-gemenskapen för gästfrihet och stöd.
Foto: Bogna Wiśniewska, Weathering Bits, 2021. Digitalt collage av de deltagande konstnärernas verk.