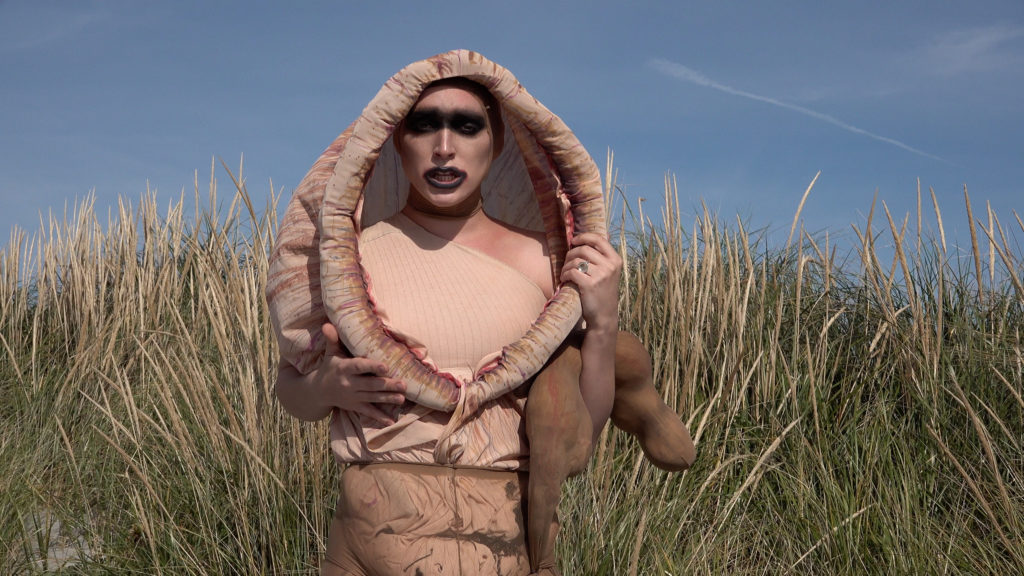 Avajaiset 4.11.2021 klo 18–20
Laura Põld
Lou Sheppard
Kohdatessamme jatkuvasti etenevän ilmastonmuutoksen – ja jo peruuttamattomasti muuttuneen ilmaston – nousee sana maailmanloppu usein huulillemme. Apokalypsi-sana tulee kreikan kielen alkuperästä kaluptein, joka merkitsee paljastumista, mikä viittaa tällaisenaan tuntemamme elämän loppumiseen. Samalla jotain muuta saattaa paljastua ja ilmentyä. Kaivostoiminta – produktiivinen toiminta, joka alistaa luonnonvarat – paljastaa syvässä, maan sisässä uinuneet mineraalit, valjastaen ne tarpeisiimme uudelleen muotoiltaviksi ja käytettäviksi. Mineraaleissa on jo oma elollinen potentiaalinsa elämän rakennusaineina. Mitä me tuotamme? Ovatko nämä luonnonvarat tehottomia vai elämän liikkeellepaneva voima maapallolla? Mitä elävää potentiaalia paljastamme niitä louhiessamme? Minkälaisia apokalypseja toteutamme?
Lou Sheppard ja Laura Põld jäljittävät mineraalien elävää potentiaalia niiden kulkiessa ekologisten ja taloudellisten verkostojen – maa-aines-, ravinto-, valuutta- ja teknokiertojen – läpi tarkkaillen fenomenologisia ominaisuuksia. Taiteilijat ovat virittäneet huomionsa ihmisen ja mineraalien liittojen sosiaalisiin ja poliittisiin vaikutuksiin. He tutkivat sitä, miltä posthumaani ja post-apokalyptinen ympäristö voisi näyttää tulevaisuudessa, ja miltä se on menneisyydessä näyttänyt.
Näyttely koostuu neljästä toisiinsa kytkeytyvästä teoksesta, jotka ovat tutkimuksellisen yhteistyön tulos karanteeniajalta Kanadasta ja Itävallasta/Virosta. Põldin eläväiset esineet kutsuvat vierailijan humisevaan, elinvoimaiseen maisemaan, jonka läpäisevät poliittiset, taloudelliset ja maataloudelliset motiivit. Sheppardin kolmikanavainen videoteos ympäröi nämä esineet posthumanistisilla drag-artisteilla, jotka kuvittelevat ja pohtivat apokalyptistä nykyisyyttään.
Laura Põldin teokset käsittelevät alueen ja paikan subjektiivista kokemusta. Hänen työhönsä kuuluu erilaisten materiaalisten kokonaisuuksien ja voimien välisten suhteiden todentaminen ja niihin osallistuminen. Hänen installaationsa muodostuvat paikkasidonnaisina kokonaisuuksina tekstiilin, langan, maa-aineksen, keramiikan, saven, ja joskus myös syötävän aineksen ja kasvien kanssa. Põld on opiskellut keramiikkaa Viron taideakatemiassa, maalausta Tarton yliopistossa sekä kuvanveistoa ja keramiikkaa Linzin taide- ja muotoiluyliopistossa. Vuodesta 2010 lähtien Põld on työskennellyt vapaana taiteilijana ja osallistunut lukuisiin näyttelyihin ja residensseihin eri puolilla maailmaa. Põld vastaanotti Köler-pääpalkinnon vuonna 2016, Viron kulttuurisäätiön kuvataiteen ja soveltavan taiteen alan pääpalkinnon vuonna 2018 ja Claus Michaletz Preisin vuonna 2021. Laura Põld asuu ja työskentelee Tallinnassa ja Wienissä.
Lou Sheppard on kanadalainen taiteilija, joka työskentelee monialaisen ääni-, performanssi- ja installaatiopohjaisentaiteen parissa. Lou valmistui NSCAD:stä vuonna 2006 ja Mount Saint Vincentin yliopistosta vuonna 2013. Hän on pitänyt näyttelyitä ja osallistunut residensseihin eri puolilla Kanadaa, sekä Euroopassa ja Yhdysvalloissa. Sheppard sai Emerging Atlantic Artist Award -palkinnon vuonna 2017, ja hän on ollut ehdolla Sobey Art Award -palkinnon saajaksi vuosina 2018, 2020 ja 2021. Loun teoksissa kiinnitetään queer-huomiota merkityksenannon järjestelmiin ja siihen, miten nämä järjestelmät rakentavat ja järjestävät kehojamme ja ympäristöjämme. Hän toteuttaa tutkimuksensa ja fenomenologiset navigointinsa usein muiden taiteilijoiden ja esiintyjien kanssa esitettävinä partituureina, joiden kautta merkitään muistiin sitä, miten järjestelmät välittävät kokemuksiamme ja kysyvät, miten voisimme kokea toisin. Lou asuu Mi'kmaqien perinteisellä ja virallisesti tunnustamattomalla alueella Mi'kma'kin/Nova Scotian osavaltiossa.
Näyttelyä ovat tukeneet Kanadan kulttuuriministeriö, Viron kulttuuriministeriö ja Cultural Endowment of Estonia.
---
EN
Walking Talking Minerals
5–28 November 2021
Opening 4 Nov 2021, 6–8 pm
Laura Põld
Lou Sheppard
As we face an increasingly and irrevocably changed climate, the word apocalypse is frequently on our lips. Apocalypse comes from the Greek root kaluptein: to uncover, which suggests that in the destruction of life as we know it something else may be uncovered and revealed. Mining – the generative action of our extractivist economy – uncovers minerals from their deep underground sleep to be recombined and reworked for our purposes. As the building blocks of life minerals contain their own animate potential. What are we extracting? Are these resources inert matter or the driving force of life on earth? When we mine them what lively potential are we uncovering? What apocalypses are we enacting?
Lou Sheppard and Laura Põld trace the animate potentials of minerals as they cycle through ecologic and economic networks – rock cycles, food cycles, currency cycles, techno cycles — attending to their phenomenological matterings. Attuning to the social and political repercussions of human-mineral alliances both artists explore what a post-human, post-apocalyptic environment might look like in the future, and has looked like in the past.
The exhibition consists of four interconnected works which resulted from a period of collaborative research performed in quarantine between Canada and Austria/Estonia. Põld's lively objects invite visitors into a humming vibrant landscape, scored by political, economic and agricultural desire. Sheppard's three channel video work surrounds these objects with post-human drag performers who imagine and reflect on their apocalyptic present.
Laura Põld's work deals with the situated and subjective sense of territory and place. Her work includes witnessing and participating in engagements between various material bodies and forces. Her installations grow as site-specific co-evolutions of textile, thread, soil, ceramics, clay, sometimes edible matter and plants. Põld studied ceramics at the Estonian Academy of Arts, painting at the University of Tartu and sculptural conceptions and ceramics at the University of Art and Design Linz. Since 2010, Põld has been working as a freelance artist and has participated in numerous exhibitions and residencies all over the world. Põld received the grand prix of the Köler Prize in 2016, the main award in the field of visual and applied arts of the Cultural Endowment of Estonia for 2018 and the Claus Michaletz Preis in 2021. Laura Põld lives and works in Tallinn and Vienna.
Lou Sheppard is a Canadian artist working in an interdisciplinary audio, performance and installation based practice. Lou graduated from NSCAD in 2006, and then Mount Saint Vincent University in 2013. He has exhibited work and participated in residencies throughout Canada, in Europe and in the US. Sheppard received the Emerging Atlantic Artist Award in 2017 and has been long listed for the Sobey Art Award in 2018, 2020 and 2021. Lou's work pays queer attention to systems of meaning-making and how these systems construct and order our bodies and environments. His research and phenomenological navigations are presented as scores, often performed with other artists and citizen performers, which notate how these systems mediate our experiences and question how we might experience differently. Lou lives on the traditional and unceded territory of the Mi'kmaq, in Mi'kma'ki/Nova Scotia.
The exhibition is supported by Canada Council for the Arts, Cultural Endowment of Estonia and Republic of Estonia – Ministry of Culture.