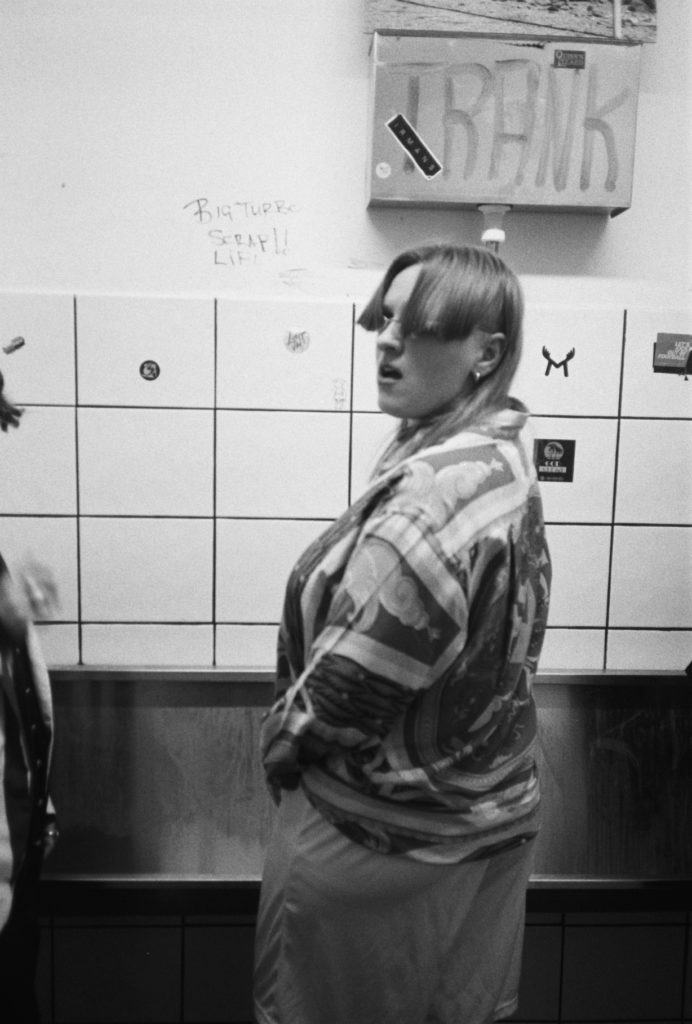 Titanik A.i.R. | Sasha Wilde | Sketches on surviving a satanic panic | Performance on Sunday 22 May at 3 pm
FIN
Jokin synkkä varjostaa maailmaa ja pyrkii manifestoitumaan.
Sasha Wilde ammentaa esityksessään kokemuksestaan, jossa hän joutui satanistisen paniikin kohteeksi. Tapahtuneeseen liittyi koulun opettajiston kuulemisia, mediahuomiota sekä poliisikuulusteluja. Sasha esittää ääni- ja tekstiluonnoksia, jotka käsittelevät yhteisön tuottamasta väkivallasta selviytymistä ja sen seuraamuksia.
Hän käyttää säveltäjän ja elektronisen musiikin tuottajan osaamistaan pohtiakseen trauman varastoitumista kehoon. Syvällä kielen ulottumattomissa oleva sisäinen kauhu ilmentyy irrallisten äänimaisemien ja Sashan nelioktaavisen laulun kautta. Huomaamaton, eleisiin perustuva teknologia manipuloi ääntä reaaliajassa, korostaen esityksen outoa ja maagista tunnelmaa. Esiin pulpahtavat tekstinpätkät kontekstualisoivat ja toivottavasti myös naurattavat hieman – kuten kohta, jossa Sasha muistelee erästä opettajaa, joka ilmaantui kouluun valkosipuliköynnöksin varustautuneena suojautuakseen häneltä.

Sasha ja esitystila pukeutuvat tilaisuutta varten. Esityksen visuaalisen ilmeen hän toteuttaa yhteistyössä puku- ja lavastussuunnittelija Izzi Valentinen kanssa.
Sisältövaroitus: maininta itsemurhasta

Sasha Wilde on liettualainen ääni- ja performanssitaiteilija, laulaja ja kirjoittaja, joka työskentelee ja asuu Lontoossa. Hän (they/them) on residenssitaiteilijana SODAS2123:ssa Vilnassa, Liettuassa, jossa hän jakaa studion muiden diasporassa elävien taiteilijoiden kanssa. Sasha on brittiläisen Working Class Creatives Databasen jäsen Yhdistyneissä kuningaskunnissa. Lisäksi Sasha on toinen jäsen dark pop duo KERAIsta. He käyttävät live-esiintymisissään mielellään eleiden tunnistukseen perustuvaa teknologiaa, kuten Mi.MU-hanskoja.

Sashan monipuolinen praktiikka tutkii siirtolaisuuteen, diasporaan, kieleen, sukupuoleen ja moraaliseen paniikkiin liittyviä teemoja. Hänen nykyinen tutkimuksensa käsittelee ääntä, tekstiä ja videota välineenä, sekä psykososiaalista lähestymistapaa yhtenä metodologiana tutkimuksen tekemisessä. Tutkimus perustuu suoraan Sashan kokemukseen kasvamisesta liettualaisessa pikkukaupungissa sukupuolinormeja vastaamattomana henkilönä. Hän joutui syytetyksi noituudesta ja satanismista, minkä seurauksena paikalliset tiedotusvälineet, oppilaitokset ja poliisi ottivat hänet kohteekseen.

Taiteilijoiden välinen yhteistyö on keskeinen osa Sashan praktiikkaa. Hän on työskennellyt puvustuksen parissa yhdessä vaatesuunnittelijoiden Jackie Prattin ja Izzi Valentinen kanssa. Pariisin Centre Pompidoun IRCAMille hän on suunnitellut kokeellisen ja kehollisen äänitaiteen esityksen yhdessä Nicole Bettencourt Coelhon (äänitaiteilija, parantaja) ja Yuki Nakayaman (ääniteknikko, muusikko) kanssa. Lisäksi Sasha työskentelee parhaillaan Bergenissä, Norjassa toimivan 71Bodies-tanssiteatteriryhmän kanssa. Hän on osa Jenny Mooren johtamaa kuoroa, joka auttaa suunnittelemaan live-ääniraitaa Daniel Mariblancan tulevalle näytelmälle.
---
EN
Something dark haunts the world and seeks to manifest itself.

Drawing on their experience of becoming the target of a satanic panic that involved questioning by teacher committees, media attention and police interrogations, Sasha Wilde will present aural, as well as textual sketches that deal with the consequences of surviving such community violence.
Thinking through how trauma is stored in the body, Sasha uses their experience as a composer and an electronic music producer to create loose scores, and letting their 4-octave singing voice plumb the depths of visceral horror that is beyond language. Hidden gestural technologies manipulate Sasha's voice in real time, adding to the uncanny and magical feeling. Snippets of text come in here and there to contextualise and hopefully also make you laugh a little (like when Sasha reminisces of one teacher who came to school wearing a garlic garland for protection).
Collaborating with costume and set designer Izzi Valentine, both the space and Sasha will be dressed for the occasion.
Content note: mention of suicide
Sasha Wilde is a Lithuanian sound and performance artist, vocalist and writer working and living in London. They are a resident artist at SODAS2123 in Vilnius, Lithuania, sharing a studio with other diaspora artists. Sasha is a member of the Working Class Creatives Database in the UK. They are also one half of a dark pop duo KERAI. They like to employ gestural technologies, such as Mi.MU gloves in their live shows.

Sasha's varied practice explores themes of migration, diaspora, language, gender and moral panics. Their current research spans sound, text and video as mediums; and psychosocial studies as one of methodologies in conducting research. This research is directly informed by their lived experience of growing up as a gender nonconforming person in a small town in Lithuania, and being accused of witchcraft and satanism, and consequently being targeted by local media, educational institutions and the police.

Artist collaboration is core to Sasha's practice. Most recently they worked with designers Jackie Pratt and Izzi Valentine on costume for performance; sound artist and healer Nicole Bettencourt Coelho and audio engineer and musician Yuki Nakayama in devising an experimental embodied sound practice showcase for IRCAM, Centre Pompidou in Paris. They are also currently working with a dance theatre company 71Bodies in Bergen, Norway, as part of a choir, led by Jenny Moore, helping devise a live soundtrack for an upcoming play by Daniel Mariblanca.
Lisätietoa | More info: https://sashawilde.com