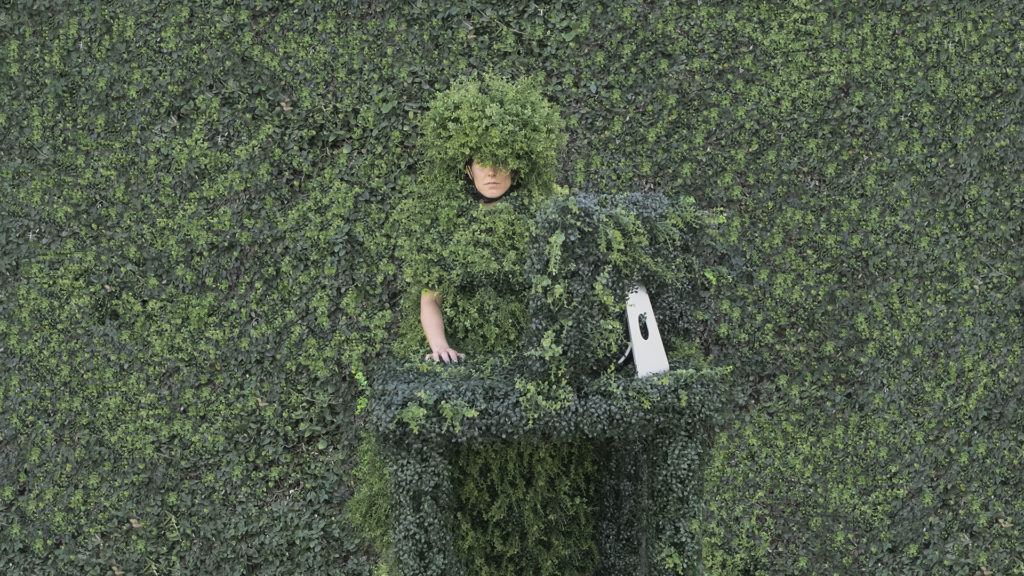 FIN
Nina Sarnelle (she/they) on Tongva-maalla Kaliforniassa asuva taiteilija ja muusikko. Hänen projektinsa pyrkivät sovittamaan voimakkaita abstrakteja järjestelmiä (joukkosukupuutto, fossiilisten polttoaineiden louhinta, valkoinen ylivalta, teknokolonialismi) yhteen arkielämän arkipäiväisimpien asioiden kanssa (amazon-arvostelut, pikkukoirakulttuuri, litistynyt pizzan kuori kadulla). Tämä tekee projekteista leikkisiä ja outoja. Mutta käytäntö tarjoaa myös menetelmän, jonka avulla on mahdollista viettää aikaa ylivoimaisen suurilta tuntuvien ongelmien kanssa – tai jopa pilkkoa niitä. Tarkoituksena ei ole tarjota varmoja ratkaisuja, vaan pikemminkin navigoida syvän epävarmuuden maisemissa, joita rikkovat raivon, ahdistuksen ja huumorin kuopat.
Titanikissa Nina työstää uutta Mouth Noise -nimistä esitystä, viimeistelee videoita sekä harjoittelee ja sovittaa musiikkia esitystä varten. Lisäksi hän käsittelee ja sulattelee kahden kiireisen ja yhteistyötä täynnä olleen kuukauden aikana syntynyttä tutkimusta Touch Praxis, joka on Selwa Sweidanin kanssa toteutettu kosketusta aikapohjaisena välineenä ja kollektiivisena tietojärjestelmänä tutkiva projekti.
ENG
Nina Sarnelle (she/they) is an artist & musician based on Tongva land in California.  Their projects attempt to reconcile powerful abstract systems (mass extinction, fossil fuel extraction, white supremacy, techno-colonialism) with the most mundane parts of everyday life (amazon reviews, small dog culture, a flattened pizza crust in the street). This is what makes them playful and strange. But this practice also offers a method for sitting with—or even chipping away at—problems that feel overwhelmingly large. The aim is not to propose definitive solutions, but rather to navigate landscapes of deep uncertainty, punctuated by potholes of rage, anxiety and humor.
At Titanik, Nina will be working on a new performance called Mouth Noise, finishing videos and rehearsing/arranging music for live performance. They will also be editing and digesting research from the last two months of busy collaboration on Touch Praxis, a project with Selwa Sweidan exploring touch as a time-based medium and collective knowledge system.