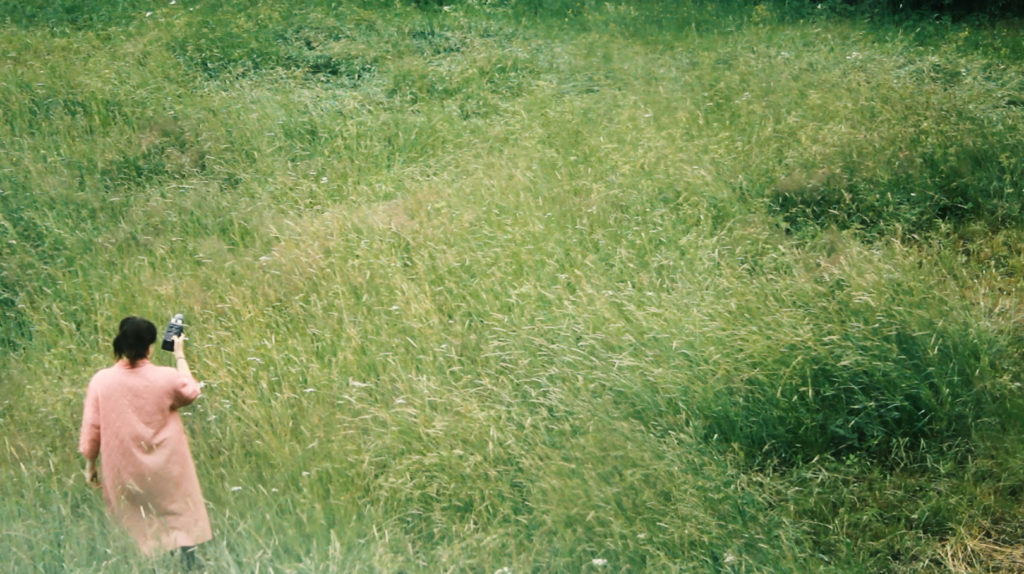 ____________________
Heta Bilaletdin: Epätäydellinen ympyrä | 29.–31.1.2021 Titanik-studio
Jotakin hajoaa ja palaa ehyeksi, hajoaa ja palaa ehyeksi, kellon viisarit vaeltavat edestakaisin. Räjähdyksessä purkautuu energiaa suurella voimalla ja nopeudella.
Kangaspuilla kutoessa hylätty materiaali järjestyy uudelleen.
Musiikin tekeminen on toisinaan samankaltaista.
Joskus luuppi tempaa mukaansa, syntyy kuoppa, aikasilmukka, hokeminen ja kokeminen, toisto ja loisto sekoittuvat.
Heta Bilaletdin on työskennellyt Titanik A.I.R. residenssissä tammikuun ajan. Epätäydellinen ympyrä on installaatio ja mixtape, joka koostuu ääni- ja kuvaluupeista, teksteistä ja tekstiileistä.
*****
"Residenssissä keskityn päättymättömien luuppien tutkimiseen,  hyödyntäen hidastettuja räjähdyksiä, tekstikatkelmia, lasten kangaspuita, nauhaa, tietokonetta, sampleria ja ihmisääntä.
Aikomuksena on myös harhailla Turussa ja kerätä paikallisia ääniä osaksi hiljalleen kasautuvaa kenttänauhakokoelmaa, jota hyödynnän, kun teen biittejä."

Heta Bilaletdin työskentelee äänen, liikkuvan kuvan, kokeellisen musiikin, esineiden ja tekstin parissa. Hän on tehnyt installaatioita, videoteoksia, kasetti- ja levyjulkaisuja, sekä esiintynyt Suomessa ja muualla Euroopassa soolona että erilaisten musiikkikokoonpanojen (Olimpia Splendid,  MYTTYS) kanssa.
Työskentelylle luonteenomaista on loitsumainen toistaminen, kadulla lojuvien esineiden ja ympäristön äänien mukaan poimiminen, kaikkeen kytkeytyvä planetaarinen pohjavire sekä teoksen kokijan puhuttelu järjen takaisilla ja runollisilla menetelmillä.
Tällä hetkellä Bilaletdin asuu Helsingissä ja viimeistelee tila-aikataiteen maisteriopintoja Kuvataideakatemiassa.
_____________________
Heta Bilaletdin: En ofullkomlig cirkel | 29–31 januari 2021 Titanik-studio
Något går sönder och sen blir intakt, går sönder och blir intakt, klockans händer vandrar fram och tillbaka. En explosion släpper ut energi med hög kraft och hastighet.
När du väver med en vävstol ordnas det kasserade materialet om.
Att skapa musik är ibland liknande.
Ibland tar slingan tag i den, en grop skapas, en tidsslinga, upprepning och upplevelse, repetition och stråla blandas.
Heta Bilaletdin har arbetat i Titanik A.I.R. residenset i januari. En ofullkomlig cirkel är en installation och mixtape som består av ljud- och bildslingor, texter och textilier.
*****
"Residensen kommer att fokusera på studien av oändliga slingor, med användning av slow motion-explosioner, textavsnitt, barnens vävstol, ljudband, en dator, en sampler och mänsklig röst.
Avsikten är också att vandra runt Åbo och samla lokala ljud som en del av en långsamt ackumulerande fältbandssamling som jag använder när jag bearbetar mina beats."

Heta Bilaletdin arbetar med ljud, rörlig bild, experimentell musik, objekt och text. Hennes verk inkluderar installationer, videoverk och musik. Hon har spelat i Finland och Europa som soloartist och med grupper (Olimpia Splendid, MYTTYS).
Hennes verk kännetecknas av besvärjande upprepning, upplockande av slumpmässiga föremål från gatan och omgivningens ljud, en heltäckande planetarisk underton och adressering den som upplever verket genom irrationella och poetiska metoder.
För tillfället bor hon i Helsingfors och avslutar sina studier på tid och rumskonst vid Bildkonstakademin.
_____________________
Heta Bilaletdin: An Imperfect Circle | January 29–31 2021 Titanik studio
Something breaks down and becomes intact, breaks down and becomes intact, the hands on the clock face wander back and forth. An explosion releases energy with high force and speed.
When weaving with looms, the discarded material rearranges.
Making music is sometimes similar.
Sometimes the loop grabs you, a pit is created, a time loop, patter and experience, repetition and splendour mix.
Heta Bilaletdin has worked in Titanik A.I.R. residency in January. An Imperfect Circle is an installation and mixtape consisting of sound and image loops, texts and textiles.
*****
"During the Titanik residency I will explore endless loops, utilizing  slo-mo explosions, fragments of text, table loom, tape, computer, sampler and human voice.
Another plan is to flaneur and collect local sounds for my slowly accumulating library of field audio, often used when I make beats."

Heta Bilaletdin works with sound, moving image, experimental music, objects and text. She has made installations, video works, music releases and performed in Finland and Europe as solo artist and with groups (Olimpia Splendid, MYTTYS).
The work is characterized by spell-like repetition, picking up random objects off the street and the sounds of the surroundings, an all-encompassing planetary undertone, and addressing the person experiencing the work through irrational and poetic methods.
At the moment she lives in Helsinki and is finishing her MA  studies in the department of time and space at the Academy of Fine Arts.