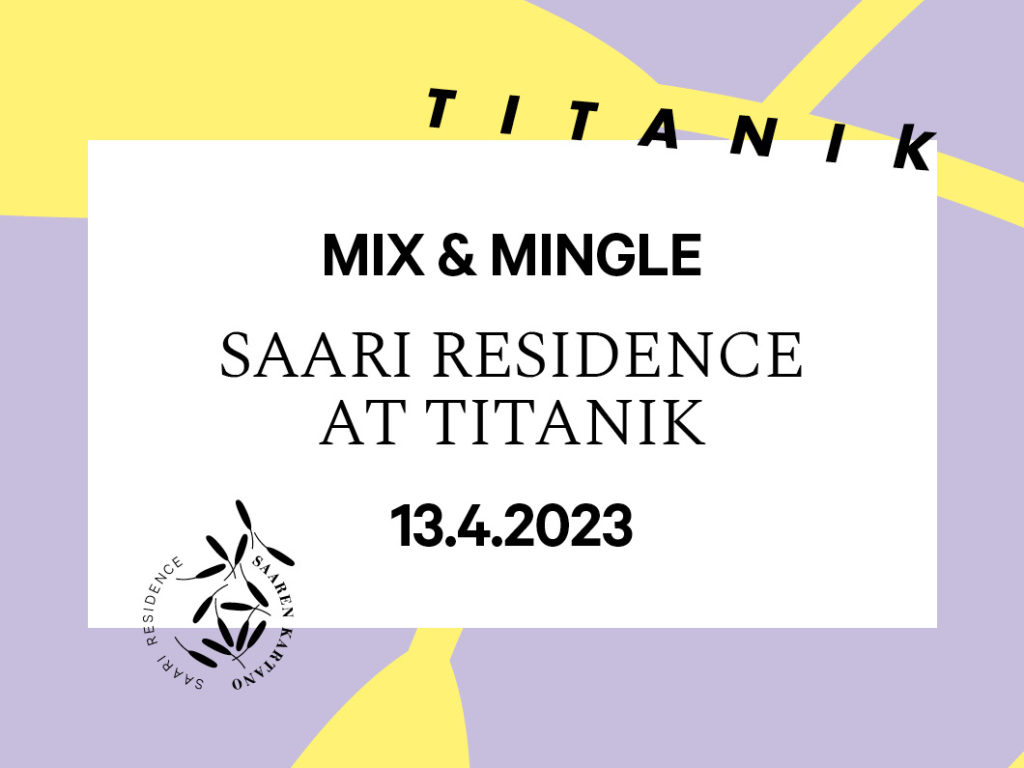 Time: 13 April 2023, 6–8 pm
Location: Titanik | Itäinen Rantakatu 8, Turku
During the evening, some of the residents from the current working period will briefly discuss their practice, after which there will be an opportunity for casual exchange of thoughts and ideas between the residents, guests and Saari and Titanik staff over a drink and some food. During the Mix and Mingle events we wish to foster open dialogue on and around the topics the residents are bringing to the table.
The event language is English. Welcome!
Participating Saari Fellows:

Shahi Derky, filmmaker and linguist (Syria / France)
I graduated with an MA in Linguistics and Arabic-English-French translation in France where I'm currently based. I also studied filmmaking at the Academy of Moving People and Images' first generation program of 2019 where I made my first short film "Leftovers". The film was selected at Tampere Film Festival's national competition and Diaspora Film Festival – Istanbul's international competition and shown in different curated events in Europe. I collaborated with two other directors, Aishe Vejdani and Uzair Amjad in a short film of three episodes curated by Elham Rahmati called "Because They Were Three, They Were Four".
An essay that I wrote about my 2014 Syrian school in Turkey experience was published in No Niin Magazine titled "Temporary Peace" in 2021. I also worked as a co-curator in the Finnish Institute in Paris as well as the French Institute in Helsinki. Currently I'm working on the next feature film and a short film project for the upcoming year. During my stay at Saari residency, I will be writing my first feature film, exploring themes of youth, change, exile and freedom. In this two-months period I would like to exchange with the other artists about their different disciplines and approaches and see where we all intersect. I tend to take into consideration the collective memory of a group of people while mixing image and language into the film medium.
Tracy Fahey, writer (Ireland)
This residency will feed into my current project, my fourth short story collection, to research, reimagine and re-establish the mythological figure of the Hag as an emblem of female power and sovereignty. Coming from Irish culture where the Hag (the cailleach) is a Great Mother, a landscape-shifter, an embodiment of the land, I want to create narratives and images that celebrate older women and their importance, and to do so through exploring mythological tales and investigating their continuing relevance in contemporary culture
This project started in 2021, inspired by residencies in Cill Rialaig, Ireland, where I began a body of creative research into the Irish cailleach (hag, crone). I was struck by how the word 'Hag' is currently used in a reductivist, and frequently misogynistic context. This project aims to reinstate this older, powerful woman as a figure of sovereignty and agency to counter issues of invisibility and disempowerment faced by perimenopausal and menopausal women in modern culture.
The intention of this project is that it is based on deep engagement with sites and history in research through writing residencies in Ireland and wider Europe, in response to sites sacred to older women in mythology. During this residency I am particularly interested not only in researching the figure of Akka in Finnish mythology, but in broadening out this scope to investigate witch culture in and the cult of Louhi. I'm also excited to engage with other artists, writers, researchers and mentors through the Saari residency—and to learn from this opportunity for engagement with Finnish culture.
Dr. Tracy Fahey is an Irish writer and academic whose work centres round ideas of the Gothic, folklore, and feminism. She has been twice shortlisted for Best Collection at the British Fantasy Awards in 2017 for The Unheimlich Manoeuvre and 2022 for I Spit Myself Out. Fahey's short fiction is published in more than thirty American, British, Australian and Irish anthologies and her work has been reviewed in the Times Literary Supplement.
Nataliya Ilchuck, artist (Ukraine / France)
Ukrainian artist working predominantly with film and video. Born in Lviv in 1985. Graduated from Le Fresnoy – Studio National des Arts Contemporains in France in 2020 after studying cinema in Kyiv and Warsaw.
Since autumn 2022, PhD candidate at CY Cergy Paris University in France, where my research-creation thesis in the form of auto-ethnography explores the constraints of an artist's liberty while attempting to establish the link between authenticity in cinema and different forms of external and internal pressure, notably those of censorship and self-censorship.
At the Saari Residence, I will work on a video project about the economic reality of a country going through the war and facing the challenges that drastically transform the Ukrainian way of dealing with finances to benefit a community rather than a single one individual.
During my stay in Finland, I'd like to exchange with Saari residents and visiting guests on the subject of trust towards the government and feeling of security in the future and elaborate on different approaches towards spending resources.
Vappu Kannas, writer and literary scholar (Finland)
I am at the Saari Residence to write my fourth novel. Its working title is "Pomology", and it will be a historical novel based in 19th-century Finland. My subject is the history of fruit cultivation and tree nursery, which I mostly explore from the perspective of different varieties of apple. This is an experimental project, and my goal is to write not about human destinies but other living things, such as plants, fruits and orchards. I am spending my residency researching the topic and writing the first draft of my manuscript. This project is a departure from my usual style, as my two previous historical novels, which form a loose trilogy with this new one, are based on real historical characters and explore human relationships and emotions. My goal with this new manuscript is to shift focus from people to the world of plants.'
Vappu Kannas (born in 1984) is a writer and literary scholar. She has a PhD and wrote her doctoral dissertation on the journals of L.M. Montgomery. Kannas's first publication was a collection of poems, called Morsian ('The Bride'), in 2018. She has also published two novels: Rosa Clay in 2020 and Kirjeitä Japaniin ('Letters to Japan') in 2021. Kannas's third novel, Kimalaisten kirja ('The Book of Bumblebees'), will be out in June 2023. Her poems, essays and short stories have been published in literary magazines in both Finland and North America. Kannas writes in Finnish and English and likes to balance on the boundaries between different genres.
Mari Keski-Korsu, artist and doctoral researcher, Aalto University, Department of Art and Media (Finland)
My artistic research focuses on empathic, interspecies ritualisations and changes in them in the era of Anthropocene. The field research has been mainly conducted in the subarctic as a part of an interdisciplinary art and science research group in the Abisko Scientific Research Station. I am focusing on the more-than-human relations, their sensorial ecologies and the condition of permafrost as an archive of knowledge. The practice based methodologies include (barefoot) walking and intuitive interspecies communication.
Currently, I am working on hydrobodily encounter of permafrost. I am juxtaposing the vulnerability of the permafrost condition and the human body in a steam bath – linking this vulnerability to steam bath healing practices of the past and today. The outcomes of the artistic research that I will be working on in the Saari residency, are experimentation of participatory performance and a related video piece called 'Walking with Permafrost Bacteria'. I will be also writing a lot along these matters.
Mari Keski-Korsu is a post-disciplinary artist who explores macro-level manifestations of the Anthropocene. Her work is based on collaborations with different kinds of communities and species and medium of expression is a hybrid combination of participatory performance, visual and live art. Her current practice for several years is focused on interspecies communication and hydrobodily care to possibly enable empathy towards whole ecosystems. She is interested in intersections in between art, activism and science from permaculturic and ecofeminist perspectives. She is a doctoral candidate to study towards Doctor of Arts degree in Aalto University's School of Arts, Design and Architecture, Department of Art and Media. Her research focuses on emphatic interspecies ritualisations in change in the Arctic. She has been an active member of Bioart Society for a decade.
research.aalto.fi/en/persons/mari-keski-korsu
Ilari Laamanen, curator (Finland / USA)
I see this residency as an opportunity to take a breather from the world and focus on myself. My creative process is about luring out something essential but latent. For me, that requires meditation, reading and research.
I write fiction and explore ideas for new projects. Solubility and the logic of water are what fascinate me at the moment. How flexible could existence be if you could abandon categorical thinking and surrender to the rhythms of nature?
I work as a curator of contemporary art. In our information-saturated culture, what matters to me the most is the ability to concentrate and explore unconventional perspectives. My projects are a vehicle for me to question and expand my perceptions of interaction.
Mairi Macleod, writer (Scotland)
During my time at Saari, I will be working on short fiction as part of the Nordic Alliance of Artists' Residencies on Climate Action (NAARCA)'s exchange programme. In particular, I will work on fiction that weaves the critical exploration of environmental issues with intersectional feminist themes. At the centre of this work will be embodiment, belonging, and human-animal relations. Writing in my native language of Scottish Gaelic, I will also explore how the survival of minority languages intersects with the survival of "wild" spaces and landscapes. One of the short stories I will write is entitled Cur Na Mara (Seasickness) and will reimagine the story of the selkie wife (a well-known folk tale in Celtic and Nordic folklore) in the contemporary context of changing coastal and marine environments.
My time at Saari will be an opportunity to encounter a new environment, develop my creative voice, and consider my place in the ever-changing world we are living in. Above all, though, it will be a chance to exchange ideas with creatives from different disciplines and backgrounds, and learn about the lived experiences of others.
Mairi Macleod (b.1996) is a writer from Glasgow, Scotland. A graduate of the University of Glasgow, she completed an undergraduate degree in Geography and a master's degree in Earth Futures. Her creative work echoes her academic interests, critically engaging with humanity's relationships with space, place, and the complex thing we call 'nature'. As a young woman writing in a minority language, she wants to contribute not just to the survival of her language, but to its blossoming and evolution in different spaces. Her work has been featured in Gaelic literary magazine Steall, and she was awarded the Young Gaelic Writer Residency at Cove Park in Scotland with whom Saari are collaborating on the NAARCA project.
Itay Marom, filmmaker, cinematographer and visual artist (Israel / Germany)
I'm a filmmaker, cinematographer and visual artist based in Tel-aviv and Berlin. During the Saari Residence, I would like to edit my second feature documentary – "Observation Diary".
The film is based on Amit Geffen's observation diaries. Amit was a young Israeli bird-watcher, who suffered from a genetic disease that kept him small framed and frail.
From a young age till his death at 21, Amit had diligently kept observation diaries in which he wrote descriptions of his birdwatching. He was reporting the location, the date, the duration, the weather and the names and numbers of the birds had identified. After every report, he added a short paragraph in which he wrote insights and feelings. Alongside the report, he used to beautifully paint the rare birds he had seen.
The film consists of a cinematographic diary I've filmed throughout an entire year, in the locations where Amit had bird-watched, on the same date and at the same hours. I'm taking inspiration from his methods and insights but observing these locations from my own perspective, with my own visual background and cinematographic experience.
Due to his illness, Amit had to develop his own method of observation, which was less mobile and stationary. He used to watch birds in the most mundane places – behind his house, on the side of roads or in the hospital's yard, where he used to pass the time between treatments.
This special meditative way, in which he could find the beauty and excitement in the most mundane places, is the core of this project and the motivation for me to explore new ways of listening and seeing.
My project deals with the way we observe and live with the natural world around us and thus I'm sure the beautiful surroundings in the Saari Manor will be an important inspiration.
Olli Tiikkainen, Master of Social Sciences, Doctoral Researcher (Finland)
'I intend to spend my residency writing the introduction and conclusion for my doctoral dissertation, which is titled "Impact governance: On the socio-technical aspects of governance in Finnish impact investing and impact bonds". The subject of my dissertation is impact investing, which is an approach to investing that aims to bring about not just financial returns but also measurable social or ecological impacts.
I find the subject both interesting in itself and societally relevant. However, what particularly fascinates me as a researcher is moving away from the specifics towards wider phenomena. The articles that make up my dissertation explore, for example, the relationship between revenue-based financing agreements that are derived from the logic of impact investing and the pursuit of sustainability transitions, as well as how and why impact investing was introduced to Finland in the 2010s. There are, however, also broader issues underlying these themes. How, to what extent and on what criteria can and should social and ecological impacts be measured? What are the potential consequences of weaving private investors and businesses more and more tightly into the fabric of the public sector and the welfare state? Does pursuing sustainability transitions have to mean sacrifices in other areas of social policy?
What I am hoping to achieve at the Saari Residence is to find peace and the time to delve into these questions in particular. The process of writing my dissertation has taken me down some unexpected paths, which I feel is necessary and which I also enjoy. At some point, however, I probably should – and in fact have to in order to finish my dissertation – start to write down my thoughts and get myself a bit more grounded again.'
I am a doctoral researcher at the University of Helsinki. My doctoral dissertation examines impact investing, combining elements of scientific research, economic sociology, sustainability science, sociology of valuation and social theory. My articles have been published in a number of scientific journals, including Environmental Innovation and Societal Transitions, Tiede & Edistys ("Science & Progress") and Alue ja Ympäristö ("Region and Environment"). In addition to putting the final touches to my dissertation, I am hoping to use my time at the Saari Residence running and listening to what the birds have to tell me.