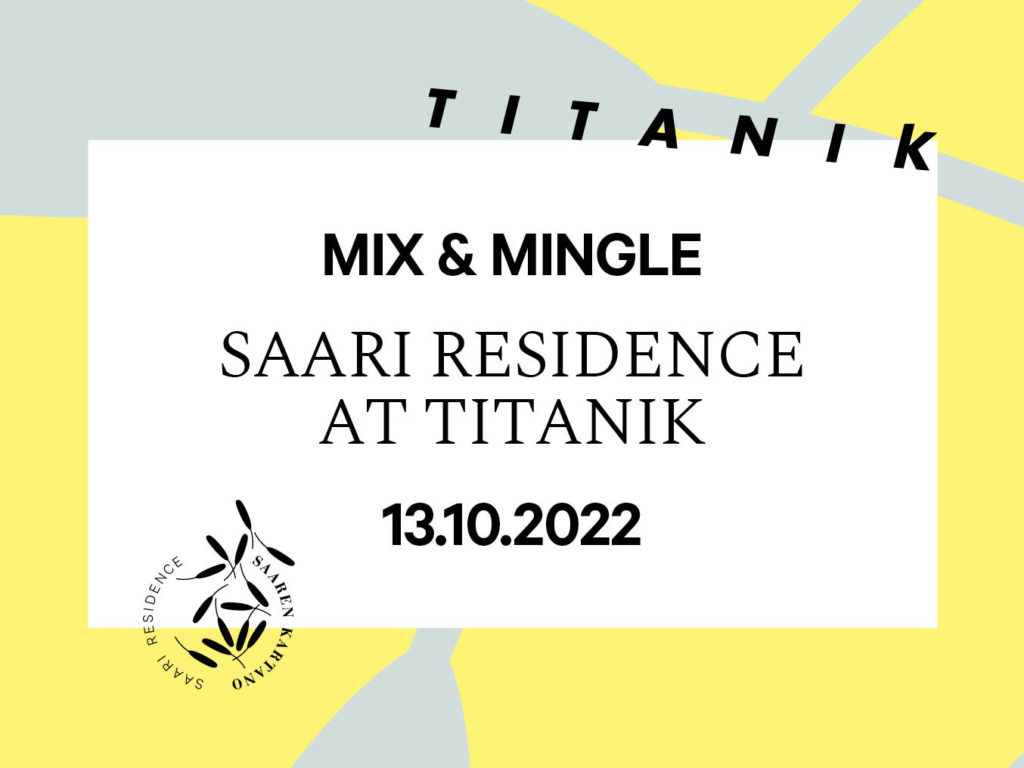 Time: 13 October 2022, 6–8 PM 
Location: Titanik | Itäinen Rantakatu 8, Turku 
During the evening, some of the residents from the current working period will briefly discuss their practice, after which there will be an opportunity for casual exchange of thoughts and ideas between the residents, guests and Saari and Titanik staff over a drink and some food. During the Mix and Mingle events we wish to foster open dialogue on and around the topics the residents are bringing to the table.
The event language is English.
 
Participating Saari Fellows: 
Kavachi (Turkey/Germany) is a visual artist. He often uses his personal experience as a point of departure to reflect on topics he engages such as migration, childhood memories, queer identities, labour and domesticity. At the Saari Residence, he is working on the text-based work "We Welcomed the Guests Together", addressing domestic activities. Who should do the household chores? For the project, He is collecting kitchen fabrics; feel free to donate old tablecloths, dishwasher towels, napkins etc.
Hugo Llanes. Artist and cultural facilitator based in Iceland. His work involves the study of social-political cracks and aesthetics that might erupt from them. He uses mediums such as maintenance art, performance, video installation, site-specific, participatory art, and extended painting. At the Saari Residence, Llanes explores the food diaspora and the political life of bread; cooking at bread as a demagogic dominative artifact and re-proposes it as an "ARTE-fact". Bread as ancient food; the loaf of bread as a mechanism of colonization and control. His research also touches upon the discourse of certain edibles in relation to extractivism, like the sugar cane industry in Veracruz State.
Niko Tii Nurmi Sipiläinen makes art and writes stuff. Niko Tii is from Tampere and lives in Helsinki. At the Saari Residence, they're developing a text-based web piece called The Scroll that is a series of interventions into the format of the electronic book. They're also currently working on a sand installation, a YouTube video about artists' occupational wellbeing and a glow-in-the-dark rock painting.
Anu Raatikainen is a multidisciplinary visual artist from Helsinki. At the Saari Residence, Anu is working on a project that approaches nature with the medium of light. The project seeks to understand whether it is possible to interact with nature in a way that is not disturbing, but respectful and even healing. The project looks for ways to create light works presented in nature.
Hanna Rajakangas is sound artist, -designer and vocalist. Her work seeks perspectives that reinforce the phenomenological effectiveness and the affective elements of the performer's voice. Also, she has been doing artistic research on the topic since August 2022 in the doctoral program of Theater Academy (Performing Arts Center Tutke, the University of Arts Helsinki).