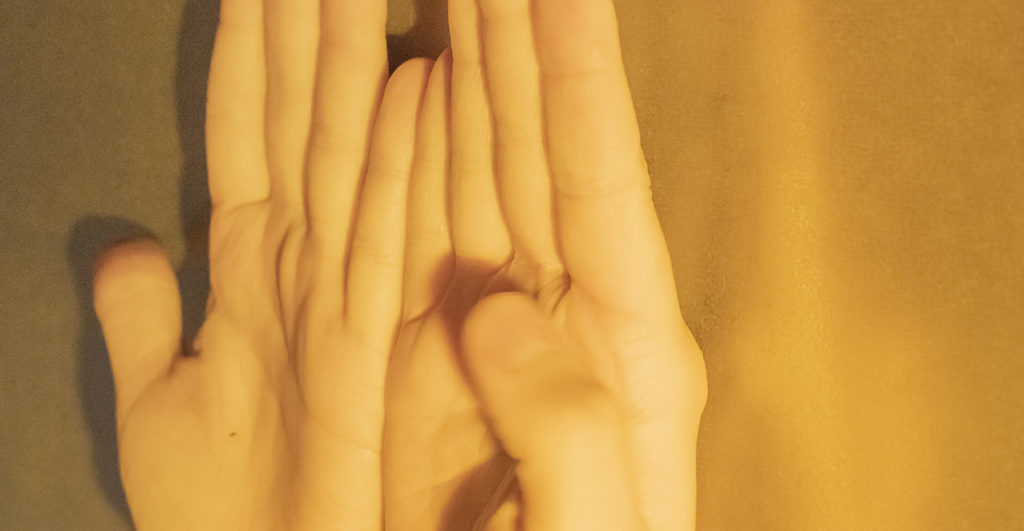 Buoyancy
suomeksi: noste, nostovoima, kelluvuus, hilpeys
Minulla on ollut eräänlainen pakkomielle sanoihin metaverse ja multiverse.
Meta on kreikan kielessä käytetty etuliite, joka tarkoittaa jotakin jälkeentulevaa tai tuonpuoleista.
Multi tulee latinan kielen sanasta multus, joka tarkoittaa paljoa tai montaa.
Ja tietenkin, latinan kielen sana versus tarkoittaa käännettä tai kääntymistä.
Tämä on tilaruno: tämä on poeettinen installaatio ja ruumiin ja kielen eleistä koostuva performanssi. Teos käsittelee ilmastokriisin ajassa elämistä käyttämällä metaforanaan ja metodinaan kellumista: ajelehtivaa lauttaa ja ajallisuuttaan ihmettelevää kehoa.
Installaatioon kuuluu tekstiprintti ja audioteos, jota kuunnellaan kuulokkeilla. Tilaan on rakennettu valoilla auringonlasku ja sen lattiaa päällystävä matto kutsuu kävelemään sekä kokemaan tilaa, lukemaan, kuuntelemaan ja olemaan.
Teoksen teksti ottaa aforistisen ja esseistisen muodon. Buoyancy käsittelee ilmastonmuutosta kriisinä, joka muuttaa ajan kokemusta ja merkityksen muodostumista: teos rakentaa elastisia kaksoissidoksia merkityksistä, jotka ovat samanaikaisesti totta ja ei-totta – kelluvia merkityksiä.
Installaatio on koettavissa
30.9.–3.10. gallerian aukioloaikoina 
Performanssi esitetään
To 30.9. klo 18
Pe 1.10. klo 18
Performanssiin on vapaa pääsy ja sen kesto on noin 40 min.
Milka Luhtaniemi (s.1992, asuu Helsingissä) on runoilija, dramaturgi ja esitystaiteilija, joka työskentelee monialaisesti kirjallisuuden, esittävän taiteen sekä kuvataiteen konteksteissa. Hän on valmistunut vuonna 2020 Teatterikorkeakoulusta dramaturgian maisteriksi. Hänen esikoisrunokokoelmansa Kirnu ilmestyi helmikuussa 2021 Gummeruksen kustantamana, ja on saanut hyvän vastaanoton. Luhtaniemi hyödyntää runoutta sekä poeettista logiikkaa ja virettä laaja-alaisesti myös esityksissä, kokeellisissa video- ja ääniteoksissa sekä installaatioissa. Hänen teoksiaan on ollut esillä Oksasenkatu 11:ssa, Forum Boxissa, Galleria Anhavassa, B-galleriassa, Exhibition Laboratoryssa, Third Space-galleriassa sekä Mad Housessa. Hän työskentelee usein työryhmissä ja erilaisissa kollektiiveissa, mutta tekee myös itsenäisesti rajateoksia kokeelliselle kentälle.
Kiitos Taiteen edistämiskeskus, Mustarindan residenssi, Esitystaiteen Keskuksen ja HIAP:in kesäresidenssi.
---
[EN]
Buoyancy
I've had an obsession with the words metaverse and multiverse.
Meta is a suffix used in Greek, meaning after or beyond.
Multi is from the Latin word multus, meaning much or many.
And of course, the Latin word versus means to turn.
This is a spatial poem: this is a poetic installation and a performance made from gestures derived from body and language. The work deals with the experience of living in the times of climate crisis, by means of using drifting as a metaphor and method: a drifting raft and a body bound by mingling temporalities.
The installation includes a text print and an audio piece which can be listened to with headphones. There is a sunset hue created by lights and a carpet covering the floor, inviting the visitor to walk and experience the space: to read, to listen and to spend time.
The text is composed of essayistic and aphoristic parts. The work deals with the climate crisis as a crisis that challenges the question of inhabiting time and having meaning: it forms double binds out of meanings that are true and untrue at the same time – buoyant meanings.
Opening dates for the installation
30 Sep – 3 Oct 
Performances will be held on
Thu 30 Sep at 6pm
Fri 1 Oct at 6pm
The performance is in Finnish, there is an English translation available in the space.
There's no entry fee. Duration of the performance is 40 minutes.
Milka Luhtaniemi (b.1992, based in Helsinki) is a poet, dramaturg and performance maker who works cross-disciplinary in the fields of literature, performing arts and visual arts. She graduated from the Theatre Academy in 2020 from MA in contemporary dramaturgy. Her debut book of poetry Kirnu ("Churn") came out in February 2021 published by Gummerus and it has been well received. Luhtaniemi utilizes poetry and poetic logic and tone in multiple different ways in performances, experimental video and sound works and installations. Her works have been shown in Oksasenkatu 11, Forum Box, Galerie Anhava, B-galleria, Exhibition Laboratory, Third Space -gallery and Mad House. She often works in collaborations and different working groups, but she also makes cross-disciplinary works for the experimental field.
Thanks to Arts Promotion Centre, Mustarinda residency, Esitystaiteen Keskus and HIAP summer residency.
---
[SVE]
Buoyancy
på svenska: flytkraft, bärkraft, flytförmåga, livlighet
Jag har varit besatt av orden metaverse och multiverse.
Meta är ett prefix som används i grekiskan och betyder något som kommer efter eller hinsides.
Multi kommer från latinets multus som betyder mycket eller många.
Och naturligtvis, det latinska ordet versus betyder en vändning eller att vända.
Detta är en rumslig dikt: detta är en poetisk installation och en performance som består av kroppens och språkets gester. Med flytandet som metafor och metod behandlar verket erfarenheten att leva i klimatkrisens tid: en drivande flotte och en kropp som förundrar sig över sin timlighet.
I installationen ingår en textutskrift och ett audioverk som man lyssnar till med hörlurar. Med hjälp av ljussättning skapas en solnedgång i utrymmet och mattan som täcker golvet inbjuder till att gå omkring och uppleva utrymmet, läsa, lyssna och vara.
Verkets text har en aforistisk och essäistisk form. Buoyancy behandlar klimatförändringen som en kris som förändrar upplevelsen av tid och av hur betydelser bildas: verket skapar elastiska dubbelbindningar mellan betydelser som samtidigt är sanna och icke-sanna – flytande betydelser.
Installationen kan upplevas
30.9–3.10 under galleriets öppettider 
Performancen ges
To 30.9 kl. 18
Fre 1.10 kl. 18
Det är fritt inträde till performancen och den tar omkring 40 min.
Milka Luhtaniemi (f.1992, bosatt i Helsingfors) är en poet, dramaturg och performancekonstnär som arbetar multiprofessionellt inom områdena litteratur, scenkonst och bildkonst. Hon utexaminerades år 2020 som magister i dramaturgi från Teaterhögskolan. Hennes debutdiktsamling Kirnu utkom i februari 2021 på förlaget Gummerus och har fått ett gott mottagande. Även i sina föreställningar, sina experimentella video- och ljudverk och installationer använder Luhtaniemi poesi och poetisk logik och stämning på många olika sätt. Verk av henne har visats på Oksasenkatu 11, Forum Box, Galerie Anhava, B-galleria, Exhibition Laboratory, galleri Third Space och Mad House. Hon arbetar ofta i arbetsgrupper och olika kollektiv, men skapar också självständigt gränsöverskridande verk för det experimentella fältet.
Tack till Centret för konstfrämjande, Mustarinda-residenset, Performancecentrum och HIAP:s sommarresidens.
Kuva/ picture/ bildred: Terhi Nieminen