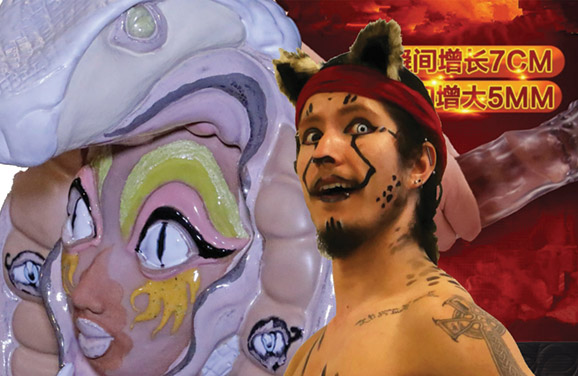 FIN
Avajaiset torstaina 4.8.2022 klo 18–20. Tervetuloa!
Rag Elnyg esiintyy Titanikilla näyttelyn avajaisissa ja Turun Taiteiden yönä 11.8.
All I eveR wanteD was a fuCkin' leOtard Act 1:
Vittu. It also SuckS to be a man, why nO One told me?
---
Kenen tytär on Miehetär? Kenen poika on Päivi?
Kolme supervoimaa yhtyy, mieheyksiä puetaan ja riisutaan – ja kontenttia syntyy!
Sisältövaroitus!
POST-INTERNET-KERAMIIKKAA: "Saattaa sisältää peniksiä ja kalanpyrstön."
POST-IHMISTANSSI- & VIDEOPERFORMANSSIA: "Saattaa sisältää sotamaalauksia, jätettä ja erittäin pörröisen puvun."
POST-MASKULIINISIA ALUSHOUSUVEISTOKSIA: "Saattaa sisältää tuotesijoittelua ja lisätäytteitä."
Taiteilijoiden biot
HEMULOORDI (s.1989), Tampere. Asuu ja työskentelee Helsingissä.
HEMULOORDI ei noussut merestä simpukan kuoren päälle alasti aseteltuna. Hänellä ei myöskään ollut atrainta eikä utareita eikä hän ollut mikään meren maailmaan sylkemä soturi. Kaikkia harmitti ettei HEMULOORDILLA ollut kasvoja. Ennen pitkää joku neuvokas taiteilija koitti kuitenkin korjata asian ja tehdä HEMULOORDISTA muotokuvan valamalla patsaan, jonka laastin sekoiteaineeksi meni valitsemaan haikaran sperman. Lopputulos ei ollut hyvä, sillä haikaran sperma oli siitä ihmeellistä ainetta, että sen jokainen siittiö oli se "nopein uimari". Tästä syntyi hirvittävän vaarallinen lopputulos, sillä HEMULOORDIN näköispatsas kuhisi nyt elämän kiimaa ja yksikin suudelma muuttaisi tästä ihka elävän panokoneen. Maapallon kapasiteetti ei ehkä kestäisi tätä rytinää eikä tätä uhkakuvaa turhaan kutsuttu "loppuräjähdykseksi". Tästä jokainen itseään kunnioittava presidentti haaveili aina iltaisin. Kun HEMULOORDI itse näki muotokuvansa – hän purskahti itkuun, sillä ei tunnistanut siitä itseään. "Kuka oli tuo ylimielinen seksijumala?", hän kysyi itseltään. HEMULOORDI halusi pelastaa maailman omalta kuvaltaan ja uhrautui suutelemaan näköispatsastaan joka tarkoitti, että patsaassa ollut haikaran sperma siirtyi hänen henkeensä eikä karannut maailmaan panokoneen muodossa. HEMULOORDI itse muuttui tällöin linnuksi, jonka ainut tehtävä olisi kuljettaa ihmisille vauvoja. Ja ihmiset sanoivat: "Näin on aina ollut ja aina tuleva olemaan".
Ilai Elias Lehto (s.1988), Joensuu. Asuu Kangasalla ja työskentelee Tampereella
Saan Viagra-mainoksia päivittäin sähköpostiini. Minuun kohdennetaan mainoksia peniksenlaajentimista, anti-kaljuusseerumeista ja vatsalihasvöistä. Kaappini pursuavat lahjaksi saatuja partavahoja. Tiedän, että vastaantulijoiden katse merkitsee minut mieheksi sekunnin murto-osassa. Meidät on opetettu siihen. Mutta kapitalismille en ole ensisijaisesti mies, vaan kuluttaja. Kapitalismi tuottaa hyödykkeitä, joita minulle markkinoidaan. Mieheys on vain kategoria, joka leimaa nämä tuotteet, määrittelee niiden ilmiasun ja suunnittelee niille markkinaraon. Usein sellaisen, joka tarraa brutaalisti kiinni syviin epävarmuuksiini: kehonkuvaan, seksuaalisuuteen, rakkauden kaipuuseen ja hyväksytyksi tulemisen kokemuksiin.
En hyväksy tätä. Sukupuolisuuteni ei ole tuoteryhmä tavaratalon loputtomien käytävien varrella. Se on omani, muotoaan muuttava arvoitus ja avoin kysymys itselleni, mutta harvoin valmis vastaus mihinkään. Valitsen itse minua määrittävät asiat, olen aina ensin taiteilija ja anarkisti. Niiden antamilla voimilla käyn kamppailuun kapitalismin hirviötä vastaan, joka tuottaa meistä kaikista irvokkaita karikatyyreja.
Taike on tukenut taiteilijan työskentelyä.
Rag Elnyg
Ei yksi eikä kaksi.
En minä, etkä sinä.
Ei id eikä ego.
Ei huono eikä hyvä,
Ei kasvoja, eikä huppua,
Ei menneisyyttä, ei nykyisyyttä eikä tulevaisuutta.
Maailmalle sen suora seisova kehys, Näin aika näkee vinovarjonsa.
SKR on tukenut taiteilijan työskentelyä.
EN
Opening: Thursday 4 August 2022 6–8 pm. Welcome!
Rag Elnyg will perform at Titanik at the exhibition opening and again on Turun Taiteiden yö 11 August.
All I eveR wanteD was a fuCkin' leOtard Act 1:
Vittu. It also SuckS to be a man, why nO One told me?
---
Whose daughter is Miehetär? Whose boy is Sue?
Three superpowers interpenetrate, cosplay masculinities – and content is being born!
Disclaimer!
POST-INTERNET CERAMICS: "Might involve penises and a fish tail."
POST-HUMAN DANCE & VIDEO PERFORMANCE: "Might involve war paint, garbage and a very fluffy outfit"
POST-MASCULINE UNDERWEAR SCULPTURE: "Might involve product placement and extra stuffing"
Artists´ bios
HEMULOORDI (b.1989), Tampere. Lives and works in Helsinki
Everybody was annoyed because HEMULOORDI had no face. But luckily there came an artist who wanted to fix that problem by making a portrait of HEMULOORDI. The artist cast a statue, using the sperm of a stork as the mortar. Result was bad because stork's sperm was a tricky material. Its every sperm cell was the "fastest swimmer". So HEMULOORDI's portrait became a highly dangerous piece of art because it was so horny. You could even hear with your naked ear the horny buzz which was coming from inside. Only one kiss could release that spirit and make the statue a living fucker machine and the world's capacity would not cope with all that banging. That threat was called "The final Big Bang" and it was every president's wet daydream. When HEMULOORDI saw the portrait of itself, HEMULOORDI burst into tears and did not recognise the face. "Who is that cocky sex god?", HEMULOORDI asked itself. HEMULOORDI wanted to save the world from its own portrait and sacrificed to kiss the statue which meant that the stork's sperm transferred into HEMULOORDIS spirit instead of escaping into the world and becoming the world's biggest fucking machine. At that moment HEMULOORDI transformed into a bird figure whose sole purpose was to carry babies in a basket to people. People were happy and said: "It has always been like this, and will always be".
Ilai Elias Lehto (b. 1988), Joensuu. Lives in Kangasala and works in Tampere
I get Viagra ads daily in my email. I am targeted by ads for penis extenders, anti-baldness serums and ab toning belts. My cupboards are overflowing with gifted beard waxes. I know that the gaze of the onlookers marks me as a man in a split second. That's what we've been taught. But to capitalism, I am not primarily a man, but a consumer. Capitalism produces commodities that are marketed to me. Masculinity is just a category, label for these products. It defines their appearance and designs a niche for them. Often one that brutally exploits my deep insecurities: body image, sexuality, longing for love and the need of being accepted.
I don't accept this. My gender is not a product line in the endless aisles of a department store. It is my own, shape-shifting puzzle and an open question to myself – rarely a ready answer to anything. I choose the things that define me, I am always an artist and an anarchist first. With this strength given to me, I will fight against the monster of capitalism, which produces grotesque caricatures of us all.
Taike has supported the artist's work.
Rag Elnyg
Neither one, nor two.
Neither me, nor you.
Neither id, nor ego.
Neither bad, nor good,
Neither face, nor hood,
Neither past, present ot
to be so.
To the world its straight standing frame,
Is how time sees its slanting shadow.
The Finnish Cultural Foundation has supported artist´s work.
SVE
Vernissage torsdag 4.8.2022 kl. 18–20. Välkommen!
Rag Elnyg uppträder vid utställningens vernissage och under Konstens natt i Åbo den 11 augusti.
All I eveR wanteD was a fuCkin' leOtard Act 1:
Vittu. It also SuckS to be a man, why nO One told me?
---
Vems dotter är Miehetär? Vems son är Päivi?
Tre superkrafter förenas, manligheter kläs på och av – och innehåll uppstår!
Innehållsvarning!
POST-INTERNET-KERAMIK: "Kan innehålla penisar och en fiskstjärt."
POST-HUMAN DANS- & VIDEOPERFORMANCE: "Kan innehålla krigsmålning, avfall och en mycket fluffig dräkt."
POST-MASKULINA UNDERKLÄDSSKULPTURER: "Kan innehålla produktplacering och extra fyllning."
BIOS
HEMULOORDI (f.1989), Tammerfors. Bor och arbetar i Helsingfors.
HEMULOORDI steg inte ur havet naken och placerad på ett musselskal. HEMULOORDI hade ingen treudd eller några spenar och var heller ingen krigare som havet spottat ut i världen. Alla förargade sig över att HEMULOORDI inte hade något ansikte. Snart försökte ändå någon fyndig konstnär åtgärda problemet och göra ett porträtt av HEMULOORDI. Konstnären göt en staty och i gjutmassan valde hen att blanda sperma från en stork. Resultatet blev inte så bra, eftersom storksperma är ett såtillvida lurigt material att varenda spermie i den är "den snabbaste simmaren". Det gjorde resultatet ohyggligt farligt, för statyn av HEMULOORDI sjöd nu av brunst och en enda kyss skulle göra den till en livs levande knullmaskin. Världen skulle kanske inte ha kapacitet att klara av ett sådant juckande, och det var inte i onödan som denna hotbild kallades "den sista stora smällen". Om det här drömde alla presidenter med självrespekt varje kväll. När HEMULOORDI fick se sitt porträtt brast HEMULOORDI i gråt och kände inte igen sig själv. "Vem är den där självsäkra sexguden?" frågade HEMULOORDI. HEMULOORDI ville rädda världen från sin avbild, offrade sig och kysste skulpturen, vilket innebar att storksperman i statyn överfördes till HEMULOORDIS ande istället för att rymma ut i världen i form av en knullmaskin. HEMULOORDI själv förvandlades till en fågel med en enda uppgift: att leverera bebisar till människor. Och folk sa: "Så här har det alltid varit och kommer alltid att vara".
Ilai Elias Lehto (f.1988), Joensuu. Bor Kangasala och arbetar i Tammerfors
Jag får dagligen e-post med reklam för Viagra. Jag får ta emot reklam för penisförlängning, antiskallighetsserum och magmuskelbälten. Mina skåp svämmar över av burkar med skäggvax som jag fått i present. Jag vet att mötande människors blick identifierar mig som en man på bråkdelen av en sekund. Vi har fått lära oss att göra så. Men för kapitalismen är jag inte i första hand en man, utan en konsument. Kapitalismen producerar nyttigheter som marknadsförs till mig. Maskulinitet är bara en kategori som utmärker de här produkterna, definierar deras apparition och skapar en nisch för dem. Ofta en som brutalt utnyttjar mina djupaste osäkerheter: kroppsbilden, sexualiteten, längtan efter kärlek och efter att bli accepterad.
Jag accepterar inte det här. Mitt kön är inte en produktgrupp vid en av varuhusets oändliga gångar. Det är mitt eget, en gåta som ändrar form och en öppen fråga till mig själv, men sällan ett färdigt svar på någonting. Jag väljer själv vad som definierar mig, jag är alltid i första hand konstnär och anarkist. Med den kraft som det ger mig går jag till kamp mot kapitalismens monster som gör oss alla till groteska karikatyrer.
Taike har understött konstnärens arbete.
Rag Elnyg
Varken en eller två.
Varken du eller jag.
Varken id eller ego.
Varken dålig eller bra,
Varken ansikte eller huva,
Varken förgången tid, nutid eller
det som ska bli.
Åt världen dess raka stående ram,
Så ser tiden sin sneda skugga.
Finlands kulturstiftelse har stött konstnärens arbete.