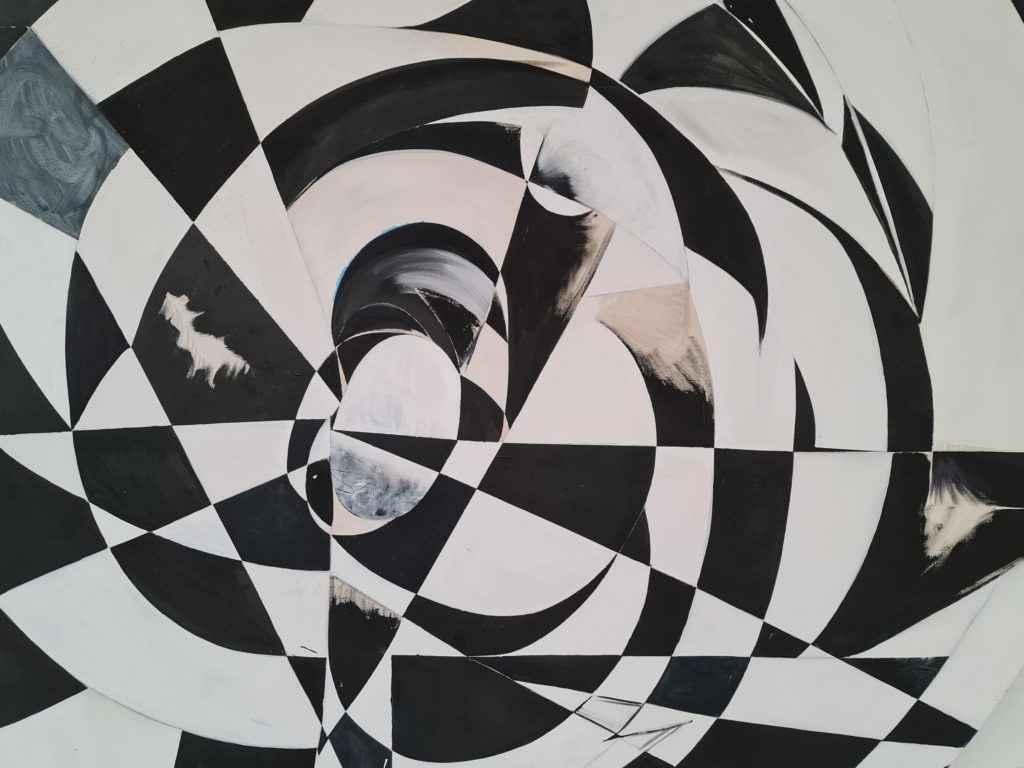 Näyttely avautuu torstaina 8.10. ilman tarjoilua. Taiteilija on paikalla klo 12–13 ja 15–17.
Lasse Juutin näyttely 0d0r-r0ad Titanikissa koostuu maalauksista, jotka ulottuvat seiniltä lattialle. 0d0r-r0ad -näyttelyn teosten lähtökohtana ovat olleet autot; niiden muotokieli ja merkitykset, sekä matkanteko maalaustaiteen litteään historiaan.
Näyttely sisältää hajuaistiin vetoavia ympyröitä ja pinkiksi paahdetun turistin, joka uskollisesti kököttää keskellä keltaista paistetta. Lattialla leijuvien autojen kuluneille pinnoille kerääntyneet tähteet rakentavat toivekartastoja ja huurteisia viestejä ohikulkijoille.
Hikinen matka ja tuulahdus Wunderbaumia.
0d0r-r0ad pyrkii maalauksen keinoin kertomaan meille jotain arvomaailmastamme tuomalla arkiset asiat lähelle, uudelleen tulkittaviksi.

Lasse Juuti (s. 1990, Tampere) on materiaali-intensiivinen maalari, joka työskentelee maalauksen, kuvanveiston ja installaation parissa. Hänen viimeaikaiset teoksensa ovat käsitelleet tekijyyden merkitystä, kieltä, nimeämisen kulttuuria ja kulutusta. Uusissa teoksissa maalaustaiteen historiaa lähestytään turismin, autojen ja trippailun estetiikan kautta. Juuti on opiskellut Taideyliopiston Kuvataideakatemiassa, Tampereen taiteen ja viestinnän oppilaitoksessa, sekä Kankaanpään taidekoulussa. Hänen edelliset yksityisnäyttelynsä olivat QUEUE HAM-galleriassa, Helsingin taidemuseossa ja Influenssa Project Roomissa Helsingissä.
Taiteilijan työskentelyä on tukenut Suomen Kulttuurirahasto.
~~~~
Lasse Juuti: 0D0R-R0AD
9.10.–1.11.2020
Utställningen öppnas på torsdag den 8.10. utan servering. Konstnären är på plats kl. 12–13 och 15–17.
Lasse Juutis utställning 0d0r-r0ad i Titanik består av målningar som sträcker sig från väggarna till golvet. 0d0r-r0ad baserar sig på bilar; deras formella språk och betydelser, liksom en resa in i målningens platta historia.
Utställningen består av cirklar som tilltalar luktsansen och en turist rostad i rosa, som trogen stannar kvar i den gula glöden. Rester som ackumulerats på bilarnas slitna ytor bygger önskakartor och frostiga meddelanden för förbipasserande.
En svettig resa och en doft av Wunderbaum.
Genom att föra vardagliga saker nära, strävar 0d0r-r0ad berätta något nytt om vår värdegrund.
Lasse Juuti (f. 1990, Tammerfors) är en materialintensiv målare som arbetar med målning, skulptur och installation. Hans senaste verk handlar om författarskapets betydelse, språk, namngivningskultur och konsumtion. De nya verken närmar sig målningens historia genom estetiken i turism, bilar och tripping. Juuti har studerat vid Konstuniversitets Bildkonstakademi, Tammerfors yrkeshögskolan (TTVO) och Kankaanpää konstskolan vid Satakunta yrkeshögskola. Hans tidigare separatutställningar var på QUEUE HAM -galleri, Helsingfors konstmuseum och Influenssa Project Room i Helsingfors.
Konstnärens arbete har fått stöd från Finska Kulturfonden.
~~~~
Lasse Juuti: 0D0R-R0AD
9 October – 1 November 2020
Exhibition opens on Thursday 8th October without an official event. The artist is at the gallery 12noon–1pm and 3pm–5pm.
Lasse Juuti´s exhibition 0d0r-r0ad in Titanik consists of paintings spreading from walls to the floor. The artist has been inspired by cars; their visual language and meanings captured behind their shell. This ensemble takes us on a journey through the flat history of painting.
The exhibition presents to us circles evoking the sense of smell and a tourist roasted pink, who faithfully stands in the yellow blaze. Scraps gathered on the worn surfaces of the hovering cars build wish-atlases and frosty messages for the passersby.
A sweaty journey and a breeze of Wunderbaum.
Through the means of painting, 0d0r-r0ad seeks to tell us something about our set of values by bringing banal things for close inspection, to be reinterpreted.
Lasse Juuti (b. 1990, Tampere) is a material-intensive painter who works with paintings, sculpture, and installations. His recent works deal with the significance of authorship, language, the culture of naming and consuming. In his new works, the tradition of painting is approached through tourism, cars, and the aesthetics of tripping. Juuti has studied at Academy of Fine Arts (University of the Arts Helsinki), Tampere University of Applied Sciences as well as Kankaanpää Fine Arts at Satakunta University of Applied Sciences. His previous private exhibitions were at QUEUE HAM Gallery, Helsinki Art Museum and Influenssa Project Room
in Helsinki.
The artist has worked with the support of The Finnish Cultural Foundation.