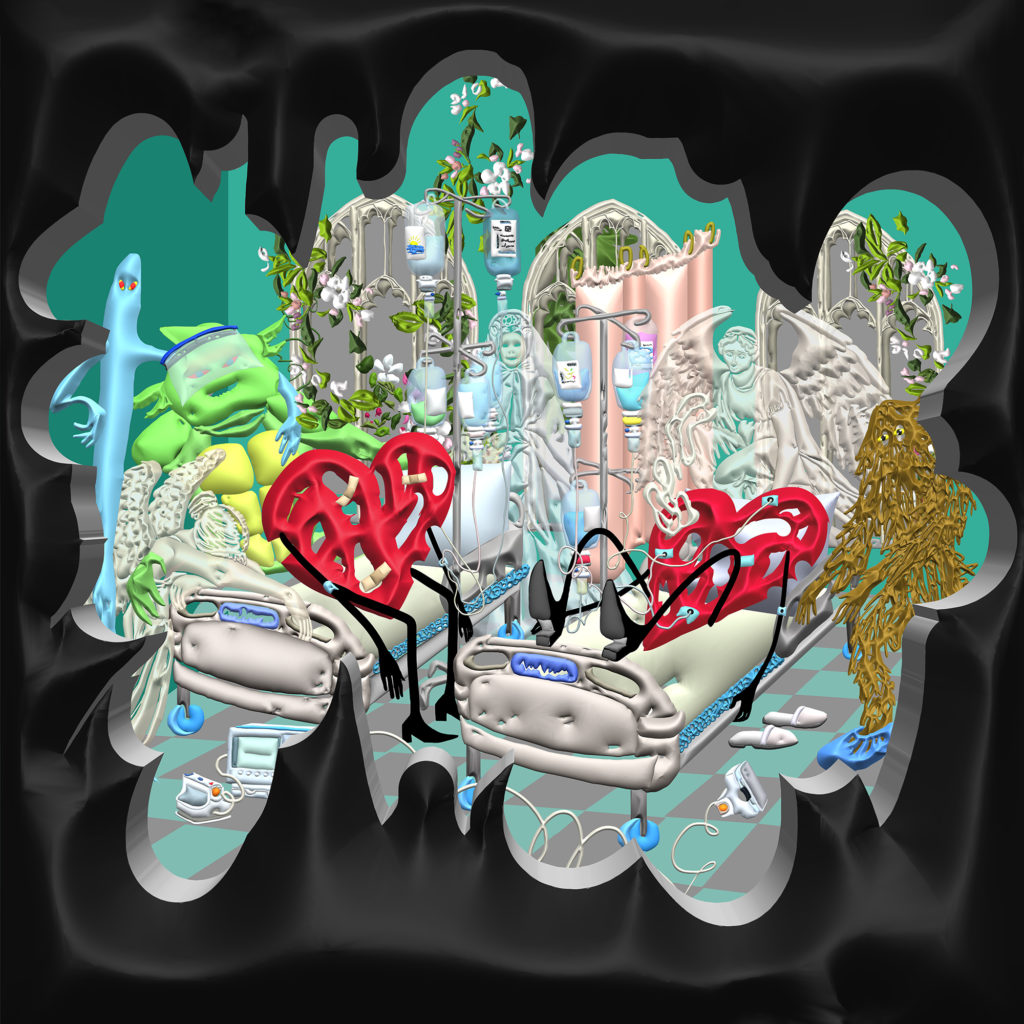 Eike Eplik (EE) | Edith Karlson (EE) | Kristina Õllek (EE) | Laura Põld (EE) | Kristel Saan (EE) | Krišs Salmanis (LV) | Jaanus Samma (EE) | Līga Spunde (LV) | Rūta Spelskytė (LT) | Sabīne Vernere (LV)
FIN
Kuraattori: Šelda Puķīte
Kogo Galeriin ja Titanikin yhteistyöhanke
Avajaiset torstaina 2.6.2022 klo 18–20
I ought to be thy Adam; but I am rather the fallen angel.
(Mary Shelley – Frankenstein, or The Modern Prometheus, 1818)
Kirjailija Mary Shelley oli kahden 1700-luvun vaihteessa eläneen älykköradikaalin jälkeläinen ja läheisimpiensä kuolemien silminnäkijä. Häntä kiehtoi aikansa uusista tieteellisistä keksinnöistä erityisesti ne, jotka liittyivät sähköön tai sähköiseen nesteeseen, kuten sitä tuolloin kutsuttiin. Shelleyn kokemukset ja kiinnostuksen kohteet saivat hänet kirjoittamaan kuuluisan goottiromaaninsa Frankenstein (Frankenstein. Uusi Prometheus) (1818). Shelley kirjoitti tarinan tohtorista, joka koetteli ihmisen luomiskyvyn rajoja luodessaan edistyksen mallilapsen, joka oli kuitenkin samalla hirviö. Tarinaa voidaan tulkita eri tavoin: se voidaan ymmärtää varoituksena ihmiselle olla leikkimättä Jumalaa, fantasiana tulevaisuuden tieteen mahdollisuuksista tai filosofisena näkemyksenä ihmisen monimutkaisesta suhteesta kuolemaan. Lisäksi tarina paljastaa pakkomielteisen suhtautumisen ihmislihaan, jossa on kummallisia yhtäläisyyksiä nykypäivän tapaamme katsoa robottimaisia kehoja. Ihmisruumiin eri osat, joita voidaan rakentaa ja liittää ruumiiseen, ja näin luoda ihmisestä jotain muuta, ovat innoittaneet My Bitter Sweet Frankenstein Body -näyttelyn syntyä.
Ruumis on monimutkainen asia, joka elää erilaisissa rinnakkaisulottuvuuksissa – fyysisessä, virtuaalisessa, psyykkisessä ja henkisessä. Se on kaikkien elävien olentojen biopuku, joka antaa muodon kaikelle, mikä voidaan havaita olemassa olevaksi. Ruumis vaikuttaa kuitenkin olevan jatkuva vastakohtien taistelukenttä – se on kilpi ja vankila sekä ilon ja äärimmäisen tuskan ja rappeutumisen lähde. Se voi olla nestemäinen ja kiinteä, digitaalinen ja henkinen, pehmeä ja jäykkä, seksualisoitu ja stigmatisoitu. Keho on muodonmuuttaja, joka ei koskaan jähmety vaan muuttaa alati muotoaan muuntautuen prosessissa kujeilijaksi tai olennoksi, joka huvittelee kanssasi ja kustannuksellasi, tullakseen omaksi versiokseen Shelleyn Frankensteinin olennosta.
My Bitter Sweet Frankenstein Body -näyttely on omistettu ihmisten ja heidän kolonisoitujen, digitalisoitujen ja globalisoitujen ruumiittensa välisille monimutkaisille suhteille sekä kaikille niiden hybridimuodoille ja virheille. Eri ruumiilliset muodot lupaavat tietynlaista ulospääsyä ja helpotusta, joka ei koskaan kuitenkaan täysin toteudu. Koettuamme pandemian aiheuttamat rajoitukset, keskenämme jaetut pienet tilat ja yrityksemme laajentaa ruumiitamme puhuvina päinä Zoom-kokouksissa ja elävinä avatareina Instagramissa, sisäiset häiriömme näyttävät nousevat pintaan entistä näkyvämmin. Ihmiset käyttävät Photoshopia äärimmäisyyksiin asti, plastiikkakirurgian ala tarjoilee kasvojenkohotuksia, jotta näyttäisimme hyviltä nettipalavereissa ja dieetti- ja fitness-sovellukset tuottavat päivittäin roskapostia.
Näyttelyssä taiteilijat ja kuraattori ottavat Frankensteinin roolin, edustaen symbolisesti nyky-yhteiskuntaa, joka pyrkii jatkuvasti muokkaamaan kehoamme jonkin normatiivisen kehyksen mukaisesti. Jokainen teos, joka on uteliaiden kävijöiden nähtävillä galleriassa, edustaa jotakin osaa ihmisruumiista. Taiteilijoiden motiivit tiettyjen ruumiinosien valinnalle eroavat toisistaan. Valintojen lähtökohtana voi olla metaforinen tunteiden ja uskomusten representaatio, muodot maiseman luomiseen, objektit kauneuden tai kulttuuri-identiteetin muodostamiseen tai alustat moraalia ja sensuuria koskevaan keskusteluun tai poliittisen kannan ottamiseen. Jokainen teos on "ommeltu" yhteen yhdeksi olennoksi, näyttelykokonaisuudeksi, joka edustaa sekä nyky-yhteiskunnassa vallitsevia Frankensteinin haluja että kuraattorilähtöisen näyttelyn tekemisen perinnettä.
Näyttely on virolaisen nykytaidegalleria Kogon ja Titanikin tämän vuotisen yhteistyön tulosta. Näyttelyvaihdon myötä baltialaisia taiteilijoita tulee Turkuun, Suomeen ja suomalaisia taiteilijoita vierailee Tartossa, Virossa.
TUKIJAT
Hanketta ovat tukeneet Viron kulttuurirahasto, Latvian kulttuuripääkaupunkisäätiö, Suomalais-virolainen kulttuurisäätiö, Suomen Viron-instituutti ja Pohjoismainen kulttuuripiste.
KIITOS
Mirjami Schuppert, Liina Raus, Lotta Anttila, Karin Kahre, Duha Elsayed, Tanel Asmer ja Indrek Grigor.
Taiteilijat:
Eike Eplik (s. 1982) on Tartossa asuva kuvanveistäjä ja installaatiotaiteilija. Hän valmistui Tarton Taidekorkeakoulun kuvanveiston osastolta 2007 ja Viron Taideakatemiasta 2010. Hän käyttää luonnon aiheita kerronnan rakentamisessa. Eplik hyödyntää galleriatilaa lattiasta kattoon ja hänen kuvanveistonsa tekniikat vaihtelevat klassisesta kipsivalusta paperi- ja puukoonteihin sekä löytöesineiden käyttöön. Hänen taiteensa prosessit ovat osittain alitajuisia eivätkä aina täysin selitettävissä.
Edith Karlson (s.1983) on Tallinnassa asuva kuvanveistäjä ja installaatiotaiteilija, joka myös työskentelee opettajana Viron Taideakatemiassa. Hän on suorittanut BA- (2006) ja MA-tutkinnot (2008) Viron Taideakatemian installaatio- ja kuvanveisto-osastolla. Karlsonin veistokset ja installaatiot muistuttavat keskiaikaisia jäännöksiä sekä funkyja sirkusryhmiä ja fantasmagorisia painajaisia, joissa vanha ja uusi maailma törmäävät yhteen apokalyptisessa visiossa. Taiteilijan teoksia on kuvailtu synkiksi saduiksi, sillä ne näyttävät yleensä hauskoilta leikkihuoneilta täynnä hirviömäisiä olentoja. Teokset vaikuttavat olevan välineitä, joilla luodaan allegorioita voimakkaista inhimillisistä tunteista ja peloista, jotka nousevat pintaan syvältä alitajunnan pimeistä sopukoista.
Kristina Õllek (s.1989) on Tallinnassa asuva kuvataiteilija. Hän on valmistunut Viron Taideakatemiasta (kuvataide, valokuvaus, BA 2013, MA 2016) ja täydentänyt opintojaan Berliinissä Kunsthochschule Berlin-Weissenseessä (2012) sekä Rotterdamissa Piet Zwart Institutessa (2016). Õllek työskentelee valokuva-, video- ja installaatiotaiteen parissa keskittyen representaatioprosessien, geologisen aineksen, vesiekologian ja ihmisen tekemien ympäristöjen tutkimiseen. Praktiikassaan hän tutkii tilanteita, joissa fakta ja fiktio, synteettinen ja luonnollinen, kopio ja alkuperäinen kietoutuvat toisiinsa ja muuttuvat hybrideiksi esineiksi/aineiksi, joilla on uusi ja uudelleen mietitty merkitys.
Laura Põld (s.1984) on Tallinnassa asuva kuvataiteilija. Hän on opiskellut keramiikkaa Viron Taideakatemiassa (BA 2007), maalausta Tarton yliopistossa (MA 2010) sekä kuvanveistoa ja keramiikkaa Linzin Taide- ja muotoiluyliopistossa (2018-2021). Põld tutkii jatkuvasti ihmisen (ja eläinten) perustarpeita, kuten yhteisöllisyyttä, turvallisuutta ja suojaa. Uusimmissa töissään hän keskittyy materiaalivalintoihinsa ja niiden historialliseen kontekstiin ja toteuttaa perinteisiä käsityö- ja rakennustekniikoita, kuten (primitiivistä) keramiikkaa ja kirjontaa, jotka kiinnostavat häntä muistin ja kokemuksen säilyttäjinä.
Kristel Saan (s.1985) on Tallinnassa asuva kuvataiteilija. Hän on suorittanut maisterin tutkinnon (Ceramic Design) Viron Taideakatemiassa (2015) ja opiskellut lisäksi Central Saint Martins University of Art and Designissa (2011) Lontoossa sekä Emily Carr University of Art and Designissa (2013) Vancouverissa. Saan työskentelee suurikokoisten installaatioiden, valokuvan, videoteosten, keramiikan ja tekstiiliteosten parissa. Taiteilijan teokset muistuttavat usein erilaisia utopian alueita, joissa runous, filosofiset aiheet ja erilaiset odottamattomat orgaaniset ja keinotekoiset materiaalit kietoutuvat toisiinsa. Hänen työskentelynsä yhdeksi keskeiseksi näkökulmaksi nousee esineen, materiaalin ja tilan hahmottaminen.
Krišs Salmanis (s. 1977) on Riiassa asuva kuvataiteilija, joka on opiskellut Latvian Taideakatemian visuaalisen viestinnän alaosastolla (MA, 2003) ja Kölnin Mediataideakatemiassa (2009-2010). Salmanis käyttää taiteessaan animaatiota, videota, valokuvaa, esineitä sekä kehoaan. Hänen teoksensa voidaan mieltää henkiseksi harjoitukseksi, älylliseksi toiminnaksi ja nokkeluudeksi ajatuksin höystettynä. Vaivalloisen taidokkaasti laaditut teokset on mietitty pienimpiä yksityiskohtia myöten. Ne ovat usein taiteellisen ilmaisun kannalta varsin minimalistisia, ja niitä määrittelee niiden odottamaton paradoksaalisuus ja intuitiivinen totuuden etsintä yhdistettynä hienovaraiseen ironiaan ja eksistentiaaliseen suruun.
Jaanus Samma (s.1982) on Tallinnassa asuva kuvataiteilija. Hän on valmistunut Viron Taideakatemiasta graafisen taiteen kandidaatiksi (2005) ja kuvataiteen maisteriksi (2009). Hänen teoksensa sisältävät valokuvia, installaatioita ja videoita, joiden aiheet perustuvat kaupunkitilan tutkimiseen ja subjektiivisiin kokemuksiin siitä. Hänen kiinnostuksensa on vuosien mittaan siirtynyt sukupuolentutkimukseen ja hän tutkii miesten seksuaalisuuden esittämistä ja sen kuvaamista taiteellisin keinoin. Samman kiinnostuksen kohteisiin kuuluu historia, etnografia ja museologia sekä näiden intersektioissa syntyvät narratiivit.
Līga Spunde (s. 1990) on Riiassa asuva kuvataiteilija. Hän viimeisteli jatko-opintonsa Latvian Taideakatemian Visuaalisen viestinnän osastolta. Spunde esittää teoksiaan multimediainstallaatioina, joissa henkilökohtaiset tarinat kietoutuvat yhteen harkitun fiktion kanssa. Tunnistettavien hahmojen käyttö ja niiden tulkinnat toimivat hänen henkilökohtaisten kokemustensa jatkeena, koskettaen universaaleja totuuksia. Yleensä Spunden teosten sisältö määrittää sen fyysisen muodon, jolloin hänen installaatioissaan voidaan nähdä erilaisia medioita ja materiaaleja.
Rūta Spelskytė (s.1985) on Vilnassa asuva taiteilija. Hän on opiskellut taidegrafiikkaa ja kuvanveistoa Vilnan Taideakatemiassa. Hän on suorittanut taideakatemiassa kandidaatin (2008) ja maisterin tutkinnot (2010) ja valmistui tohtoriksi (2019) Vilnan Taideakatemiasta. Spelskytė on erityisen kiinnostunut ihmisten kokemista väärinkäsityksistä ja epäonnistumisista sekä tieteen ja ekstro-science fictionin välisistä suhteista. Hän työskentelee harvinaisten näytteiden, valon ja pigmenttien emissioiden parissa, kuvitellen tulevaisuuden alkemiaa, kasveja, eläimiä ja aisteja, joita voitaisiin kouluttaa tai löytää.
Sabīne Vernere (s.1990) on Riiassa asuva maalari, joka johtaa Latvian Taideakatemian kokeellista Pilot-taidetilaa. Vernere on suorittanut maisterintutkinnon Latvian Taideakatemian kuvataiteen tiedekunnan maalaustaiteen osastolta 2019. Hän on viimeistellyt taitojaan Zagrebin Taideakatemiassa ja Antwerpenin Kuninkaallisessa Taideakatemiassa. Vernere on latvialainen taidemaalari, joka on saanut kiitosta kirkkaista ja ilmeikkäistä musteella toteutetuista maalauksistaan. Taiteilija on keskittänyt tutkivan katseensa kehollisiin ja seksuaalisiin kokemuksiin, mutta sen sijaan, että ne olisivat tutkimuksen keskeisiä aiheita, toimivat ne työn ilmaisun jatkeena.
---
EN
Curator: Šelda Puķīte
Kogo Gallery in collaboration with Titanik gallery
Opening: Thursday 2 June 2022 6–8 pm
I ought to be thy Adam; but I am rather the fallen angel.
(Mary Shelley – Frankenstein, or The Modern Prometheus, 1818)
Novelist Mary Shelley who was the offspring of two intellectual radicals living at the turn of the 18th century and an unfortunate witness to the deaths of the closest people to her, was truly fascinated by the new discoveries in science of her time, especially those connected with electricity or electrical fluid as it was called in those days. All of that led Shelley to writing her now most celebrated gothic novel Frankenstein or The Modern Prometheus (1818) in which she told the story of a doctor who pushed the limits of man as creator and gave birth to a child of progress albeit a monster. This story can be read in different ways. It can be understood as a warning to man not to play God, a fantasy about the possibilities of future science or a philosophical take on our complex relationship with death. The story also reveals an obsession with human flesh, which has curious similarities to the way we look at robotic bodies these days. The element of human body parts that can be engineered together to recreate the human into something else has also become the driving inspiration for the exhibition My Bitter Sweet Frankenstein Body.
Body is a complex matter existing in different parallel dimensions – physical, virtual, mental as well as spiritual. It's a bio-suit for all the living things, and a form giver for everything that can be perceived as existing. The body seems to be a constant battlefield of opposites – shield yet prison, vessel of joy as well as source of extreme pain and decay. It can be liquid and solid, digital and spiritual, soft and stiff, sexualised and stigmatised. The body is a shapeshifter that is never frozen, always changing, in this process turning into a trickster or a creature who can play with you and against you, becoming its own version of the creature in Shelley's Frankenstein.
My Bitter Sweet Frankenstein Body is dedicated to the complex relationships between humans and their colonised, globalised and digitised bodies and all the hybrids and errors in between. Each of these bodily forms promises a certain exit and relief which never truly fulfils. Now that we have experienced restrictions due to the pandemic, sharing small physical spaces and trying to expand our bodies as talking heads in zoom meetings and living avatars in Instagram feeds, it seems that our inner glitches surface in an even more prominent way. People take Photoshop to extremes, the plastic surgery industry has shifted to online conference pleasing face lifts, and diet and fitness apps have become a daily dose of spam.
In the exhibition, the role of Frankenstein is taken up by artists and the curator, symbolically representing a contemporary society that constantly tries to form our bodies according to some normative frame. Each of the selected artworks represents some part of the human body that is displayed in the gallery rooms for viewing by the curious visitor. The reasoning each of the artists have for using certain elements of body parts as forms or images for their work differs from the metaphorical representation of emotions and beliefs, forms for creating a landscape, objects for talking about beauty or cultural identity, and platforms for talking about morality and censure or making a political stand. Each of the pieces is "stitched" together in one creature that is the exhibition itself representing both the Frankensteinian desires existing in contemporary society as well as the tradition of the curatorial exhibition making itself.
The exhibition is a result of a collaboration between Estonian contemporary art gallery Kogo and Titanik, exchanging their exhibition projects this year to bring Baltic artists to Turku, Finland and Finnish artists to Tartu, Estonia.
SUPPORTERS
The project was supported by the Estonian Cultural Endowment, Culture Capital Foundation of Latvia, Eesti-Soome Kultuurifond, The Finnish Institute in Estonia and Nordic Culture Point.
THANKS
Mirjami Schuppert, Liina Raus, Lotta Anttila, Karin Kahre, Duha Elsayed, Tanel Asmer and Indrek Grigor.
About artists:
Eike Eplik (b. 1982) is a sculptor and installation artist based in Tartu. She graduated from the Sculpture Department of Tartu Art College in 2007 and the Estonian Academy of Arts in 2010. She uses nature motifs to construct a narrative, utilises the gallery space from floor to ceiling, works with sculpting techniques from classic plaster casting to paper and wood assemblage and found objects. The processes in her art are partly subconscious and not always fully explainable.
Edith Karlson (b.1983) is a sculptor and installation artist based in Tallinn, where she is also a teacher at the Estonian Academy of Arts. She acquired her BA (2006) and MA (2008) degrees at the Installation and Sculpture department of the Estonian Academy of Arts. Karlson's sculptures and installations resemble Medieval relics, as well as funky circus troupes and phantasmagoric nightmares, where the old and new worlds clash in one apocalyptic vision. The artist's works have been described as dark fairy tales, as they tend to look like fun playrooms full of monstrous creatures. They all seem to be tools for creating allegories of strong human emotions and fears surfacing from the deep dark pit of the unconscious.
Kristina Õllek (b.1989) is a visual artist based in Tallinn. She graduated from the Estonian Academy of Arts (Fine Arts, Photography, BA 2013, MA 2016), and complemented her studies in Berlin at Kunsthochschule Berlin-Weissensee (2012) and in Rotterdam at Piet Zwart Institute (2016). Õllek works in the fields of photography, video and installation, with a focus on investigating representational processes, geological matter, aquatic ecology, and human-made environments. In her practice she explores situations where fact and fiction, synthetic and natural, copy and original intertwine with each other and become a hybrid object/matter with a new and reconsidered meaning.
Laura Põld (b.1984) is a visual artist based in Tallinn. She has studied ceramics at the Estonian Academy of Arts (BA 2007), painting at the University of Tartu (MA 2010) and sculptural conceptions and ceramics at the University of Art and Design Linz (2018 – 2021). Põld continuously explores fundamental human (and animal) needs, including community, safety and shelter. In her latest work, she focuses on her choice of materials and their historical context, implementing traditional handiwork and building techniques like (primitive) ceramics and embroidery, which interest her as a preservation of memory and experience.
Kristel Saan (b.1985) is a visual artist based in Tallinn. She acquired a Master's Degree in Ceramic Design from the Estonian Academy of Arts (2015) and has also studied at Central Saint Martins University of Art and Design (2011) in London and at Emily Carr University of Art and Design (2013) in Vancouver. Saan works with large-scale installations, photography, video works, ceramics and textile pieces. The artist's work often resembles diverse utopian areas where poetry, philosophical topics, and various unexpected organic and artificial materials intertwine, while one of the main aspects becomes the perception of object, material, and space.
Krišs Salmanis (b.1977) is a visual artist based in Riga. He studied in the Visual Communication Sub-Department at the Art Academy of Latvia (MA, 2003) and at the Academy of Media Arts in Cologne (2009–2010). Salmanis uses animation, video, photography and objects as well as his body in his art. His work can be perceived as a mental exercise, intellectual activity and wit as a twist of thought. Painstakingly elaborate, the works are thought out to the tiniest detail. They are often quite minimalist in terms of artistic expression and defined by their unexpected paradoxicality and intuitive quest for the truth combined with subtle irony and existential sadness.
Jaanus Samma (b.1982) is a visual artist based in Tallinn. He graduated from the Estonian Academy of Arts with a BA in graphic arts (2005) and an MA in fine arts (2009). His body of work includes photographs, installations and videos with topics that have been grounded in the study of urban space and the subjective experiences of it. Over the years his interests have moved towards gender studies, investigating the representation of male sexuality and ways of portraying this by artistic means. His fields of interest include history, ethnography and museology as well as the narratives used at the intersection of the three.
Līga Spunde (b. 1990) is a visual artist based in Riga. In 2016, she completed her postgraduate studies in the Department of Visual Communication at the Art Academy of Latvia. Spunde presents her works as multimedia installations, intertwining personal stories with deliberate fiction. The interpretations and use of recognisable characters serve as an extension of her personal experiences, tapping into universal truths. Usually, the content of the work determines the physical form of the conception, so a variety of media and materials are used in the installations.
Rūta Spelskytė (b.1985) as an artist based in Vilnius. She studied printmaking and sculpture at Vilnius Art Academy receiving bachelor (2008) and master degrees (2010). In 2019, she also received her doctoral degree from Vilnius Art Academy. Spelskytė is especially interested in misunderstandings and failures by humans, as well as the interrelations between science and the extro-science-fiction world. She works with rare specimens, the emission of light and pigments, imagining future alchemy, plants, animals, and senses that could be trained or found.
Sabīne Vernere (b.1990) is a painter based in Riga where she is heading the experimental Pilot art space of the Art Academy of Latvia. Since 2019 she holds a master's degree from the Painting Department of the Faculty of Visual Arts at the Art Academy of Latvia. She has perfected her skills at the Academy of Fine Arts in Zagreb and the Royal Academy of Fine Arts in Antwerp. Vernere is an emerging Latvian painter, who has garnered acclaim for her bright and expressive Indian ink paintings. The artist has focused her investigative lens on bodily and sexual experiences that instead of becoming the key topics of the investigation, serve merely as an extension of the working language.
---
SVE
Kurator: Šelda Puķīte
Kogo Galerii och galleri Titanik i samarbete
Vernissage torsdag 2.6.2022 kl. 18–20
I ought to be thy Adam; but I am rather the fallen angel.
(Mary Shelley – Frankenstein, or The Modern Prometheus, 1818)
Författaren Mary Shelley var barn till två intellektuella radikaler som levde vid sekelskiftet 1700 och ett olyckligt vittne till sina närmastes död. Hon fascinerades av sin tids nya vetenskapliga upptäckter och särskilt av sådana som var förknippade med elektricitet, eller elektrisk vätska som den kallades på den tiden. Det ledde till att hon skrev sin berömda gotiska roman Frankenstein (Frankenstein eller den moderne Prometheus) (1818) där hon berättar historien om en läkare som tänjer på gränserna för människans skaparförmåga och skapar ett framstegsbarn som samtidigt är ett monster. Berättelsen kan tolkas på olika sätt: man kan förstå den som en varning till människan att inte leka Gud, som en fantasi om vetenskapens framtida möjligheter eller en filosofisk syn på människans komplicerade relation till döden. Dessutom avslöjar den en fixering vid mänskligt kött som har konstiga likheter med vårt sätt att i dag se på robotaktiga kroppar. Människokroppens delar som element som kan fogas samman med varandra och göra människan till någonting annat, är det som inspirerat till utställningen My Bitter Sweet Frankenstein Body.
Kroppen är en komplicerad företeelse som existerar i flera parallella verkligheter – den fysiska, den virtuella, den psykiska och den andliga. Den är alla levande varelsers biokostym som ger form åt allt som kan uppfattas existera. Men kroppen verkar vara ett evigt slagfält för motsatser – den är en sköld och ett fängelse och en källa till glädje och yttersta plåga och förfall. Den kan vara flytande och fast, digital och andlig, mjuk och styv, sexualiserad och stigmatiserad. Kroppen är en skepnadsbytare som aldrig stelnar men ständigt skiftar form, och som under processen förvandlar sig till skojare eller till en varelse som roar sig med dig, eller på din bekostnad, för att bli sin egen version av varelsen i Shelleys Frankenstein.
Utställningen My Bitter Sweet Frankenstein Body är tillägnad de komplexa relationerna mellan människorna och deras koloniserade, digitaliserade och globaliserade kroppar, och alla hybridformer och avvikelser. Alla dessa kroppsliga former ger löfte om en sorts utväg och lättnad som ändå aldrig riktigt realiseras. Nu när vi genomlevt restriktionerna under pandemin, delat trånga utrymmen och försökt sträcka ut våra kroppar som talande huvuden på Zoom-möten och levande avatarer på Instagram, verkar våra inre störningar komma till ytan synligare än tidigare. Folk går till ytterligheter med Photoshop, den plastikkirurgiska industrin erbjuder ansiktslyft för att vi ska se bra ut på möten online, och diet- och fitness-appar producerar dagliga doser skräppost.
I utställningen iklär sig konstnärerna och kuratorn Frankensteins roll och blir symboliska representanter för dagens samhälle som hela tiden försöker forma om våra kroppar att passa in i någon normativ ram. Alla verken representerar någon del av människokroppen som är utställd i galleriet att betraktas av den nyfikna besökaren. Utställningens konstnärer har olika motiv för att använda något visst kroppselement som form och bild. Utgångspunkten kan vara en metaforisk framställning av känslor och övertygelser, former som kan bilda ett landskap, objekt för ett samtal om skönhet eller kulturell identitet eller plattformar för diskussioner om moral och censur eller för att ta politisk ståndpunkt. Varje verk är "hopsytt" till en varelse, en utställningshelhet som representerar både de Frankenstein-begär som finns i dagens samhälle och själva traditionen med kuratoriskt utställningsskapande.
Utställningen är ett resultat av årets samarbete mellan det estniska samtidskonstgalleriet Kogo och Titanik. Genom utställningsutbytet kommer baltiska konstnärer till Åbo i Finland och finländska konstnärer gästar Tartu i Estland.
UNDERSTÖDJARE
Projektet har fått understöd från Estlands kulturfond, Lettlands kulturhuvudstadsfond, Finsk-Estniska kulturfonden, Finlands Estlandsinstitut och Nordisk kulturkontakt.
TACK
Mirjami Schuppert, Liina Raus, Lotta Anttila, Karin Kahre, Duha Elsayed, Tanel Asmer och Indrek Grigor.
Konstnärerna:
Eike Eplik (f. 1982) är skulptör och installationskonstnär och bor i Tartu. Hon utexaminerades 2007 från skulptöravdelningen vid konsthögskolan i Tartu och 2010 från Estlands konstakademi. Hon använder motiv från naturen för att bygga upp framställningen. Eplik utnyttjar gallerirummet från golv till tak och hennes skulpteringstekniker varierar mellan klassisk gipsgjutning, assemblage med papper och trä och bruk av upphittade föremål. Processerna i hennes konstskapande är delvis undermedvetna och går inte alltid att förklara.
Edith Karlson (f.1983) är skulptör och installationskonstnär och bor i Tallinn, där hon också arbetar som lärare vid Estlands konstakademi. Hon tog sin kandidat- (2006) och magisterexamen (2008) vid avdelningen för installationskonst och skulptur vid Estlands konstakademi. Karlsons skulpturer och installationer påminner om medeltida lämningar och om funkiga cirkustrupper och fantasmagoriska mardrömmar där den gamla och den nya världen kolliderar i en apokalyptisk vision. Hennes verk har beskrivits som dystra sagor eftersom de ofta ser ut som roliga lekrum fyllda med monstruösa varelser. Verken ser alla ut att vara verktyg för att skapa allegorier om starka mänskliga känslor och rädslor som stiger till ytan ur det undermedvetnas mörka djup.
Kristina Õllek (f.1989) är en bildkonstnär från Tallinn. Hon utexaminerades från Estlands konstakademi (bildkonst, fotografi, BA 2013, MA 2016) och har kompletterat sina studier vid Kunsthochschule Berlin-Weissensee i Berlin (2012) och Piet Zwart Institute i Rotterdam (2016). Õllek arbetar med foto-, video- och installationskonst med fokus på att undersöka representationsprocesser, geologiskt material, vattenekologi och miljöer skapade av människan. I sin praktik undersöker hon situationer där fakta och fiktion, syntetiskt och naturligt, kopia och original sammanflätas och blir hybrida föremål/material med en ny och omprövad betydelse.
Laura Põld (f.1984) är bildkonstnär och bor i Tallinn. Hon har studerat keramik vid Estlands konstakademi (BA 2007), måleri vid universitetet i Tartu (MA 2010) och skulptur och keramik vid konstuniversitetet i Linz (2018–2021). Põld studerar ständigt människans (och djurens) grundläggande behov, som till exempel gemenskap, trygghet och skydd. I sina senaste arbeten fokuserar hon på sina materialval och deras historiska kontext och använder traditionella hantverks- och byggtekniker, såsom (primitiv) keramik och broderi, som intresserar henne i deras egenskap av bevarare av minne och erfarenhet.
Kristel Saan (f.1985) är en Tallinnbaserad bildkonstnär. Hon avlade magisterexamen (Ceramic Design) vid Estlands konstakademi (2015) och har därtill studerat vid Central Saint Martins University of Art and Design (2011) i London och vid Emily Carr University of Art and Design (2013) i Vancouver. Saan arbetar med stora installationer, fotografi, videoverk, keramik och textil. Hennes verk för ofta tankarna till utopiska områden där poesi, filosofiska ämnen och allehanda organiska och konstgjorda material flätas samman. En central aspekt i hennes arbete är hur objektet, materialet och rummet uppfattas.
Krišs Salmanis (f. 1977) är en bildkonstnär som bor i Riga och har studerat vid avdelningen för visuell kommunikation vid Lettlands konstakademi (MA, 2003) och vid Mediekonstakademin i Köln (2009–2010). I sin konst använder Salmanis animation, video, fotografi, föremål och sin egen kropp. Hans verk kan uppfattas som andliga övningar, intellektuellt arbete och kvickhet som tankevändning. De mödosamt och skickligt utarbetade verken är genomtänkta in i minsta detalj. De är ofta rätt minimalistiska till sitt konstnärliga uttryck och definieras av sin oväntade paradoxalitet och sitt intuitiva sanningssökande i förening med subtil ironi och existentiell sorg.
Jaanus Samma (f.1982) är en Tallinnbaserad bildkonstnär. Han avlade en BA (2005) och en MA (2009) i grafisk konst vid Estlands bildkonstakademi. Hans verk innehåller fotografier, installationer och videor med teman som bygger på ett utforskande av stadsrummet och på subjektiva erfarenheter av detta. Under årens lopp har hans intresse allt mer riktats mot genusvetenskapen, och han undersöker framställningen av den manliga sexualiteten och hur den beskrivs med konstnärliga medel. Till Sammas intressen hör också historia, etnografi och museologi och de narrativ som uppstår i skärningspunkten mellan dem.
Līga Spunde (f. 1990) är bildkonstnär och bosatt i Riga. År 2016 slutförde hon sina postgraduala studier vid avdelningen för visuell kommunikation vid Lettlands konstakademi. Spunde presenterar sina verk som multimedieinstallationer där personliga berättelser flätas samman med genomtänkt fiktion. Identifierbara karaktärer och tolkningar av dem fungerar som en förlängning av hennes personliga erfarenheter och berör universella sanningar. Vanligen definierar innehållet i Spundes verk deras fysiska form, och därför kan man se en mängd olika medier och material i hennes installationer.
Rūta Spelskytė (f.1985) är en bildkonstnär som bor i Riga. Hon har studerat konstgrafik och skulptur vid konstakademin i Vilnius. Där avlade hon kandidatexamen (2008), magisterexamen (2010) och disputerade för doktorsgraden (2019). Spelskytė är särskilt intresserad av missförstånd och misslyckanden som människor upplever och av relationen mellan vetenskapen och ekstro-science fiction-världen. Hon arbetar med sällsynta prover, emission av ljus och pigment och föreställer sig framtidens alkemi, växter, djur, och sinnen som kunde tränas eller upptäckas.
Sabīne Vernere (f.1990) är konstmålare och bosatt i Riga, där hon leder det experimentella konstrummet Pilot vid Lettlands konstakademi. Vernere har avlagt magisterexamen vid avdelningen för måleri vid fakulteten för bildkonst vid Lettlands konstakademi 2019. Hon har byggt på sina kunskaper vid konstakademin i Zagreb och vid kungliga konstakademin i Antwerpen. Vernere är en lettisk konstmålare som fått beröm för sina klara och expressiva målningar utförda i tusch. Hon fokuserar på kroppsliga och sexuella erfarenheter, men i stället för att vara centrala teman i undersökningen fungerar de snarast som en utvidgning av arbetsspråket.