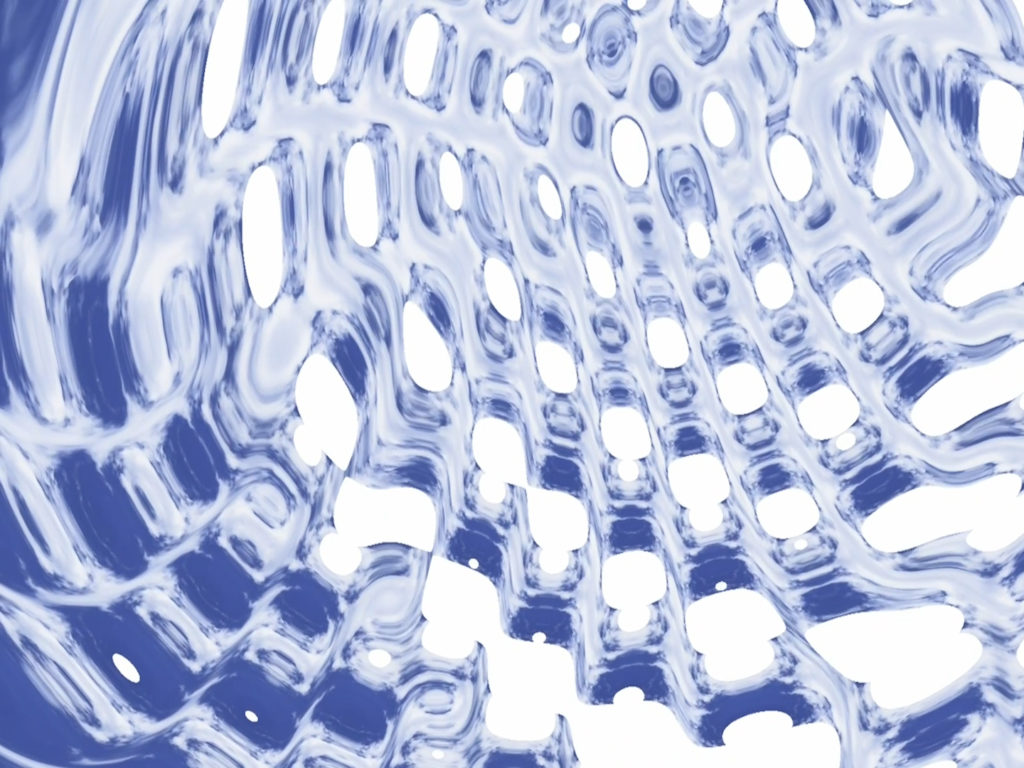 SUPERSATURATION 
Josefina Nelimarkka
12.3.–4.4.2021
Näyttely avautuu pe 12.3. klo 12:00 ilman avajaisia.
Supersaturoitunut ilma
Supersaturoitunut hetki
Supersaturoitunut väri
Supersaturaatio johdattelee katsojaa kohti pilven mahdollisuuksia – niin reaalisia kuin virtuaalisiakin. Titanikissa nähtävä teoskokonaisuus on loputon prosessi, jonka jokainen hetki on kiinnitetty pilven muodostumiseen. Ilmakehästä mitattu ja kuvattu tieto vaikuttaa suoraan video- ja ääni-installaation ilmentymiseen. Näyttelytilaan levittäytyy lasiveistoksia, läpinäkyvää poetiikkaa ja ilmastodatateknologiaa.

Ilma, pikseli, sana ja ääni tiivistyvät, kerrostuvat ja haihtuvat. Pilveä määrittelevä epävarmuus muuttuu aistilliseksi kokemuksellisuudeksi datasignaalien ja värien virtauksessa. Näyttely ottaa kantaa ilmastossa ja yhteiskunnassa liikkuviin saturaatioilmiöihin ympäristöön sidotun ja värillä kyllästetyn prosessin kautta.
Supersaturaatio on taiteellinen tutkimus, jossa taide, ilmastotiede ja datateknologia sulautuvat toisiinsa. Josefina Nelimarkka on työskennellyt pitkäaikaisesti ilmastotutkijoiden kanssa syventyen ilmakehään ja pilviin liittyviin monimutkaisiin kysymyksiin sekä vuorovaikutuksiin.

Josefina Nelimarkka on monialainen taiteilija, joka on valmistunut Kuvataideakatemiasta ja Lontoon Royal College of Artista. Viimeaikaisessa työskentelyssään hän tarkastelee näkymättömyyksiä ja niiden havainnointia suhteessa ilman poliittisuuteen ja ilmaston tulevaisuuteen yhteistyössä ilmastotutkijoiden, paleoklimatologien ja nanoinsinöörien kanssa. Hänen teoksissaan jatkuva prosessi, performatiivisuus ja reaaliaikainen ilmastodata yhdistyvät tuoden esiin ajan hetkellisyyden ja ympäristön herkkyyden.

Yhteistyössä Ilmakehätieteiden keskus INAR & Hyytiälän metsäasema – Helsingin Yliopisto ja Department of Environmental Science and Analytical Chemistry ACES – Stockholm University.
Taiteilijan työskentelyä on tukenut Suomen Kulttuurirahasto, Alfred Kordelinin säätiö ja Taiteen edistämiskeskus.
___________________________________________________________________________
SUPERSATURATION 
Josefina Nelimarkka
12.3.–4.4.2021
Utställningen öppnas på fredag den 12 mars kl. 12:00 utan en vernissage.
Supersaturated air
Supersaturated moment
Supersaturated colour
Supersaturation takes the viewer towards the possibilities of a cloud – both real and virtual. The body of work is an endless process: every moment is connected to the ongoing cloud formation. The video- and sound installation is transformed by information that is measured and filmed directly from the atmosphere. The gallery space fills with glass sculptures, transparent poetics and climate data technology.
Air, pixel, word and sound condense, accumulate and evaporate. The uncertainty which describes the cloud shifts into sensory experientiality through a flux of datasignals and colours. The exhibition speaks for multiple saturation phenomena moving across climate and society with a process tied to the environment and immersed by colour. Supersaturation is artistic research that combines art, climate science and data technology. Josefina Nelimarkka has worked on a long-term basis with climate scientists focusing on the complex questions and interactiorelated to the atmosphere and clouds.

Josefina Nelimarkka is an interdisciplinary artist who has graduated from Academy of Fine Arts in Helsinki and Royal College of Art in London. In her recent work she explores the in/visible and its perception in relation to the politics of air and future scenarios of climate change in collaboration with climate scientists, paleoclimatologists and nano engineers. Continuous process, performativity and real-time climate data bring forth the momentary time and the sensitivity of the environment.

In collaboration with Institute for Atmospheric and Earth System Research INAR & Hyytiälä Forestry Field Station – Helsinki University and Department of Environmental Science and Analytical Chemistry ACES – Stockholm University.
Supported by The Finnish Cultural Foundation, Alfred Kordelin Foundation and Arts Promotion Centre Finland.
_________________________________________________________________________________________
SUPERSATURATION 
Josefina Nelimarkka
12.3.–4.4.2021
The exhibition opens on Friday March 12th at 12 noon without official reception.
Övermättad luft
Övermättat ögonblick
Övermättad färg
Supersaturation leder åskådaren mot molnets möjligheter – både verkliga och virtuella. Verkets helhet i Titanik är en oändlig process med varje ögonblick fäst vid bildandet av ett moln. Information som mäts från atmosfären påverkar direkt uttrycket för video- och ljudinstallationen. Glasskulpturer, transparent poesi och klimatdatateknik kommer att spridas i utställningsrummet.

Luft, pixel, ord och ljud kondenserar, skiktar sig och avdunstar. Osäkerheten som definierar molnet förvandlas till en sensorisk upplevelse i flödet av datasignaler och färger. Supersaturation tar ställning till mättnadsfenomenen som rör sig i klimatet och samhället genom en process bunden till miljön och mättad med färg.
Supersaturation är en konstnärlig forskning där konst, klimatvetenskap och datateknik smälter samman. Josefina Nelimarkka har arbetat länge med klimatforskare och har fördjupat sig i komplexa frågor och interaktioner relaterade till atmosfären och molnen.

Josefina Nelimarkka är en tvärvetenskaplig konstnär som utexaminerade från Bildkonstakademin och Royal College of Art i London. I sitt senaste arbete undersöker hon o/synlighet och dess observation i förhållande till luftens politik och klimatets framtid i samarbete med klimatforskare, paleoklimatologer och nanoingenjörer. I hennes verk kombineras en kontinuerlig process, performativitet och klimatdata i realtid, vilket tar fram tidens förgänglighet och miljöns känslighet.

I samarbete med Center for Atmospheric Sciences INAR & Hyytiälä skogsstation – Helsingfors universitet och Institutionen för miljövetenskap och analytisk kemi ACES – Stockholms universitet.
Konstnärens arbete har fått stöd av Finska kulturfonden, Alfred Kordelin fonden och Centret för konstfrämjande.