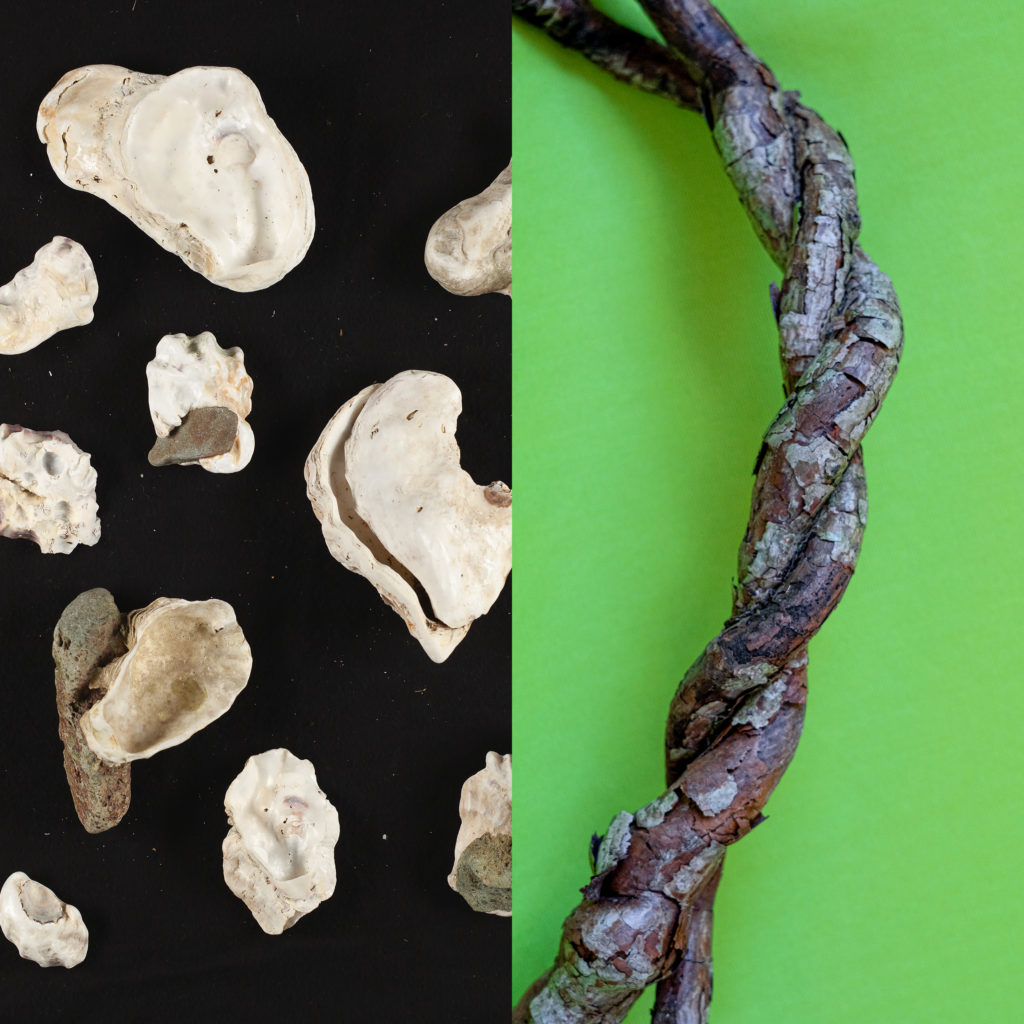 FIN

Clutch (Ote) on kahden taiteilijan, Harriina Räinän (Suomi) ja Pedro Hurpian (Brasilia) näyttely. Esillä olevat teokset keskittyvät ostereiden ja liaanien tapaan tarttua ja kiinnittyä sekä muodostaa riuttoja ja kasvipeitteitä toisten olioiden ja eliöiden kanssa. Taiteilijat ovat aiemmin työskennelleet Saaren kartanon kansainvälisessä taiteilija- ja tutkijaresidenssissä. Näyttely on järjestetty Saaren kartanon ja Titanikin kutsumana.

Gallerian etuosassa joen puolella on esillä Harriina Räinän taiteellinen tutkimusprojekti Volatile Shells (2022–2024). Räinä tutkii projektissaan ostereiden toimijuutta sekä niiden kuorten muotoa ja olemusta. Projektissa keskitytään erityisesti syötäviin osterilajeihin: tyynenmeren-, euroopan- ja atlantinostereihin sekä Itabo-ostereihin.

Osteri on yleisnimitys meressä eläville kaksikuorisille nilviäisille, jotka pysyvät paikallaan koko elämänsä ajan. Kun osterit kasvavat vapaasti, ne muodostavat riuttoja, elämää kuhisevia ekosysteemejä, jotka estävät eroosiota, puhdistavat merivettä ja tarjoavat ympäristön sadoille muille lajeille.

Titanikissa esillä oleva näyttely tutkii, kuinka osterit kiinnittyvät valitsemaansa kasvualustaan eliniäkseen, ja kuinka osterien kaupallinen kasvatus estää tämän kiinnittymisen. Näyttelyn teokset sisältävät valokuvia, installaation sekä maalauksen, joka on maalattu suoraan gallerian ikkunaan.

Gallerian perällä, Runeberginpuiston puiden alla on Pedro Hurpian uusi teos Torção. Teos on syntynyt Hurpian kiinnostuksesta liaaneja kohtaan, joita hän on tarkkaillut lähimetsässään.

Liaanit ovat köynnöstäviä kasveja, jotka kurottavat valoa kohti ottaen köynnöksillä tukea puista ja muista kasveista. Ne kiertyvät, kiipeilevät ja tarttuvat toisiin kasveihin mutkitellen ja levittäytyen eri pinnoille – ne ovat jatkuvassa liikkeessä. Liaanit ovat tärkeitä ekosysteemin rakentumiselle, sillä niiden avulla puiden latvustoissa asuvat eläimet pääsevät puusta toiseen.

Installaatio sisältää videoita ja rakennelmia, jotka esittävät mahdollisia tapoja, joilla liaanit muodostuvat, kietoutuvat ja ovat vuorovaikutuksessa ympäristön kanssa. Hurpia näkee teoksensa tarkkaavaisuuden harjoittamisena ja erilaisten näkökulmien hakemisena. Joitakin liaanikasveja käytetään lääkkeenä. Näyttelyssä nähdään Aristolochia Gigantea Brasiliensis -lajin kasveja, joita käytetään laajalti lääkinnässä ja hengellisiin tarkoituksiin.
Kiitos teknisestä tuesta Aboa Vetus & Ars Nova -museolle.

HARRIINA RÄINÄ on Helsingissä toimiva, tutkimukseen suuntautunut kuvataiteilija. Räinän taiteellisia kiinnostuksenkohteita ovat ruumiillisuus, dynamiikka havainnon tapahtumassa sekä eläinkysymys, eli ihmisen suhde ja suhtautuminen toislajisiin eläimiin. Hän valmistui kuvataiteen maisteriksi Taideyliopistosta Helsingissä vuonna 2019. Volatile Shells -projektia ovat olleet tukemassa Olga ja Vilho Linnamon Säätiö, Taiteen edistämiskeskus Taike, Suomen Taideyhdistys ja Koneen Säätiö.

PEDRO HURPIA on brasilialainen kuvataiteilija ja tutkija. Hän on kiinnostunut näkymättömistä rakenteista, spekulatiivisista laitteista, unohdetuista tarinoista ja ennustamisesta tapana kurkottaa luonnosta saamamme käsityksen yli. Hurpia on vieraileva taiteilija brittiläisessä TSOEG – Temporal School of Experimental Geography -verkostossa ja yhteistyökumppani hollantilaisessa SEA Foundation Tilburg -verkostossa. Hän on opiskellut kuvataiteita Campinasin yliopistossa Brasiliassa.
ENG

In the exhibition Clutch, artists Harriina Räinä (Finland) and Pedro Hurpia (Brazil) present works that focus on the ways oysters and lianas cling and attach and thus create reefs and blankets with other entities and organisms. The artists have previously worked at the Saari Residence, an international residency for artists and researchers, and were invited to the exhibition by Saari Residence and Titanik.

The front of the gallery, with its glass walls facing the river, features Harriina Räinä's artistic research project Volatile Shells (2022–2024). The project examines oysters' agency and the shape and essence of their shells. The project focuses on edible true oyster species: Pacific, European flat, Atlantic, and Itabo.

Oyster is the common name for salt-water bivalves that stick to one location for their entire lives. When growing freely, they form reefs, which are rich ecosystems that prevent erosion, clean the seawater and provide habitats for hundreds of other species.

The exhibition at Titanik studies how oysters attach themselves to their chosen substrate for life, and how oyster farming prevents this attachment. The artworks seen in the exhibition take the form of photographs, an installation and a painting made directly on the gallery window.

In the back of the gallery, under the trees in Runeberg Park, Pedro Hurpia's new work Torção is on display. The work stems from Hurpia's observation of and fascination with the lianas growing in his nearby forest.

Lianas are clinging plants that use woody vines to climb trees and other vegetation in search of sunlight. They spin, climb and grab on to others in a continuous twist – spreading across layers and surfaces in continuous movement. Lianas are important ecosystem engineers and provide pathways between canopies for canopy-dwelling animals.

The installation consists of videos and structures speculating on the formation, entanglement and dynamics of the lianas. For Hurpia it is an exercise in attentiveness and in seeking different perspectives. Some species of liana plants are used medicinally, and samples of Aristolochia Gigantea Brasiliensis, a plant used for a wide range of physical and spiritual purposes, are on display in the exhibition.
Thanks to Aboa Vetus & Ars Nova museum for technical support.

HARRIINA RÄINÄ is a research-oriented visual artist based in Helsinki, Finland. Her artistic interests lie in topics such as corporeality, the dynamics in the experience of observing, and the animal question, i.e., humans' relationship with and attitudes towards non-human animals. She graduated with a master's degree in fine arts from the University of the Arts Helsinki in 2019. Volatile Shells is supported by the Olga and Vilho Linnamo Foundation, Arts Promotion Centre Finland, Finnish Art Society and Kone Foundation.

PEDRO HURPIA is a Brazilian visual artist and researcher. He is interested in invisible structures, speculative devices, forgotten stories and divination practices as ways of grasping what lies beyond our perception of nature. Hurpia is a guest artist at TSOEG – Temporal School of Experimental Geography (UK) and a collaborator at the SEA Foundation Tilburg (NL). He studied visual arts at the State University of Campinas (BR).
SVE
I utställningen Clutch (Grepp) presenterar två konstnärer, Harriina Räinä (Finland) och Pedro Hurpia (Brasilien), verk med fokus på hur ostron och lianer griper tag, fäster och bildar rev och växttäcken tillsammans med andra varelser och organismer. Konstnärerna har tidigare arbetat vid det internationella konstnärs- och forskarresidenset Saaris gård. Utställningen ordnas på inbjudan av Saaris gård och Titanik.

I galleriets främre del som vetter mot Aura å visas Harriina Räinäs konstnärliga forskningsprojekt Volatile Shells (2022–2024), där hon undersöker ostronens verkande kraft och skalens form och väsen. Projektet fokuserar särskilt på ätbara ostronarter: Stillahavsostron, europeiskt och atlantiskt ostron och Itabo-ostron.

Ostron är det gemensamma namnet på tvåskaliga havslevande blötdjur som förblir stationära hela livet. När ostron växer fritt bildar de rev, ekosystem som kryllar av liv och förhindrar erosion, renar havsvattnet och erbjuder hundratals andra arter en livsmiljö.

Utställningen som visas på Titanik studerar hur ostronen fäster vid sitt valda växtunderlag och stannar där hela livet och hur kommersiell ostronodling hindrar dem att göra det. Verken i utställningen består av fotografier, en installation och en målning som gjorts direkt på galleriets fönster.

I galleriets inre del, under träden i Runebergsskvären, visas Pedro Hurpias nya verk Torção. Verket föddes ur Hurpias intresse för lianer som han observerade i en skog nära sitt hem.

Lianer är klängväxter som använder sina vedartade rankor för att klättra upp i träd och annan vegetation för att nå solljuset. De vrider sig, klättrar och griper tag i andra växter och breder ut sig över ytor i en ständig rörelse. Lianer är viktiga byggare av ekosystem och tack vare dem kan djur som lever uppe i trädkronorna ta sig från träd till träd.

Installationen innehåller videor och konstruktioner som spekulerar i hur lianer uppstår, sammanflätas och hur de samverkar med miljön. Hurpia ser sitt verk som en övning i uppmärksamhet och i att söka olika perspektiv. Vissa lianväxter används som medicin och i utställningen visas några exemplar av arten Aristolochia Gigantea Brasiliensis som används för en mängd olika medicinska och andliga ändamål.
Tack till Aboa Vetus & Ars Nova museet för tekniskt stöd.

HARRIINA RÄINÄ är en Helsingforsbaserad bildkonstnär som är inriktad på forskning. Räinäs konstnärliga intresse fokuserar på kroppslighet, observationens dynamik och på djurfrågan, det vill säga människans förhållande till och attityder till icke-mänskliga djur. Hon tog magisterexamen i bildkonst vid Konstuniversitetet i Helsingfors 2019. Projektet Volatile Shells har understötts av Olga och Vilho Linnamos stiftelse, Centret för konstfrämjande Taike, Finska Konstföreningen och Konestiftelsen.

PEDRO HURPIA är en brasiliansk bildkonstnär och forskare. Han är intresserad av osynliga strukturer, spekulativa apparater, bortglömda berättelser och spådomsmetoder som sätt att förstå det som ligger bortom vår uppfattning av naturen. Hurpia är gästkonstnär vid brittiska TSOEG – Temporal School of Experimental Geography och medarbetare i det nederländska nätverket SEA Foundation Tilburg. Han har studerat bildkonst vid universitetet i Campinas i Brasilien.