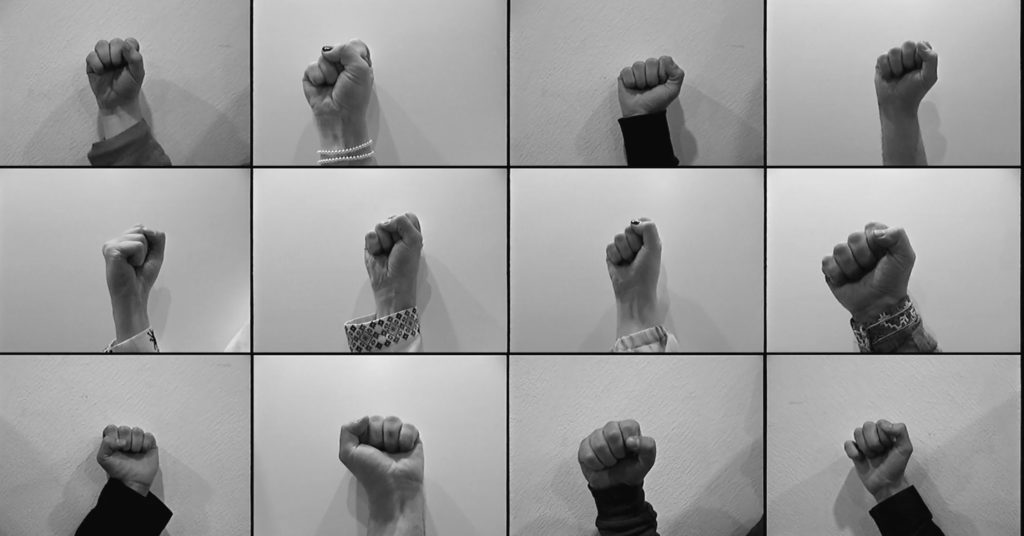 Fin
Keho on paikka, jossa syntymä ja kuolema kohtaavat. Koti ruumiilliselle ja aineettomalle, kosketeltaville ja saavuttamattomille unelmille ja tyhjiöille – se on ainoa kotimme, joka on jatkuva fyysisessä läsnäolossaan. Kun maailma on kaaoksessa, nipistämme itseämme ollaksemme varmoja siitä, mikä on todellista. Kehomme on koetinkivi, josta pidämme kiinni, josta opimme; hahmo, joka voi olla voimakas voimattomuuden tunteiden keskellä.

Neuvottelemalla potentiaalin ja halvauksen välistä tilaa, monet esillä olevista taideteoksista ilmentävät siirtymisen vaikutuksia ja kahdessa eri maailmassa elämisen vinoa todellisuutta. Hajareisin seisoen näkymättömällä horisontilla, taiteilijat kamppailevat vapauden rajojen, irti päästämisen rituaalien ja sodan äärettömien vaikutusten kanssa.

Traversing the body as a dividing line-näyttelyssä, jossa on esillä monia medioita, ihmiskeho voi näyttäytyä keskeisenä narratiivina, mutta usein inhimillisyyttä käytetään työkaluna maiseman luonteen korostamiseen: sosiaalipoliittisen, emotionaalisen tai symbolisen.

Näyttelyyn osallistuvat Alexandra Krolikowska, Anastasiia Sviridenko, Maria Kulikovska, Polina Choni, Sergii Shaulis ja Stanislava Ovchinnikova. He ovat osa HIAP:in Ukraine Solidarity Residency Programme -hanketta vuonna 2023. Kuraattorit: Dana Neilson ja Oleksandra Kokhan.
Alexandra Krolikowska on monitieteinen taiteilija ja psykologi Kiovasta (s. 1990, Ukraina). Hyödyntäen analogista valokuvausta, videota ja performanssia taiteessaan Alexandra tutkii poliittisia rajoja, sosiaalista yhteenkuuluvuutta ja yksilön kokonaisuutta. Alexandra on kiinnostunut mytologisesta ajattelusta ja ihmisten suhteista luontoon. Hän myös osallistui metamodernismin tutkimukseen, joten hän paljastaa teoksissaan tapahtumien arkkityyppisen kuvan; kuviteltua, mutta vilpitöntä ja todellista näkökulmaa. Alexandra työskentelee parhaillaan maisterintutkielmansa parissa valokuvauksen psykoterapeuttisesta vaikutuksesta neuvontapsykologian opintojen puitteissa Hryhorii Skovoroda Yliopistossa Pereiaslavissa. Hän kuratoi "Photos from the frontline. Diary of collective memories" -projektin, joka on sotilaiden luoma kertakäyttökameroiden avulla.

Anastasiia Sviridenko (s. 1996, Ukraina) on Tammisaaressa asuva kuvataiteilija. Hänen maalauksensa ovat täynnä rikkinäisiä ja epävakaita olentoja. Ne tasapainottelevat figuratiivisen ja abstraktin välillä; olentojen muodot katoavat väreihin. Veistoksien parissa työskennellessä Anastasiia yhdistää löydettyjä tai käytettyjä materiaaleja, tuoden yhteen todellisuutta ja fiktiota ja antaen esineille uuden tavan elää. Hänen taiteensa lähtökohtana on yhteyksien etsiminen tunteiden ja aineen piilotetun tiedon välillä–olipa kyseessä kynä tai nahkatakki. Sviridenkon näyttelykokemus ulottuu off-site -näyttelyistä gallerioihin.

Maria Kulikovska on multimediataiteilija, arkkitehti, aktionisti/esiintyjä, tutkija ja luennoitsija. Hän syntyi vuonna 1988 Kerchissä, Krimin autonomisessa tasavallassa, Ukrainassa. Hänet tunnetaan multimediataiteilijana, performanssitaiteilijana ja poliittisen performanssin mestarina (uusi suunta ukrainalaisille nykytaiteilijoille). Hän luo veistoksia käyttäen ballistista hyytelöä ja luonnonmateriaaleja. Marialle pääaiheita ovat sukupuoli, queer, keho ja sen rajat, naiset patriarkaalisessa yhteiskunnassa, sota ja migraatio. Venäjän suorittaman Krimin valtauksen jälkeen hän on asunut ja työskennellyt maanpaossa Kiovassa, Donetskissa, Malmössä, Liverpoolissa, Lontoossa, Münchenissä ja Tukholmassa (keväällä 2014 tapahtuneen Krimin niemimaan miehityksen jälkeen taiteilija ei ole koskaan palannut hänen kotikaupunkiinsa). Yhdessä kumppaninsa, niin työ- kuin yksityiselämässä, Oleg Vinnichenkon kanssa he asuvat pysyvästi Kiovassa, mihin he perustivat Garage33-gallerian, studionsa ja kokeellisen itsenäisen taidetilan.

Polina Choni on kuvataiteilija, jolla on tausta muoti- ja elokuva-alalta. Hän syntyi Kiovassa, Ukrainassa. Polina sain maisterin tutkinnon Kiovan tekniikan ja muotoilun yliopistosta vuonna 2017. Hän työskentelee ympäristön, kestävän kehityksen ja luonnon monimuotoisuuden parissa. Luonto on Polinalle inspiraation lähde ja tutkimuksen kohde, joka ohjaa häntä tutkimaan ihmisten harmonista yhteiseloa ympäristön kanssa. Hänen viimeaikaisten taideteostensa pääpaino on Ukrainan sodan ekologisissa vaikutuksissa. Hänen nykyinen toimintatapansa heijastaa hänen sitoutumistaan tietoisuuden lisäämiselle luonnontuhonnan (ecocide) seurauksista ja kestävämmän tulevaisuuden puolesta puhumiselle.

Sergii Shaulis on ukrainalainen taiteilija ja kuvanveistäjä, joka yhdistää perinteiset ja modernit kuvanveistotekniikat. Henkilökohtaisten ja ympärillään olevien kokemustensa perusteella Sergii tutkii ihmisen sisäisiä tiloja ja etsii muotoja, jotka kuvastaisivat ongelman olemusta tai symboloisivat henkistä tilaa. Sergiille viimeisten 9 vuoden ajan pääaiheena on ollut sota. Se tulee näkyviin erilaisissa työsarjoissa, joihin hän palaa luoden uusia kappaleita. Sarjalla ei ole lopullista määrää veistoksia ja siinä on aina tilaa uusille kappaleille. Tämä prosessi tapahtuu rinnakkain taiteilijan elämän kanssa: hänen työnsä elää ja kehittyy yhdessä hänen kanssaan. Sergii säilyttää mahdollisuuden palata, uudelleen ajatella ja tuoda uusia muotoja ja merkityksiä olemassa oleviin sarjoihin. Tämä prosessi on pohjimmiltaan loputon ja siksi mielenkiintoinen taiteilijalle.

Stanislava Ovchinnikova on monitieteinen taiteilija, jonka kiinnostuksen kohteena ovat ensisijaisesti poliittisesti sitoutuneet ja traumapohjaiset taiteelliset käytännöt. Hänen työnsä perustuu omaelämänkerrallisiin aineistoihin ja sukupolvien väliseen historiaan ja hän usein osallistaa vaikutuspiiriin kuuluvien yhteisöjen jäseniä tutkimusvaiheeseen. Sen sijaan, että rajoittuisi johonkin tiettyyn lähestymistapaan tai metodologiaan, hän käyttää erilaisia välineitä tukemaan työnsä keskeisiä aiheita. 
Projektissaan «Am I Dead Yet?» hän haastatteli 16 ihmistä heidän suhteestaan kuolemaan ja siitä, miten erilaiset mielentilat vaikuttivat siihen. Hän sitten kuvasi perhettään poltetulle filmille luodakseen eroosion tunteen, joka muistuttaa masennuksessa koettua tunnetta. Toisessa projektissa "A Home, A Place To Sleep" Ovchinnikova kirjo-ompeli vuoropuhelun miehityksestä tyynyliinaan, jonka hän otti mukaansa valkoisena lippuna, kun hän pakeni kotikaupungistaan Kiovasta keskellä sotaa. Stanislava Ovchichinnikovan töitä on ollut esillä kansainvälisesti muun muassa Ukrainan parlamentissa Kiovassa, Taiteen Talossa Turussa, The Show Gallery:ssä Los Angelesissa ja The Factory:ssä Berliinissä. Hänen taiteesta on kirjoitettu Tagesspiegel:issä ja Italian PhotoVogue:ssa. Ovchinnikova on saanut rahoituksen House of Europe:lta, Goethe-Instituutilta ja Deutscher Bibliotheksverband:lta.
.
Traversing the body as a dividing line järjestetään Ukraine Solidarity Residencies Programme -hankeen puitteissa. Projektin nykyiset yhteistyökumppanit ovat AARK, Taidekeskus Salmela, Connecting Points Programme, Fairres, Goethe-Institut Finnland, HIAP – Helsinki International Artist Programme, Kristinestad Art Residency, Art in Lov Residence, Nelimarkka Museo, Pro Artibus, Tahmelan Huvila, Suomen Ateljeesäätiö, Kuvittajat ry ja Värtsilä Artist Residency. Ohjelmaa tukevat Koneen Säätiö, Pohjoismainen kulttuuripiste sekä Suomen opetus- ja kulttuuriministeriö.
Eng
The body is where birth and death meet. A shelter for the visceral and the intangible, dreams and voids both tactile and inaccessible – it is our only home which is constant in its physical presence. When the world is in chaos we pinch ourselves to be sure of what is real. Our body is a touchstone, something to hold on to, learn on; a figure that can be powerful amidst feelings of powerlessness.

Negotiating the space between potential and paralysis, many of the artworks exhibited embody the effects of displacement and the skewed reality of living with a foot in two different worlds. Straddling an invisible horizon, the artists grapple with boundaries of freedom, the rituals of letting go and the boundless effects of war.

The exhibition Traversing the body as a dividing line spans many mediums, the human body can appear to be the central narrative, however, often humanness is used as a tool to highlight the nature of the landscape; social-political, emotional or environmental.

Exhibiting artists Alexandra Krolikowska, Anastasiia Sviridenko, Maria Kulikovska, Polina Choni, Sergii Shaulis and Stanislava Ovchinnikova have been part of the Ukraine Solidarity Residency Programme during 2023 organised by HIAP-Helsinki International Artist Programme. Curators: Dana Neilson and Oleksandra Kokhan.
Alexandra Krolikowska is an interdisciplinary artist and psychologist based in Kyiv (b. 1990, Ukraine). Utilizing means of analog photography, video, and performance in her art practice, Alexandra explores the question of political borders, social cohesion, and individual wholeness. Alexandra is interested in mythological thinking and human relations to nature. She also engaged in the research of metamodernism, so she unveils the archetypal image, imagined yet sincere and real aspect of events in her works. She is currently working on her MA thesis on the psychotherapeutic function of photography within studies on Counselling Psychology at the Pereyaslav University of H.Skoworoda. Also, she has a curatorial project "Photos from the frontline. Diary of collective memories" created by the use of disposable cameras by soldiers.

Anastasiia Sviridenko (b. 1996, Ukraine) is a visual artist currently based in Tammisaari, Finland. Her paintings are filled with broken and unstable creatures, balanced between being figurative and abstract, the shapes of the beings vanish into the colors. Working with sculpture, she combines found or used materials, intertwining reality and fiction, giving the objects a new way of life. The starting point of her practice is the search for connections between the feelings and the hidden knowledge of matter – whether it be a pencil or a leather jacket. Sviridenko's exhibition experience ranges from off-site exhibitions to gallery institutions.

Maria Kulikovska is a multimedia artist, architect, actionist/performer, researcher, and lecturer. She was born in 1988 in Kerch, Autonomous Republic of Crimea, Ukraine. She is known as a multimedia artist, performance artist, and master of political performance (a new direction for contemporary Ukrainian artists). She creates sculptures using original ballistic soap and natural materials. Her main themes are gender, queer, the body and its borders, women in a patriarchal society, war, and migration. After the Russian federation's annexation of Crimea, she has lived and worked in Kyiv, Donetsk, Malmo, Liverpool, London, Munich, and Stockholm in exile (after the occupation of the Crimea Peninsula in the spring of 2014 the artist has not returned to her hometown). Maria together with her partner and co-author Oleg Vinnichenko are based in Kyiv permanently, where they founded Garage33, their studio and an experimental independent art space.

Polina Choni is a visual artist with a background in the fashion and film industry. She was born in Kyiv, Ukraine. She received her master's degree from Kyiv National University of Technology and Design in 2017. She works with the topics of environment, sustainability, and biodiversity. Nature is a source of inspiration and research for Polina, driving her exploration of the harmonious coexistence of humans with the environment. The main focus of her recent artworks is the ecological impact of the war in Ukraine. Her current practice reflects her commitment to raising awareness about ecocide consequences and advocating for a more sustainable future.

Sergii Shaulis is Ukrainian artist and sculptor who combines traditional sculpting techniques such as metal casting and welding with modern 3D technologies. Relying on his personal experience and experiences of those around him, Sergii explores the internal states of a being human and looks for a form that would reflect the essence of the problem or symbolise the condition. For Sergii, the prevailing topic of the past 9 years has been war. War comes through in different series of work that he returns to, creating new pieces. The series has no final count and remains open for new pieces. This process happens in parallel with the artist's life, his work lives and develops together with him. Sergii keeps the opportunity to return, rethink, and introduce new forms and meanings to the existing series. This process is essentially endless and thus interesting to the artist.

Stanislava Ovchinnikova is an interdisciplinary artist whose interests lie primarily in politically engaged and trauma-based artistic practices. Her work relies on autobiographical materials and intergenerational histories, and she often involves other members of the affected communities at the research stage. Rather than confining herself to a particular approach or methodology, she employs various mediums to support the thematic center of her work.
For instance, in her project «Am I Dead Yet?», she interviewed 16 people about their relationship with death and the way various mental states impacted it. She then photographed her family on burned film to create a sense of erosion similar to that experienced in depression. In another project, «A Home, A Place To Sleep», Ovchinnikova embroidered a dialogue about occupation on a pillowcase that she took with her as a white flag when she fled her hometown, Kyiv, during the war.
Stanislava Ovchinnikova's work has been exhibited internationally in places like the Ukrainian Parliament in Kyiv, Taiteen Talo in Turku, The Show Gallery in Los Angeles, and The Factory in Berlin, published in Tagesspiegel and PhotoVogue Italy, and received funding from House of Europe, Goethe Institute and Deutscher Bibliotheksverband.
Traversing the body as a dividing line is organized within the context of the Ukraine Solidarity Residency Programme. The current partners of the programme are AARK, Art Centre Salmela, Connecting Points programme, Fairres, Goethe-Institut Finnland, HIAP – Helsinki International Artist Programme, Kristinestad Art Residency, Loviisa Art Support Association, Nelimarkka Museum, Pro Artibus, Tahmelan Huvila, The Finnish Artists' Studio Foundation, The Finnish Illustration Association Kuvittajat, and Värtsilä Artist Residency. The programme is supported by Kone Foundation, Nordic Culture Point, and the The Ministry of Education and Culture.
SVE
Kroppen är en plats där födelse och död möts. Ett hem för det kroppsliga och det immateriella, för berörbara och ouppnåeliga drömmar och tomrum – i sin fysiska närvaro är den vårt enda konstanta hem. När världen befinner sig i kaos nyper vi oss för att veta vad som är verkligt. Vår kropp är en prövosten vi håller fast vid, lär oss av; en gestalt som kan vara stark mitt i känslor av kraftlöshet.
Genom att förhandla om utrymmet mellan potential och förlamning gestaltar flera av de utställda verken effekterna av förflyttning och den skeva verkligheten i ett liv som levs i två olika världar. Stående grensle över en osynlig horisont kämpar konstnärerna med frihetens gränser, ritualer för att släppa taget och krigets gränslösa verkningar.
I utställningen Traversing the body as a dividing line som presenterar flera olika medier, kan den mänskliga kroppen framstå som det centrala narrativet, men här används det mänskliga ofta som ett verktyg för att betona landskapets karaktär: sociopolitiskt, emotionellt eller symboliskt.
I utställningen medverkar Alexandra Krolikowska, Anastasiia Sviridenko, Maria Kulikovska, Polina Choni, Sergii Shaulis och Stanislava Ovchinnikova. De har medverkat i HIAP:s projekt Ukraine Solidarity Residency Programme under år 2023. Kuratorer: Dana Neilson och Oleksandra Kokhan.
Alexandra Krolikowska är en multidisciplinär konstnär och psykolog från Kiev (f. 1990, Ukraina). I sin konst utforskar Alexandra politiska gränser, social sammanhållning och individens helgjutenhet med hjälp av analog fotografi, video och performance. Alexandra är intresserad av mytologiskt tänkande och människors relationer till naturen. Hon har också forskat om metamodernism, vilket innebär att hon i sina verk visar upp arketypiska bilder, ett fiktivt men ändå uppriktigt och verkligt perspektiv. Hon arbetar för närvarande med sin magisteruppsats om fotografins psykoterapeutiska funktion inom ramen för sina studier i psykologisk rådgivning vid Hryhorij Skovoroda-universitetet i Pereiaslav. Hon är också kurator för projektet "Photos from the frontline. Diary of collective memories", skapat av soldater med hjälp av engångskameror.
Anastasiia Sviridenko (f. 1996, Ukraina) är en bildkonstnär bosatt i Ekenäs. Hennes målningar är fyllda av trasiga och instabila varelser. De balanserar mellan det figurativa och det abstrakta; deras former försvinner in i färgerna. När hon arbetar med skulptur kombinerar hon upphittade eller använda material, flätar samman verklighet och fiktion och ger föremålen nytt liv. Utgångspunkten för hennes konstnärskap är sökandet efter kopplingar mellan känslorna och materiens dolda kunskap – oavsett om det handlar om en blyertspenna eller en skinnjacka. Sviridenko har haft utställningar både off-site och i gallerier.
Maria Kulikovska är multimediekonstnär, arkitekt, aktivist/artist, forskare och föreläsare. Hon är född år 1988 i Kertj, i den autonoma republiken Krim i Ukraina. Hon är känd som multimediekonstnär, performancekonstnär och mästare i politisk performance (en ny inriktning för ukrainska samtidskonstnärer). Hon skapar skulpturer av ballistisk gel och naturmaterial. Marias huvudteman är kön, queer, kroppen och dess gränser, kvinnor i det patriarkala samhället, krig och migration. Efter den ryska ockupationen av Krim har konstnären levt och arbetat i exil i Kiev, Donetsk, Malmö, Liverpool, London, München och Stockholm (hon har inte återvänt till sin hemstad efter ockupationen av Krimhalvön våren 2014). Hon och hennes partner i arbete och privatliv, Oleg Vinnichenko, är permanent bosatta i Kiev där de har grundat konstinstitutionen Garage33, en studio och experimentell oberoende konstinstitution.
Polina Choni är en bildkonstnär med bakgrund inom mode- och filmindustrin. Hon är född i Kiev i Ukraina. År 2017 avlade Polina magisterexamen vid det nationella teknik- och designuniversitet i Kiev. Hon arbetar med frågor som rör miljö, hållbar utveckling och biologisk mångfald. För Polina är naturen en källa till inspiration och ett forskningsobjekt som driver henne att utforska den harmoniska samexistensen mellan människan och naturen. Tyngdpunkten i hennes senaste verk ligger på de ekologiska verkningarna av kriget i Ukraina. Hennes nuvarande sätt att arbeta speglar hennes engagemang för att öka medvetenheten om följderna av ekocid och tala för en mer hållbar framtid.
Sergii Shaulis är en ukrainsk konstnär och skulptör som kombinerar traditionella och moderna skulpturtekniker. Utifrån sina egna och omgivningens erfarenheter utforskar Sergii människans inre tillstånd och söker former som kan beskriva problemets väsen eller symbolisera det inre tillståndet. Under de senaste nio åren har krig varit Sergiis huvudtema. Det blir synligt i olika serier av skulpturer som han återkommer till och skapar nya verk till. Serierna har inget slutligt antal skulpturer och det finns alltid plats för nya verk. Denna process pågår parallellt med konstnärens liv: hans arbete lever och utvecklas med honom. Sergii håller kvar möjligheten att återkomma, tänka om och introducera nya former och betydelser i de existerande serierna. Denna process är i princip oändlig och därför intressant för konstnären.
Stanislava Ovchinnikova (f. 2001) är en multidisciplinär konstnär, känd för projekt som behandlar våld, trauma och död. Genom influenser från ett brett spektrum av konstarter, som fotografi, performance och skrivande blir redskapen i hennes händer språkliga och praktiska verktyg som går nära inpå temanas väsen och förstärker narrativen. I det kroppsliga verket "Hide or Seek" använder hon performance för att kroppsliga minnen av utnyttjande och inkluderar element av våld som bygger på samförstånd; medan hon i det drömska verket "The Home Will Come Again" förmedlar exilens hallucinatoriska tillstånd genom att utnyttja defekter i fotofilmen.
Traversing the body as a dividing line arrangeras inom ramen för projektet Ukraine Solidarity Residencies Programme. Projektets nuvarande samarbetsparter är AARK, Taidekeskus Salmela, Connecting Points Programme, Fairres, Goethe-Institut Finnland, HIAP – Helsinki International Artist Programme, Kristinestad Art Residency, Art in Lov Residence, Nelimarkkamuseet, Pro Artibus, Tahmelan Huvila, Finlands Ateljéstiftelse, Kuvittajat ry och Värtsilä Artist Residency. Programmet understöds av Konestiftelsen, Nordisk kulturkontakt och Finlands undervisnings- och kulturministerium.