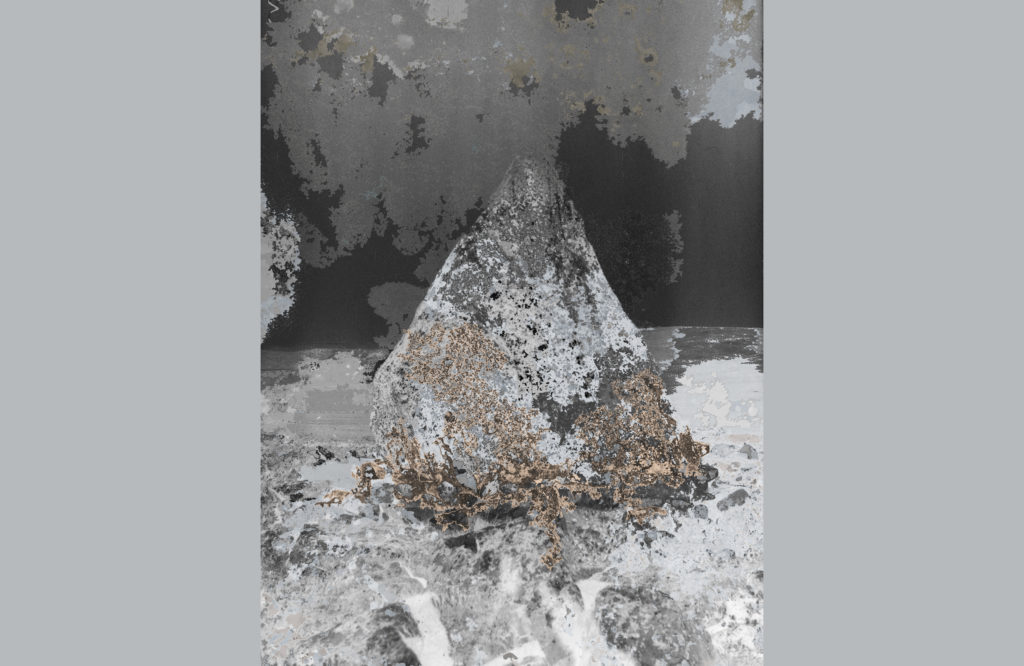 FIN

Yhteistyössä Ilkka Heinosen ja Turkka Inkilän kanssa


Mitä tapahtuu, kun vanhat uskomukset ja nykyaika kohtaavat ja luomme uusia suhteita vanhoihin kulttuurillisiin merkitsijöihin? Näyttelyssä Duovdagat (Maisemat) nähtävät teokset yhtäältä uusintavat ja toisaalta purkavat saamenmaan luontoon liitettyjä kuvastoja, myyttejä ja oletuksia. Teokset tarkastelevat sekä arkistokuvia että nykyhetkeä, pyrkien aaltoliikkeeseen, jossa kuvia, maisemia, dokumentteja ja uskomuksia ja maailmassa olemisen vahvaa tunnetta voi lähestyä vuoroin läheltä ja sitoutuen, ja toisaalta myös katsella etäisyyden päästä. Teokset kutsuvat esiin voimia, joiden avulla elää – ne kuvaavat sekä todellisia että kuviteltuja, sisäisiä maisemia.
Teosten ytimenä toimii Ánnámáretin joiku ja kunkin joiun oma sisältö, sen avaama maailma ja aihe. Kuhunkin joikuun oman vastauksensa ja vastinparinsa antavat sekä Ilkka Heinosen että Turkka Inkilän musiikilliset eleet että Viitahuhdan liikkuva kuva.
Mediataiteilija Marja Viitahuhta ja muusikot Ánnámáret aka Anna Näkkäläjärvi-Länsman (joiku), Ilkka Heinonen(jouhikko) ja Turkka Inkilä (elektroninen musiikki, shakuhachi) ovat työskennelleet yhdessä, Ánnámáretin kutsumina, vuodesta 2018 asti. Työskentely on näkynyt mm mediataidetta ja musiikkia sisältävänä konserttikokonaisuutena Nieguid duovdagat, jossa kunkin musiikkikappaleen rinnalla on sen vastinpariksi luotu videoteos. Lisäksi on toteutettu sarja videoteoksia, joita on esitetty elokuvafestivaaleilla ja screeningeissä ja vuonna 2021 julkaistiin musiikkialbumi Ánnámáret: Nieguid duovdagat. Yhteistyö jatkuu edelleen, laajeten myös galleriatiloissa esitettäviksi videoinstallaatioiksi.
Ryhmän yhteistyö on musiikin ja visuaalisen maailman yhteentulemista ja niiden välistä vuoropuhelua, minkä lisäksi se on myös saamelais-suomalaista poikkitaiteellista yhteistyötä. Viitahuhta on kotoisin Inarista, mutta asuu Helsingissä, kuten myös Inkilä ja Heinonen. Ánnámáret puolestaan elää Nuorgamissa. Yhteistyö rakentuu sekä etäyhteyksien varaan, kunkin taiteilijan itsenäiseen työskentelyyn ja yhteisten suunnittelu- ja harjoitusjaksojen aikana luotuihin ratkaisuihin.
Kiitos työskentelymme ja teoksiemme tukemisesta tänä ja aiempina vuosina:
Taike, Koneen säätiö, Alfred Kordelinin säätiö, Sámiráđđi, Saamelaiskäräjät, Saamelaisalueen koulutuskeskus, Saamelaiskulttuurikeskus Sajos
Teoksessa Sieidi käytetyn arkistokuvan kuvatiedot: Seita, Terbmisvaarri, Kuvaaja: Samuli Paulaharju Vuosi: 1930, Lähde: Finna.fi, Organisaatio: Museovirasto, Kokoelmat: Samuli Paulaharjun kokoelma ja Kansatieteen kuvakokoelma

Galleria Titanikissa nähtävän kokonaisuuden sisarnäyttelynä voi pitää Galleria Poriginalissa 28.1.–14.2. esillä olevaa näyttelyä Niegut (Unet, kuvitelmat), jossa on samoin esillä Viitahuhdan, Ánnámáretin, Inkilän ja Heinosen yhteistyöstä syntyneitä videoteoksia, tosin eri teokset kuin Titanikissa. Teoksistamme kolme, nimeltään Dolat, Jearrat máttaráhkus ja Dološ niegut ovat myös katsottavissa Yle Areenassa ja Yle Teemalla 4.2.2023 alkaen.

BIOT
Marja Viitahuhta on mediataiteilija, jonka teokset ovat lyhytelokuvia, videoinstallaatioita, esityksiä, valokuvia ja kollaaseja. Hänen teoksiaan on esitetty maailmanlaajuisesti sekä elokuvafestivaaleilla että gallerioissa ja museoissa. Hänen teoksiaan on sekä yksityisissä että julkisissa kokoelmissa ja hänen varhainen elokuvansa 99 Vuotta Elämästäni on muun muassa palkittu Cannesin elokuvajuhlilla vuonna 2004 ja hankittu sekä MoMA:n että Kiasman kokoelmiin. Myös Ánnámáretin, Inkilän ja Heinosen musiikkiin toteutettu videoteos Nieguid duovdagat hankittiin Kiasman kokoelmiin vuonna 2021.
Ánnámáret aka Anna Näkkäläjärvi-Länsman on Nuorgamista käsin vaikuttava saamelaisartisti. Hänen joikuihinsa perustuva Nieguid duovdagat -albumi ilmestyi vuonna 2021 ja se valittiin vuoden kansanmusiikkialbumiksi ja oli ehdolla Etno Emma -kategoriassa Emma Gaalassa. Näkkäläjärvi-Länsman on toiminut solistina, muusikkona ja opettajana monissa produktioissa saamelaismusiikin parissa.
Turkka Inkilä on monigenreinen muusikko ja säveltäjä. Yhtyeensä Tölöläbin kanssa hän on pyrkinyt tekemään skenekonventioita rikkovaa elektroakustista musiikkia, jossa sekoittuvat nykymusiikin arvaamattomuus, vilpitön kauneuden tavoittelu ja elektronisen tanssimusiikin kehokokemus. Hän opiskelee paraikaa opettajansa Gunnar Jinmei Linderin johdolla japanilaisen Kinko-koulukunnan shakuhachiohjelmistoa, ja vaikuttaa aktiivisesti helsinkiläisen Eloa ry:n riveissä säveltäjänä, sovittajana ja huilistina.
Ilkka Heinonen on kansanmusiikkiin erikoistunut muusikko ja säveltäjä soittiminaan jouhikko, G-violone ja kontrabasso. Euroopan kansanmusiikkikulttuureista vaikutteensa saaneiden yhtyeiden lisäksi Heinonen on toiminut niin solistina kuin orkestereissakin nykymusiikin ja vanhan musiikin konserteissa ja projekteissa.



EN

In collaboration with Ilkka Heinonen and Turkka Inkilä


What happens when old beliefs and modern times collide and we create new relations with old cultural signifiers? The video works seen in the exhibition Duovdagat (Sceneries) on the one hand reproduce and on the other hand dismantle images, myths and assumptions associated with the environment of Sápmi. They lay their eyes on both archival material and the present moment, striving for a wave-like movement where images, places, documents, beliefs and a strong sense of presence in this world can be approached at times close and engaged, and on the other hand also viewed from a distance. The works call forth forces with which to live – they depict both real and imagined, inner landscapes.
The core of each work is Ánnámáret's yoik, its content and the world it opens up. Both Ilkka Heinonen and Turkka Inkilä's musical gestures and Viitahuhta's moving image give their own reply and counterpart to each yoik.
Media artist Marja Viitahuhta and musicians Ánnámáret aka Anna Näkkäläjärvi-Länsman (yoik), Ilkka Heinonen(finnish bowed lyre) and Turkka Inkilä (electronic music, shakuhachi) have been working together, invited by Ánnámáret, since 2018. Their collaboration has been seen in various forms, such as concert Nieguid duovdagat, which includes both media art and music, where each piece of music is accompanied by a video piece created as its counterpart. In addition, a series of video works have been realized, which have been shown at film festivals and screenings, and in 2021 the music album Ánnámáret: Nieguid duovdagat was released. The collaboration continues, also expanding into video installations presented in gallery spaces.
The group's collaboration is a coming together of music and the visual world and a dialogue between them, as well as a Sámi-Finnish cross-artistic collaboration. Viitahuhta is from Inari, but lives in Helsinki, as do Inkilä and Heinonen. Ánnámáret, on the other hand, lives in Nuorgam. The collaboration is thus based on remote connections, the independent work of each artist and the solutions created during joint planning and practice periods.
Thank you for supporting our work and releases both this year and in the previous years:
Arts Promotion Centre Finland, Kone foundation, Alfred Kordelin Foundation, Sami council, Sami Parliament in Finland, The Sámi Education Institute, Sámi cultural centre Sajos.
Image information of the archival image used in the work Sieidi: Seita, Terbmisvaarri, Photographer: Samuli Paulaharju, Year: 1930, Source: Finna.fi, Organization: Museum Agency, Collections: Samuli Paulaharju's collection and the National Science Picture Collection

The exhibition Niegut (Dreams, Fantasies) at Poriginal Gallery from 28 January to 14 February, which also features video works by Viitahuhta, Ánnámáret, Inkilä and Heinonen, although different works from those shown at Titanik, can be seen as a sister exhibition to the Titanik exhibition. Three of our works, Dolat, Jearrat máttaráhkus and Dološ niegut, will also be available on Yle Areena and Yle Teema from 4th of February 2023.

BIOS
Marja Viitahuhta is a media artist whose works include short films, video installations, performances, photographs and collages. Her works have been shown worldwide both at film festivals and in galleries and museums. Her works are in both private and public collections, and her early film 99 Years of My Life was, among other things, awarded at the Cannes Film Festival in 2004 and acquired for the collections of both MoMA and Kiasma. Nieguid duovdagat, a video work set to the music of Ánnámáret, Inkilä and Heinonen, was also acquired for Kiasma's collections in 2021.
Ánnámáret, aka Anna Näkkäläjärvi-Länsman is a Sámi yoiker. She released her first yoik album Nieguid duovdagat with her band in February 2021. Before that Anna Näkkäläjärvi-Länsman has released two solo albums with Ánnámáret Ensemble (Beallječiŋat 2011 and Gollehelmmot 2016). She has operated as a solo artist in many Sámi music productions.
Turkka Inkilä is a multi-genre musician and composer. Together with his band Tölöläb, he has aimed to create electroacoustic music that breaks away from scenic conventions. The music combines the unpredictability of modern music, the sincere pursue for beauty and the bodily experience of electronic dance music. He is currently studying the Japanese Kinko school's shakuhachi programme at the lead of his teacher Gunnar Jinmei Linder, and he actively participates at the Helsinki-based Eloa ry association as a composer, arranger and flautist.
Ilkka Heinonen is a musician and composer, who specialises in folk music. His instruments include the Finnish bowed lyre, G-violone and the contrabass. In addition to bands that have gained influence from European folk music cultures, Heinonen has worked as both a solo artist and in an orchestra, in concerts and in projects of modern and traditional music.



SVE

I samarbete med Ilkka Heinonen och Turkka Inkilä


Vad händer när gamla trosföreställningar möter nutiden och vi skapar nya relationer till gamla kulturella markörer? Verken i utställningen Duovdagat (Landskapen) förnyar å ena sidan och demonterar å andra sidan bilder, myter och antaganden som associeras med naturen i Sameland. Verken studerar både arkivbilder och nuet, och eftersträvar en vågrörelse där man kan närma sig bilderna, landskapen, dokumenten, trosuppfattningarna och den starka känslan av närvaro i världen på nära håll och med engagemang, men även uppleva dem på avstånd. Verken lockar fram krafter att leva med – de beskriver både verkliga och imaginära inre landskap.
Kärnan i verken är Ánnámárets jojkar och deras innehåll, den värld och de teman de öppnar. Ilkka Heinonens och Turkka Inkiläs musikaliska gester och Viitahuhtas rörliga bild ger varje jojk ett svar och ett motstycke.
Mediekonstnären Marja Viitahuhta och musikerna Ánnámáret aka Anna Näkkäläjärvi-Länsman (jojk), Ilkka Heinonen (stråkharpa) och Turkka Inkilä (elektronisk musik, shakuhachi) har på inbjudan av Ánnámáret arbetat tillsammans sedan år 2018. Deras samarbete har bland annat resulterat i konserthelheten Nieguid duovdagat, som innehåller både mediekonst och musik och där varje musikstycke har en pendang i form av ett videoverk, enkom skapat för stycket. Samarbetet ledde också till en serie videoverk som har visats på filmfestivaler och screeningar, och 2021 släpptes musikalbumet Ánnámáret: Nieguid duovdagat. Samarbetet fortsätter alltjämt, och utvidgas också till videoinstallationer som visas i galleriutrymmen.
Gruppens samarbete är en allians och en dialog mellan musiken och den visuella världen, och därtill ett samiskt-finskt multikonstnärligt samarbete. Viitahuhta kommer från Enare men bor i Helsingfors, liksom även Inkilä och Heinonen, medan Ánnámáret är bosatt i Nuorgam. Samarbetet bygger därför på fjärruppkoppling, på de enskilda konstnärernas självständiga arbete och på lösningar som gruppen kommer fram till under gemensamma övningar.
Vi tackar för det stöd vi fått för vårt arbete och våra verk, i år och under tidigare år:
Taike, Konestiftelsen, Alfred Kordelins stiftelse, Sámiráđđi, Sametinget, Sameområdets utbildningscentral, Samiska kulturcentret Sajos
Bilddata om den arkivbild som används i verket Sieidi: Seita, Terbmisvaarri, Fotograf: Samuli Paulaharju, År: 1930, Källa: Finna.fi, Organisation: Museiverket, Samling: Samuli Paulaharjus samling och Etnologiska bildsamlingarna.

Utställningen Niegut (Drömmar, fantasier) på Galleria Poriginal 28.1–14.2., som också består av videoverk av Viitahuhta, Ánnámáret, Inkilä och Heinonen, kan ses som en systerutställning till Titanik-utställningen, även om där finns olika verk som på Titanik. Tre av våra verk, Dolat, Jearrat máttaráhkus och Dološ niegut, kan man också se på Yle Arenan och Yle Teema från och med 4.2.2023.

BIOS
Marja Viitahuhta är en mediekonstnär vars verk omfattar kortfilmer, videoinstallationer, performancer, fotografier och collage. Hennes verk har visats över hela världen, såväl på filmfestivaler som i gallerier och museer. Verk av henne finns både i privata och offentliga samlingar och hennes tidiga film 99 År av Mitt Liv prisbelönades bland annat på filmfestivalen i Cannes 2004 och förvärvades både till MoMA:s och Kiasmas samlingar. Videoverket Nieguid duovdagat, skapat till Ánnámárets, Inkiläs och Heinonens musik, förvärvades till Kiasmas samlingar år 2021.
Ánnámáret aka Anna Näkkäläjärvi-Länsman är en samisk artist som är verksam i Nuorgam. Albumet Nieguid duovdagat som bygger på hennes jojkar släpptes 2021, valdes till årets folkmusikalbum och var nominerat för ett pris inom kategorin Etno Emma på Emma-galan. Näkkäläjärvi-Länsman har varit solist, musiker och lärare i många produktioner med samisk musik.
Turkka Inkilä är en musiker och kompositör som arbetar med flera genrer. Med sitt band Tölöläb har han velat skapa elektroakustisk musik som bryter mot sceniska konventioner, och där den moderna musikens oförutsägbarhet, en uppriktig strävan efter skönhet och den elektroniska dansmusikens kroppsupplevelse blandas. Under ledning av sin lärare Gunnar Jinmei Linder studerar han för närvarande in den japanska Kinko-skolans shakuhachi-repertoar, och medverkar aktivt i Helsingforsföreningen Eloa som kompositör, arrangör och flöjtist.
Ilkka Heinonen är musiker, specialiserad på folkmusik, och kompositör med instrumenten stråkharpa, G-violone och kontrabas. Han har medverkat i ensembler som tagit intryck av europeiska folkmusikkulturer och fungerat både som solist och orkestermusiker på konserter och i projekt med modern och traditionell musik.