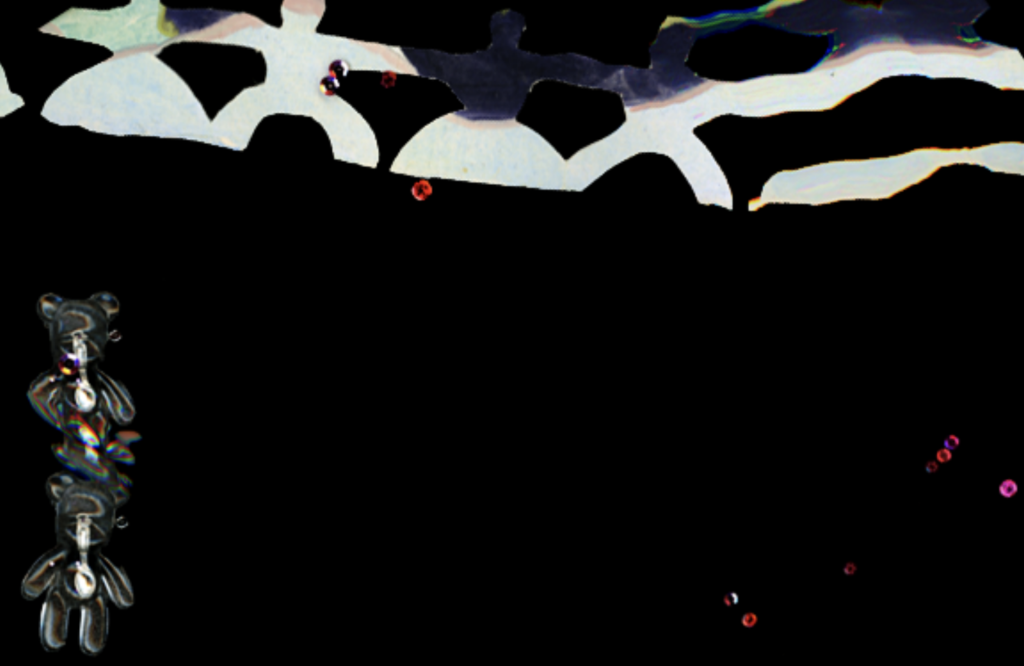 FIN
Avajaiset torstaina 21.4.2022 klo 18–20
When I Was Done Dying on Shia Conlonin ja Minjee Hwang Kimin hiljainen manifesti siitä, mitä seuraa kun raskaat päivät ja yöt ovat jotakuinkin ohi; siitä kun tajuaa, ettei painajainen ole totta ja voi vain nousta ylös – ravistella sen pois.
Conlon ja Kim tulevat molemmat uskonnollisista taustoista: Conlon on irlantilainen katolinen ja Kim Korean buddhalainen. He ovat työskennelleet viime vuosina yhdessä ja erikseen projekteissa, joissa he ovat käsitelleet uskoa, traumoja ja kasvamista patriarkaalisissa ympäristöissä. When I Was Done Dying -näyttelyssä Conlon ja Kim jatkavat yhteistyötään kulkemalla epälineaarisessa ajassa, unessa ja kuolemassa.
Conlon tutkii teemoja queer-transsukupuolisuuden näkökulmasta. Näyttelyyn hän luo sarjan veistoksellisia interventioita, jotka ovat portaaleja varhaislapsuuteen ja raskaaseen teini-ikään. Teokset voivat tuoda mieleen hetkiä, jolloin on joutunut kohtamaan valtarakenteita kuten uskonnon, perheen, sukupuolen tai seksuaalisuuden, ensimmäisen kerran. Conlon ajattelee, että me kaikki koemme uhreina, selviytyjinä tai yksinkertaisesti ihmisinä sellaisia hetkiä, jolloin jokin nujertaa meidät. Saatamme tarvita lepoa, antautumista tai sulkeutumista. Näyttelyn portaalit kysyvätkin: mitä teemme, kun olemme valmiita jälleen tulemaan esiin? Minne voimme tästä edetä?
Kim tarkastelee kollektiivisten ja henkilökohtaisten traumojen levottomuutta herättäviä muistoja hieman lapsenomaisin katkelmin: uppoava lautta, romahtava silta, mureneva perhe.
Teoksessa eivät suoraan ole läsnä kuoleman ja surun hetket. Ne ovat olemassa varjoina ja sumuina, meitä ympäröivänä aineettomuutena – ehkä kummitellakseen, ehkä muistuttaakseen meitä elämän hauraudesta. Ne pitävät meille seuraa tällä yksin kuljettavalla matkalla.
Shia Conlon on Helsingissä asuva taiteilija ja kirjoittaja. Suuri osa hänen teoksistaan on keskittynyt marginalisoituihin ääniin ja kasvamiseen katolisen työväenluokan maisemissa, Irlannissa. Hänen taiteestaan on kirjoitettu PHMuseumissa, The New York Timesissa, i-D:ssä, Dazed and Confusedissa sekä Huffington Post UK & US:ssa. Taiteilijan kirjoituksia on julkaistu Mustekalassa, NO NIIN julkaisussa, Astrassa, Zeldassa, Pilot Press Modern Queer Poetsissa, 14poemsissa ja Oroborossa. Conlonin nykyinen tutkimus keskittyy epälineaarisen ajan, transrepresentaatioiden, arkistojen, kielen ja muistin tarkasteluun.
Minjee Hwang Kim on Helsingissä asuva, Soulista kotoisin oleva kuvataiteilija. Hänen taiteellinen kiinnostuksensa kohdistuu paikkoihin ja tiloihin fyysisessä ja psykologisessa mielessä. Teoksissaan Kim tutkii silmukoituvaa aikaa, vääntyvää tilaa sekä sitä ristiriitaa, joka syntyy buddhalaisen maailmankatsomuksen ja kristillisen lineaarisen maailmankaikkeuden välissä olemisesta. Taiteilijan teoksia on ollut esillä useissa yksityis- ja ryhmänäyttelyissä Helsingissä, Soulissa, New Yorkissa sekä nettifoorumeilla. Kim on kouluttautunut kuvataiteen kandidaatiksi Korean Kansallisessa Taideyliopistossa ja taiteen maisteriksi maalaustaiteen alalta Helsingin Taideyliopistossa.
Taiteilijoiden työtä ovat tukeneet Koneen Säätiö, Taike, Suomen Kulttuurirahasto, Paulon Säätiö ja Suomen Taideyhdistys.
---
EN
Opening: Thursday 21 April 2022 6–8 pm
When I Was Done Dying is a quiet manifesto by Shia Conlon and Minjee Hwang Kim on what happens when the heavy days and nights are more or less over; for when you realise the nightmare isn't real, you can just get up, shake it off.
Both Conlon and Kim come from religious backgrounds: Conlon from Irish Catholic and Kim from Korean Buddhist. Over the past years, they have worked both separately and collaboratively on projects exploring faith, trauma, and growing up in patriarchal landscapes. For When I Was Done Dying, Conlon and Kim further their collaborative practice by traversing non-linear time, dreaming, and death.
Shia Conlon explores this from a queer-transgender perspective, creating a series of sculptural interventions. These works act as portals into early childhood and heavy teenage days to conjure moments where one might have first encountered power structures such as religion, the family, gender, or sexuality. Conlon proposes that as victims, survivors, or simply humans, we all experience moments where something overpowers us. We might need to rest, surrender, or shut down. These portals aim to ask; what do we do when we're ready to reemerge? Where can we go from there?
Minjee Hwang Kim revisits the disquieting memories of both collective and personal trauma through somewhat childlike snippets: sinking ferry, collapsing bridge, crumbling family. Those moments where people have died and cried are not explicitly present in the work. Instead, they exist as shadows and fogs, the immaterial encircling us, perhaps to haunt, perhaps to remind ourselves of the fragility of life and to keep us company on this journey alone.
Shia Conlon is an artist and writer currently based in Helsinki. Much of his work has been centered around marginalized voices and about growing up in the landscape of working class Catholic Ireland. His art has been written about in PHMuseum, The New York Times, i-D, Dazed and Confused and Huffington Post UK & US. His writing has been published in Mustekala, NO NIIN, Astra, Zelda, Pilot Press Modern Queer Poets, 14poems & Oroboro. His current research is focused on non-linear time, trans representation, archives, language, and memory.
Minjee Hwang Kim is a visual artist from Seoul based in Helsinki. Her artistic interest lies in placement in both the physical and psychological sense. In her works, she explores looping time, warping space, and contradictions of belonging between the Buddhist-circular universe and the Christian-linear universe. Kim's works have been shown in multiple solo and group shows in Helsinki, Seoul, New York, and online platforms. Kim holds a BFA in Fine Arts from the Korea National University of Arts and an MFA in Painting from the Academy of Fine Arts of Uniarts Helsinki.
The work of artists has been supported by Kone Foundation, Taike, Finnish Cultural Foundation, The Paulo Foundation and Finnish Art Society.
---
SVE
Vernissage torsdag 21.4.2022 kl. 18–20
When I Was Done Dying är Shia Conlons och Minjee Hwang Kims tysta manifest om vad som händer när de svåra dagarna och nätterna i stort sett är över; när man inser att mardrömmen inte är sann och att man bara kan stiga upp – skaka den av sig.
Både Conlon och Kim kommer från religiösa miljöer: Conlon är irländsk katolik och Kim koreansk buddhist. Under de senaste åren har de arbetat tillsammans och var för sig med projekt där de behandlat tro, trauma och det att växa upp i en patriarkal miljö. I utställningen When I Was Done Dying fortsätter Conlon och Kim sitt samarbete genom att röra sig i icke-linjär tid, i drömmen och döden.
Conlon granskar temana ur ett queer-transsexuellt perspektiv. I utställningen skapar han en serie skulpturala interventioner som utgör portaler till den tidiga barndomen och de svåra tonåren. Verken kan föra tankarna till stunder då man första gången ställdes inför maktstrukturer som religion, familj, kön eller sexualitet. Conlon tänker att vi alla, som offer, överlevare eller helt enkelt som människor upplever stunder när någonting kuvar oss. Vi kan behöva vila, ge upp eller sluta oss. Portalerna i utställningen ställer frågan: vad gör vi när vi är redo att komma tillbaka? Vart kan vi ta oss härifrån?
Kim granskar de oroande minnena av kollektiva och personliga trauman genom fragment med en något barnslig karaktär: en sjunkande färja, en bro som rasar, en familj som faller sönder. Stunderna av död och fasa är inte direkt närvarande i verken. De existerar som skuggor och dimma, som en ogripbarhet som omger oss – kanske för att hemsöka, kanske för att påminna oss om livets skörhet. De håller oss sällskap på vår ensamma väg.
Shia Conlon är konstnär och skribent, bosatt i Helsingfors. En stor del av hans verk fokuserar på marginaliserade röster och på det att växa upp i den katolska arbetarklassens miljöer på Irland. Det har skrivits om hans konst i PHMuseum, The New York Times, i-D, Dazed and Confused och i Huffington Post UK & US. Texter av Conlon har publicerats i Mustekala, publikationen NO NIIN, Astra, Zelda, Pilot Press Modern Queer Poets, 14poems och i Oroboro. I dag fokuserar Conlon på att undersöka icke-lineär tid, transrepresentation, arkiv, språk och minne.
Minjee Hwang Kim är en bildkonstnär från Seoul som är bosatt i Helsingfors. Hennes konstnärliga intresse riktar sig mot platser och rum i fysisk och psykologisk bemärkelse. I sina verk undersöker Kim cyklisk tid, det krökta rummet och den motsättning som skapas när man står mellan den buddhistiska världsåskådningen och det kristna lineära världsalltet. Verk av Kim har visats på flera separat- och grupputställningar i Helsingfors, Seoul, New York och på webbforum. Kim är bildkonstkandidat från det nationella koreanska konstuniversitetet och konstmagister med inriktning på måleri från Konstuniversitetet i Helsingfors.
Konstnärernas arbete har understötts av Konestiftelsen, Taike, Finska Kulturfonden, Paulo-stiftelsen och Finska Konstföreningen.