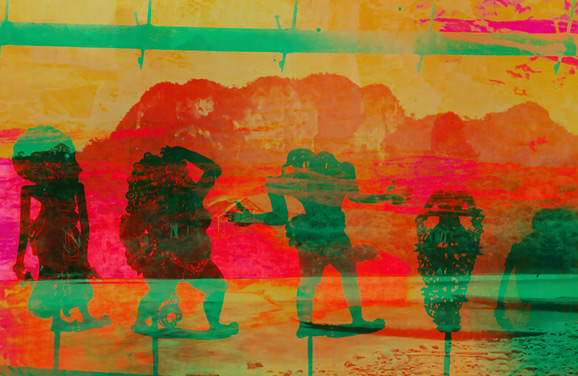 FIN
Alankomaiden ja Indonesian siirtomaahistoriasta ammentava Some Kind of Kalimantan kokoaa yhteen kuvastoa, ajatuksia ja aikomuksia, joilla pyritään löytämään yhteinen sävel.
Vilkkuvilla kuvilla, tulostetetulla materiaalilla sekä videolla ja äänellä kyllästetyssä tiheässä ympäristössä yksilö uppoaa aistikokemukseen. Jokainen kuva luo uuden kertomuksen, jokainen toisto käynnistää uuden assosiaation. Ihmisestä tulee osa suurta kaikukammiota, joka synnyttää nostalgiaa, eksotiikkaa ja luo tilan muistaa menetetty mutta yhä läsnäoleva.
"Jos on totta, että jokaisella ihmisellä on sielunmaisema, tietynlainen tunnelma, ympäristö, joka herättää reagoivia värähtelyjä hänen olemuksensa kauimmissa syvyyksissä, niin minun maisemani oli – ja on – kuva Preangerin vuorenrinteistä: teepensaiden karvas tuoksu, kirkkaiden purojen loiskuminen kivilohkareille, siniset pilvivarjot alankojen yllä. Ymmärsin vuosien saatossa, joiden aikana jokainen kosketus, jokainen paluu oli mahdoton, että kaipuuni saattoi olla kipeä."
Hella Haasse, Oeroeg (1948)
Titanikissa esillä olevan viikon mittaisen näyttelynsä aikana Arvid van der Rijt rakentaa performatiivisen installaation, jossa hän on läsnä tehostamassa visuaalisen materiaalin runsautta, lähes alkemistin roolin ottaen. Valvontakameroilla, livevideon ja -äänen avulla hän upottaa yleisön etäiseen uneen. Performanssissaan hän luo tilan muistamiselle ja hetken ylittää rajoja yhdessä yleisön kanssa. Mikäli haluat kokea tämän, ole paikalla perjantaina 21.4. klo 18.00, lauantaina 22.4. klo 15.00 tai sunnuntaina 23.4. klo 15.00. Performanssin kesto on noin 40 minuuttia.
Bio
Arvid van der Rijt (s. 1976 Soltaussa Saksassa) on audiovisuaalinen taiteilija, jonka teokset käsittelevät aistien mahdollisuuksia.
Hän käyttää hyväkseen useita välineitä ja materiaaleja ja kasaa arkisesta roskasta, siirtomaa-ajan rihkamasta ja länsimaisesta kitschistä symbioosin kuvitellun, näkyvän ja näkymättömän välille.
Hänen immersiiviset performanssinsa käsittelevät kuulumista ja identiteettiä ja rakentavat uusia tähdistöjä ja labyrintteja, jotka auttavat löytämään, jollei muuta niin uusia tapoja olla hukassa.
Hänen töitään on ollut esillä Suomessa ja ulkomailla, muun muassa Ann Arbor Film Festivaalilla Yhdysvalloissa (2016), Congo Biennaalissa (2019) sekä AAVE Festivaalilla (2014) ja Pixelache Festivalilla (2021) Helsingissä.
ENG
Taking from Dutch-Indonesian colonial history, Some Kind of Kalimantan brings together imagery, thoughts and intentions that try to establish common ground.
In a dense and saturated environment with flickering images, printed material and live sound and video, one is immersed in a sensorial experience. Every image is triggering a new narrative, every repetition starts a new association. One becomes part of a big echo chamber that generates nostalgia, exotica and creates a place for remembrance of all things lost but still present.
"If it is true that for every man there is a landscape of the soul, a certain atmosphere, an environment, which evokes responsive vibrations in the furthest recesses of his being, then my landscape was – and is – the image of mountain slopes in the Preanger: the bitter scent of the tea bushes, the splashing of clear streams over stone blocks, the blue cloud shadows over the lowlands. That my longing for all this could be poignant, I had realised in the series of years in which every contact, every return, was impossible."
Hella Haasse, Oeroeg (1948)
During his one-week-long exhibition at Titanik Arvid van der Rijt will build a performative installation, in which he will be present to activate the abundance of visual material, almost taking on the role of an alchemist. With surveillance cameras, live video and live sound he will submerge the audience in a distant dream. In his performances he creates a place for remembrance and a moment to transgress together with the audience. If you want to be sure to experience this, he will be there the following days: Friday 21.4 at 18.00, Saturday 22.4 at 15.00 and Sunday 23.4 at 15.00. Duration of the performances will be app. 40 minutes.
Bio
Arvid van der Rijt (b. Soltau, Germany, 1976) is an audiovisual artist whose work explores the potential of the senses.
Making use of multiple media and materials, he brings together the bricolage of everyday trash, colonial knickknacks and Western kitsch, building a symbiosis of the imaginable, the visible and the invisible.
His immersive performances deal with the concepts of belonging and identity and build new constellations and labyrinths to help us find new ways of being lost, if nothing else.
His work has been shown in Finland and abroad including the Ann Arbor Film Festival, USA (2016), the Congo Biennale (2019), the AAVE Festival, Helsinki (2014) and Pixelache Festival, Helsinki (2021).
SVE
Some Kind of Kalimantan hämtar stoff ur Nederländernas och Indonesiens kolonialhistoria och sammanför bilder, tankar och intentioner som försöker hitta en gemensam melodi.
I en tät atmosfär mättad med flimrande bilder, utprintat material, levande ljudeffekter och video badas individen i en sensorisk upplevelse. Varje bild framkallar en ny berättelse, varje upprepning startar en ny association. Människan blir en del av en stor ekokammare som genererar nostalgi, exotik och skapar ett rum för att minnas allt det som gått förlorat men alltjämt är närvarande.
"Om det är sant att det finns ett själslandskap för varje människa, en viss stämning, en miljö som väcker svarsvibrationer längst ner i djupet av hennes väsen, då var mitt landskap – och är – en bild av bergssluttningar i Preanger: den beska doften från tebuskarna, klara bäckar som porlar över stenblock, blå molnskuggor över låglandet. Under alla åren när varje kontakt, varje återkomst var omöjlig förstod jag att min längtan efter allt detta kunde vara smärtsam."
Hella Haasse, Oeroeg (1948)
Under utställningen som visas på Titanik i en vecka bygger Arvid van der Rijt en performativ installation där han är närvarande för att aktivera överflödet av visuellt material, och där han nästan tar rollen av alkemist. Med hjälp av övervakningskameror, livevideo och levande ljud försänker han publiken i en avlägsen dröm. I sin performance skapar han ett rum för hågkomster och ett ögonblick för att överskrida gränser med publiken. Om du vill uppleva detta, kom till Titanik på fredag 21.4 kl. 18.00, lördag 22.4 kl. 15.00 eller söndag 23.4 kl. 15.00. Performancen räcker cirka 40 minuter.
Bio
Arvid van der Rijt (f. 1976 i Soltau, Tyskland) är en audiovisuell konstnär vars verk behandlar sinnenas inneboende möjligheter.
Han använder flera medel och material, och av vardagligt skräp, krimskrams från kolonialtiden och västerländsk kitsch skapar han en symbios mellan det man kan föreställa sig, det synliga och det osynliga.
Hans immersiva performancer behandlar tillhörighet och identitet och bygger nya konstellationer och labyrinter som hjälper oss att, om inte annat, upptäcka nya sätt att vara vilsna.
Verk av honom har visats i Finland och utomlands, bland annat på Ann Arbor Film Festival i USA (2016), Congo Biennale (2019) samt på AAVE Festival (2014) och Pixelache Festival (2021) i Helsingfors.