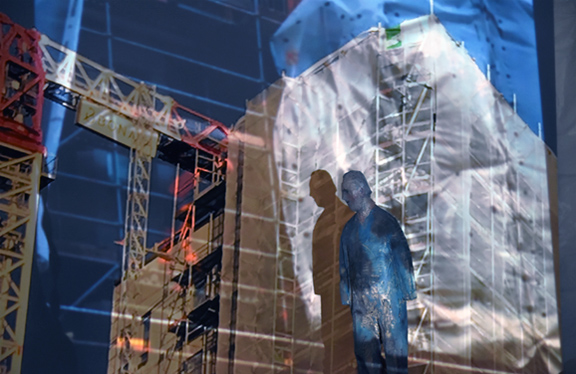 FIN
TYÖMAA | 2.–25.9.2022
Andrei Bakharev, Hannu Seppälä, Lydia Toivanen
Kuraattori: Mari Kämäräinen
Työmaa: paikka, jossa työt ovat käynnissä, erit. paikka, jossa rakennetaan jotain
rakennus-, metsä- tms. ruumiillisen työn tekopaikka; alue, jolla tällaista työtä tehdään; tällainen työkohde
kuvaannollinen
a. työ-, toiminta-ala, -piiri
b. yksittäisestä vaivalloisesta työstä
metsätyömaa, rakennustyömaa, siirtotyömaa, tietyömaa, työmaajuopottelu, työmaakokous, työmaakoppi, työmaaneuvosto, työmaaparakki, työmaaruokala, työmaaterrori, työmaatulkki, uittotyömaa, urakkatyömaa, korjaustyömaa, raksa, savotta, telakka, duunipaikka, kaivos, avolouhos, kenttä
Lähteet: Wikisanakirja, Kielitoimiston sanakirja
TYÖMAA
Teoskokonaisuus tuo yhteen Lydia Toivasen valokuvia ja videoita sekä Andrei Bakharevin puuveistoksia, jotka kuvaavat ihmisiä työmailla. Tietoiset ja tiedostamattomat poseeraukset työn äärellä ovat päätyneet kuvien ja veistosten muotoon välittöminä havaintoina tai jälkikäteen muisteltuina. Hannu Seppälän näyttelyyn toteuttama ääniteos pohjautuu erilaisten työmaiden äänimaailmoihin. Näyttelykokonaisuus on rakentunut työryhmän tiiviissä yhteistyössä kuraattori Mari Kämäräisen johdolla. Taiteen Edistämiskeskus on tukenut näyttelyn toteuttamista.
Bakharevin puuveistossarja on autobiografinen ja sen hahmot perustuvat todellisiin henkilöihin, joita hän tapasi ollessaan tukityöllistettynä Turun Työkeskuksen metalliosastolla muutama vuosi sitten. Työkeskus on osa kaupungin tarjoamia syrjäytymistä ehkäiseviä palveluja. Teosten materiaalina hän on käyttänyt "kaksnelosta" sekä halvinta, höyläämätöntä lautaa, jotka ovat yleisimpiä puuapurakenteiden materiaaleja.
"Minulle tarjottiin työllistymispalvelujen toimesta jatkuvasti töitä autoteollisuudessa. Tuli sellainen olo, että minun piti ymmärtää työmarkkinoiden realiteetit – että maahanmuuttajatausta yhdistettynä korkeakoulututkintoon heikentää työllistymismahdollisuuksia. Päätin varmuuden vuoksi tutustua metallialaan ja aloitin työkokeilun työkeskuksessa. Useimmat työkavereistani olivat menettäneet vakituisen työnsä metallialalla ja osa heistä oli jo lähellä eläkeikää."
Toivasen videot ja kuvat ovat hetkellisiä näkymiä työmailta ja niiden liepeiltä. Keskeneräisyyden estetiikka pysäyttää vastaan tulevien työmaiden äärelle ja älypuhelimen jatkuva mukanaolo houkuttelee niiden dokumentoimiseen. Orgaanisten ja geometristen muotojen, metelin ja pölyn sekä erilaisten materiaalien sekamelska näyttäytyy villinä, sattumanvaraisten elementtien näyttämönä. Työmaiden keskeneräisyyttä hallitsevat sen rakenteissa työskentelevät huomioväreihin puetut anonyymit hahmot.
Taiteilijoiden biot
Andrei Bakharev (s. 1981 Pietarissa) työskentelee pääosin kuvanveiston ja erityisesti puuveiston parissa. Bakharev aloitti taideopinnot Pietarin Taideakatemiassa ja valmistui kuvataiteen maisteriksi Helsingin Kuvataideakatemiasta 2008. Taiteilija on ollut mukana monissa ympäristötaidehankkeissa ja tällä hetkellä hän työskentelee Koneen säätiön rahoittamassa Elonkirjopuisto -hankkeessa Turun Koroisilla. Hänen teoksiaan on ollut esillä lukuisissa näyttelyissä, sekä Suomessa että ulkomailla. Bakharevin taiteellista työskentelyä ovat tukeneet Taiteen Edistämiskeskus ja Koneen säätiö.
Hannu Seppälä (s. 1980 Oulussa) on äänitaiteilija, joka työskentelee musiikillisten ja performatiivisten sooloprojektien sekä kuvataiteen ja teatterin kentillä tapahtuvien yhteistyöprojektien parissa. Seppälän viime vuosien tärkein sooloprojekti on ollut musiikillinen audiovisuaalinen performanssi Kempele, jota hän on esittänyt erilaisissa konteksteissa Suomessa ja ulkomailla. Taiteilijan edellinen teatteriäänisuunnittelutyö oli Tehdas Teatterin tuotanto Yksin ihminen alkuvuodesta 2022. Seppälä on tehnyt yhteistyötä kuvataiteilija Mari Kämäräisen kanssa vuodesta 2018 lähtien. He ovat olleet mukana mm. Huoneiden kirja -produktiossa, jolle myönnettiin Esittävien taiteiden valtionpalkinto 2021. Seppälän taiteellista työskentelyä on tukenut Taiteen Edistämiskeskus.
Lydia Toivanen (s. 1987 Keravalla) on kuvataiteilija, jonka pääasialliset mediat ovat valokuva ja video. Hänen työskentelynsä ytimessä on älypuhelin, joka ylläpitää kysymyksiä valokuvan estetiikasta, etiikasta ja käyttötarkoituksesta. Toivanen on valmistunut Turun AMK:n Taideakatemian valokuvalinjalta 2019, ja hän opiskelee parhaillaan Aalto-yliopistossa valokuvataiteen maisteriohjelmassa. Toivasen taiteellista työskentelyä ovat tukeneet Taiteen Edistämiskeskus ja Patricia Seppälän säätiö.
Mari Kämäräinen (s. 1987 Vaalassa) on TYÖMAA-työryhmän taiteilija-kuraattori. Kämäräinen valmistui kuvataiteilijaksi Turun Taideakatemiasta 2015. Hän toimii performanssin ja piirtämisen keinoin ja tekee tilateoksia sekä yksin että yhdessä eri alojen taiteilijoiden kanssa. Kämäräinen tekee monitaiteellista yhteistyötä mm. Northern Opera Companyn kanssa kotiseudullaan Pohjois-Pohjanmaalla. Äänitaiteilija Hannu Seppälän kanssa hän on toteuttanut useita yhteisteoksia ja näyttelyitä. He ovat olleet mukana mm. Huoneiden kirja -produktiossa, jolle myönnettiin Esittävien taiteiden valtionpalkinto 2021. Kämäräisen taiteellista työskentelyä ovat tukeneet Taiteen Edistämiskeskus ja Suomen Taideyhdistys.
EN
CONSTRUCTION SITE | 2–25 September 2022
Andrei Bakharev, Hannu Seppälä, Lydia Toivanen
Curator: Mari Kämäräinen
Construction site: place, where is ongoing work, or place where something is built.
A construction site is a piece of land where all the activities related to the location of a structure take part. Usually here the landscape properties – vegetation, soil conditions, looks, etc. – are modified to provide an adequate environment for professionals to carry out with the field works.
There are multiples and varied challenges a single construction site encounters, all of them related to the environmental conditions, regulations, and type of structure that is placed. A construction site doesn't necessarily imply big changes in the landscape or built environment.
Small projects for infrastructure maintenance need to comply with security requirements governed by local regulations. Their execution is also completed by qualified professionals. The limitation of the area where the works will take part is determined by the law and professionals altogether.
Then for maintenance and construction of infrastructure, professionals will need to establish an area where the works will be carried on safely.
On the surface, we could say there are two main types of construction: buildings and industrial. Buildings and housing constructions are terms that sometimes are used interchangeably when they refer to infrastructures such as condos, hotels, and apartments.
In a wide sense, industrial constructions are every type of structure where goods are stored or manufactured. As a rule of thumb, industrial constructions are big in size and required highly qualified professionals for the execution.
Source: www.goconstruct.org
CONSTRUCTION SITE
The exhibition brings together photographs and videos by Lydia Toivanen and wood sculptures by Andrei Bakharev, depicting people at construction sites. Conscious and unconscious poses at work have found their way into the images and sculptures as immediate observations or as recollections afterwards. Hannu Seppälä's sound work for the exhibition is based on the soundscapes of various construction sites. The exhibition has been created in close cooperation with the working group under the guidance of curator Mari Kämäräinen. The Arts Promotion Centre Finland (Taike) has supported the realisation of the exhibition.
Bakharev's wood sculpture series is autobiographical, with characters based on real people he met while working as a support worker in the metal department of the Turku Work Centre a few years ago. The Work Centre is part of the city's services to prevent social exclusion. The material he has used for the works is "two-ply" and the cheapest, unplaned board, which is the most common material used for wooden utility structures.
"I was constantly offered jobs in the car industry by the employment services. I felt that I needed to understand the realities of the labour market, i.e. that an immigrant background combined with a university degree reduces employment opportunities. To be on the safe side, I decided to explore the metal sector and started with a work experience placement at a job centre. Most of my colleagues had lost their jobs in the metal sector, some of them were close to retirement age."
Toivanen's videos and photos are snapshots of construction sites and their surroundings. The aesthetics of incompleteness force to halt when walking past and the constant presence of the smartphone invites to document them. The jumble of organic and geometric forms, noise and dust, and disparate materials appears as a wild, random scene of elements. The incompleteness of the construction site is dominated by anonymous figures dressed in attention colours working within its structures.
Artists' bios
Andrei Bakharev (b. 1981 in St Petersburg, Russia) works mainly in sculpture, as wood is the artist's favourite material. Bakharev started his art studies at the St. Petersburg Academy of Fine Arts and graduated with a Master of Fine Arts from the Academy of Fine Arts in Helsinki 2008. Bakharev has been involved in many environmental art projects and he is currently working on the Elonkirjo project funded by the Kone Foundation in Koroinen, Turku. Bakharev´s works have been exhibited in numerous exhibitions in Finland and abroad. Bakharev´s artistic work has been supported by The Arts Promotion Centre Finland and the Kone Foundation.
Hannu Seppälä (b. 1980 in Oulu, Finland) is a sound artist working with musical and performative solo projects as well as collaborative projects in the fields of visual arts and theatre. Seppälä´s most important solo project in recent years has been the musical audiovisual performance Kempele, which has been performed in a variety of contexts both in Finland and abroad. Seppälä's previous theatre sound design work was Tehdas Teatteri's production Yksin ihminen in early 2022. Seppälä has collaborated with visual artist Mari Kämäräinen since 2018. They have collaborated on the production Book of Rooms in Turku, which was awarded the State Prize for the Performing Arts 2021. His artistic work has been supported by The Arts Promotion Centre Finland.
Lydia Toivanen (b. 1987 in Kerava, Finland) is a visual artist whose main media are photography and video. At the core of Toivanen's work is the smartphone, which keeps alive questions of aesthetics, ethics, and purpose of photography. Toivanen graduated from the photography department of the Turku Academy of Arts in 2019 and is currently studying at Aalto University in the Master of Arts in Photography program. Toivanen's artistic work has been supported by The Arts Promotion Centre Finland and the Patricia Seppälä Foundation.
Mari Kämäräinen (b. 1987 in Vaala, Finland) is the artist-curator of the CONSTRUCTION SITE working group. Kämäräinen studied fine arts at the Turku Academy of Fine Arts, graduated in 2015. Kämäräinen works with performance and drawing creating spatial works both alone and together with artists from different disciplines. Kämäräinen collaborates with the Northern Opera Company in her home region of North Ostrobothnia. Together with sound artist Hannu Seppälä, Kämäräinen has created several collaborative works and exhibitions. They have been involved in the production Book of Rooms, which was awarded the State Prize for the Performing Arts 2021. Kämäräinen's artistic work has been supported by the The Arts Promotion Centre Finland and the Finnish Art Society.
SVE
(BYGG)ARBETSPLATS | 2.–25.9.2022
Andrei Bakharev, Hannu Seppälä, Lydia Toivanen
Kurator: Mari Kämäräinen
(Bygg)arbetsplats: en plats där arbete pågår, särskilt en sådan plats där någonting byggs
1. en plats där man utför byggnads- eller skogsarbete eller annat kroppsarbete; ett område där sådant arbete utförs; ett arbetsprojekt av det här slaget
2. bildligt om
a. ett arbetsområde, en bransch, ett verksamhetsområde
b. ett enskilt betungande arbete
hygge, bygge, arbetsförläggning, vägbygge, superi på arbetsplatsen, arbetsplatsmöte, personalbod, arbetsplatsråd, byggbarack, personalmatsal, mobbning på arbetsplatsen, arbetsplatstolk, flottplats, ackordsarbetsplats, saneringsarbetsplats, skogshygge, varv, jobb, gruva, dagbrott, fält
(BYGG)ARBETSPLATS
I utställningen sammanförs Lydia Toivanens fotografier och videor med Andrei Bakharevs träskulpturer som beskriver människorna och livet på byggarbetsplatser. Medvetna och omedvetna poseringar i arbetet har fångats i fotografier och skulpturer, som omedelbara observationer eller i efterskott framkallade minnesbilder. Till utställningen har Hannu Seppälä skapat ett ljudverk som bygger på ljudvärlden på olika arbetsplatser. Mari Kämäräinen har fungerat som arbetsgruppens sammankallare och utställningens kurator. Utställningen tog form i tätt samarbete mellan arbetsgruppens medlemmar. Utställningen har fått understöd från Centret för konstfrämjande.
Bakharevs serie av träskulpturer är självbiografisk; figurerna bygger på verkliga personer som han träffade när han för några år sedan utförde stödarbete på metallavdelningen vid Arbetscentralen i Åbo. Arbetscentralen ingår som en del i den service staden erbjuder för att motverka marginalisering. Som material har han använt virke av dimensionen 2 x 4 och bräder av billigaste ohyvlad sort, som är de vanligaste materialen i hjälpkonstruktioner av trä.
"Sysselsättningsservicen erbjöd mig hela tiden lämpliga arbeten inom bilindustrin. Jag fick en känsla av att jag borde inse realiteterna på arbetsmarknaden, det vill säga att en invandrarbakgrund kombinerad med en högskoleutbildning försämrar möjligheterna till sysselsättning. Jag beslutade att för säkerhets skull bekanta mig med metallbranschen och började med att göra en arbetsprövning vid arbetscentralen. De flesta av mina arbetskamrater hade förlorat sina fasta arbetsplatser inom metallbranschen, och en del av dem var redan nära pensionsåldern."
Toivanens videor och bilder är ögonblicksvyer från byggarbetsplatser och deras omgivningar. Det ofullbordades estetik får en att stanna upp vid såna här platser och eftersom smarttelefonen ständigt är med lockas man att dokumentera dem. Röran av olika material, organiska och geometriska former, buller och damm blir en arena för slumpartade element. Anonyma figurer i neonfärgade kläder arbetar bland konstruktionerna och härskar över det ofullbordade.
Konstnärernas bios
Andrei Bakharev (f. 1981 i S:t Petersburg) arbetar huvudsakligen med skulptur, särskilt träskulptur. Han inledde sina konststudier vid Konstakademin i S:t Petersburg och utexaminerades som bildkonstmagister från Bildkonstakademin i Helsingfors år 2008. Bakharev har varit med i många miljökonstprojekt. För närvarande arbetar han inom det av Konestiftelsen finansierade projektet Elonkirjopuisto i Korois i Åbo. Verk av Bakharev har visats på många utställningar både i Finland och utomlands. Det konstnärliga arbetet har understötts av Centret för konstfrämjande och Konestiftelsen.
Hannu Seppälä (f. 1980 i Uleåborg) är en ljudkonstnär som arbetar med musikaliska och performativa soloprojekt och med samarbetsprojekt inom fälten bildkonst och teater. Hans viktigaste soloprojekt de senaste åren har varit den musikaliska, audiovisuella performancen Kempele, som har visats i kontexter av många slag både i Finland och utomlands. Seppäläs senaste ljudplaneringsuppdrag för teater var Tehdas Teatteris produktion Yksin ihminen i början av 2022. Sedan 2018 har Seppälä samarbetat med bildkonstnären Mari Kämäräinen. De var bland annat med i produktionen Rummens bok, som fick statspriset för scenkonst år 2021. Det konstnärliga arbetet har understötts av Centret för konstfrämjande.
Lydia Toivanen (f. 1987 i Kervo) är en bildkonstnär vars huvudsakliga medier är fotografi och video. Det centrala i hennes arbetsmetod är smarttelefonen, som aktualiserar frågor om fotografiets estetik, etik och syfte. Toivanen utexaminerades från fotolinjen vid Konstakademin vid Åbo yrkeshögskola år 2019 och studerar som bäst inom magisterprogrammet för fotografi vid Aalto-universitetet. Det konstnärliga arbetet har understötts av Centret för konstfrämjande och Patricia Seppäläs stiftelse.
Mari Kämäräinen (f. 1987 i Vaala) är konstnär och kurator för arbetsgruppen TYÖMAA. Hon har studerat bildkonst vid Åbo konstakademi och utexaminerades därifrån år 2015. Hon arbetar med performance och teckning och skapar installationer ensam och tillsammans med konstnärer från olika konstområden. Kämäräinen idkar multikonstnärligt samarbete med Northern Opera Company i sina hemtrakter i norra Österbotten. Hon har skapat flera verk och utställningar tillsammans med ljudkonstnären Hannu Seppälä. De var bland annat med i produktionen Rummens bok som fick statspriset för scenkonst år 2021. Det konstnärliga arbetet har understötts av Centret för konstfrämjande och Finska Konstföreningen.