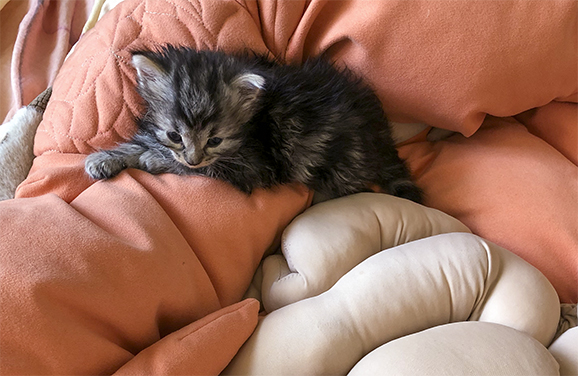 FIN
Avajaiset torstaina 7.7.2022 klo 18. Tervetuloa!
Reija Meriläisen näyttely Snugglesafe koostuu videosta, veistoksista ja installaatiosta, jotka viittaavat kissoihin ja lemmikinhoitoon.
Teoksissa hoiva ei näyttäydy vain hellänä hemmotteluna. Huolenpito on myös rutiinien toistamista ja joskus pakottavaa ja ahdistavaakin. Toisen ja itsen hengissä pitäminen vaatii jatkuvaa ylläpitoa ja oikeat välineet.
Kissa kääritään tiukkaan kapaloon, jotta se pysyisi paikoillaan ruokinnan ajan. Maidon lämpötila kokeillaan tiputtamalla ensin pisaroita omalle ranteelle. Tip, tip, tip. Lämpö ja tuoksut luovat iholle ja ilmaan emon läsnäolon.
Reija Meriläinen on helsinkiläinen taiteilija, jonka teoksissa sosiaaliset jännitteet ja keholliset kokemukset materialisoituvat. Usein teokset vihjaavat valta-asetelmiin tai väkivaltaan, vaikka ne olisivat visuaalisesti pehmeitä. Meriläisen teoksia on esitetty useissa ryhmä- ja yksityisnäyttelyissä Suomessa ja ulkomailla, mm. ARS17 nykytaiteen museo Kiasmassa Helsingissä ja Kehon Kuva -näyttely Wäinö Aaltosen museossa Turussa. 2019 Meriläiselle myönnettiin mediataiteen AVEK-palkinto.
Taiteilija on usean vuoden ajan toiminut vapaaehtoisena sijaiskotina kodittomille kissoille Kisu ry:n kautta. Kissojen suojelu – Kisu ry on Pirkanmaalla, Uudellamaalla ja Keski-Suomessa toimiva hädänalaisten kissojen oma yhdistys, jonka tarkoituksena on parantaa kissojen eläinsuojelullista tilannetta Suomessa.
Näyttelyä ovat tukeneet Taiteen edistämiskeskus, AVEK ja Koneen Säätiö.
Teksti: Jaakko Uoti
---
EN
Opening: Thursday 7 July 2022 6–8 pm. Welcome!
Reija Meriläinen's exhibition Snugglesafe is made up of video, sculptures, and installation that reference cats and pet care.
The care shown in the pieces is not just tender or pampering. It is also forceful, painful and full of repetitive routines. Keeping and staying alive requires constant maintenance and appropriate tools.
The cat is tightly swaddled to keep them still for the duration of the feeding. The temperature of the milk is first tested by dripping some on the wrist. Drip, drip, drip. The warmth and smells bring about a motherly presence that can be sensed on the skin and in the air.

Reija Meriläinen is a Helsinki based artist working with video, sculpture, and installations that combine the digital and physical. In their work, social tensions and power are linked to physical and material sensations. While visually soft, the pieces often hint at power relations and violence. Meriläinen's work has been shown in several solo and group exhibitions in Finland and abroad, such as ARS17 in Kiasma museum of Contemporary art in Helsinki and Bodybuilding in Wäinö Aaltonen Museum in Turku. In 2019 Meriläinen was awarded the AVEK media arts prize.
The artist has volunteered as a foster home for homeless cats through Kisu ry for several years. Kisu ry is an animal rescue organisation working towards bettering the welfare of cats in Finland.
The exhibition is supported by Arts Promotion Centre Finland, AVEK, and Kone Foundation.

Text: Jaakko Uoti
---
SVE
Vernissage torsdag 7.7.2022 kl. 18. Välkommen!
Reija Meriläinens utställning Snugglesafe består av en video, skulpturer och en installation som refererar till katter och vård av sällskapsdjur.
I verken visar sig vården inte enbart som kärleksfull omsorg. Skötseln innebär också upprepade rutiner och är ibland krävande och rentav ångestskapande. Att hålla en annan och sig själv vid liv kräver ständig skötsel och de rätta hjälpmedlen.
Katten lindas stadigt för att hållas stilla under matningen. Mjölkens temperatur testas genom att först låta några droppar falla på handleden. Dropp, dropp, dropp. På huden och i luften skapar värmen och dofterna en känsla av moderlig närvaro.
Reija Meriläinen är en Helsingforsbaserad konstnär. I hens verk materialiseras sociala spänningar och kroppsliga erfarenheter. Ofta anspelar verken på maktkonstellationer eller våld, även när de ger ett visuellt mjukt intryck. Verk av Meriläinen har visats på många grupp- och separatutställningar i Finland och utomlands, bland annat på ARS17 i museet för nutidskonst Kiasma i Helsingfors och på utställningen Kroppsbild i Wäinö Aaltonens museum i Åbo. År 2019 fick Meriläinen AVEK-priset för mediekonst.
Inom ramen för föreningen Kisu ry har konstnären i flera år frivilligt tagit hand om hemlösa katter. Kisu ry är en djurskyddsförening som verkar i Birkaland, Nyland och Mellersta Finland, med syfte att förbättra katters ställning inom djurskyddet i Finland.
Utställningen stöds av Centret för Konstfrämjande, AVEK och Konestiftelsen.

Text: Jaakko Uoti