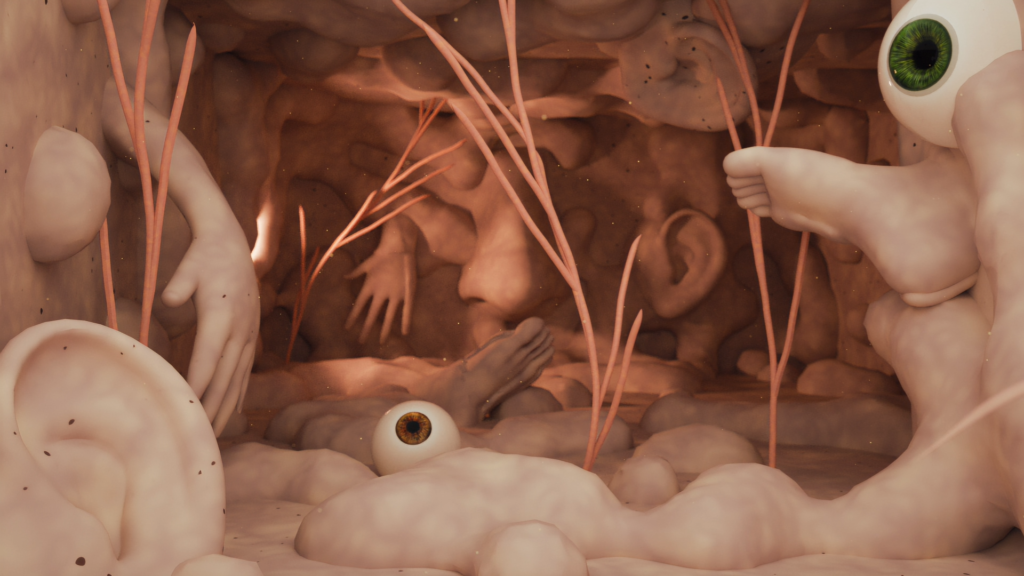 Avajaiset 7.10. klo 18–20
Laura Dahlberg
Henna-Riikka Halonen
Nayab Ikram
Trivial Zero
Porous Beings (in the age of machines) (suom. Huokoiset oliot (koneiden aikakaudella)) näyttely tuo yhteen neljä teosta/teoskokonaisuutta, jotka käsittelevät kukin eri näkökulmista elollisen ja elottoman toimijuutta sekä ihmisen ja teknologian, etenkin tekoälyn ja koneoppimisen vaikeasti määriteltävää ja kompleksista suhdetta. Käsityksemme ihmisyydestä ja ruumiillisuudesta muuttuvat ajan saatossa, samoin kuin havaintomme elollisten toimijuudesta kasvaa. Ympärillemme hahmottamamme ja määrittelemämme tarkat rajat häilyvät, häipyvät ja haalenevat asioiden ja olioiden huokoisen olemuksen korostuessa. Koneiden aikakausi, jonka keskiössä on ollut ihminen, on muuttuessaan koneoppimisen aikakaudeksi pakottanut meitä kysymään yhä fundamentaalisempia kysymyksiä omasta toimijuudestamme, rapauttaen teollistumisen ja kapitalismin luomaa harhakuvaa ihmisen kaikkivoipaisuudesta.
God Shaped Hole -teos levittäytyy monimuotoisena installaationa heittäen ilmoille ajatuksia tekoälyn kehollistamisesta ja ihmisen tarpeesta pakottaa luomansa uusi entiteetti johonkin ihmisen määräämään muotoon. Henna-Riikka Halosen Kudos (Ihosi näyttämö) pohtii leikkimielisen ja absurdin mielikuvitusmaailman kautta (ihmis)ruumiin olemusta alati teknologisoituvassa yhteiskunnassa ja ympäristössä, missä ruumiintoimintoja myöten kaikki on tarkoin kontrolloitua. Laura Dahlbergin kolme pientä robottia, Mechanical Beings, kuljeskelevat tyhjiössä, jota hetkellisesti häiritsevät näyttelyvieraat, määrittäen olemisensa rajat suhteessa elottomaan tilaan ja toisiinsa. Nayab Ikramin Babe, call me back peilaa ihmisen suhdetta koneälyyn ja toisiinsa, teknologian mahdollisuuksia, mutta myös etäännyttävää voimaa. Teoksessa kone tulee fyysisesti tykö ollen moniaistisesti läsnä.
Laura Dahlberg tutkii taiteellisessa työssään yhteiseloa ihmisten, koneiden, materian ja muiden lajien kesken. Installaatiot ja veistokset luovat usein absurdin kokemuksen hyödyntäen erilaisia aistiärsykkeitä, interaktiivisuutta ja uutta teknologiaa. Dahlberg on valmistunut Saimaan ammattikorkeakoulusta kuvataiteilijaksi 2016 ja viimeistelee tällä hetkellä maisterin opinnäytetyötä Taideyliopiston Kuvataideakatemiassa. Teoskokonaisuuden äänimaailman on toteuttanut Heta Bilaletdin. Projektia on tukenut Suomen kulttuurirahasto ja Paulon säätiö.

Henna-Riikka Halonen on kuvataiteilija, joka käyttää monenlaisia taiteellisia tekniikoita sekä historiallisia ja kulttuurisia viitteitä, kuten teatteria, kirjallisuutta ja elokuvaa. Hänen viimeaikaiset projektinsa ja tutkimuksensa käsittelevät sitä, miten teknologinen, ekologinen ja poliittinen kehitys muokkaa suhteita ja tiloja, ja ne saavat usein alkunsa fyysisestä kohtaamisesta tietyn kontekstin tai paikan kanssa.
Hän on toteuttanut useita lyhytelokuva hankkeita ja esityksiä Suomessa, Ruotsissa, Irlannissa, Israelissa, Britanniassa ja Ranskassa. Hänen teoksiaan on nähty viime vuosina useilla kansainvälisilla festivaaleilla ja näyttelyissä. Halonen valmistui taiteen maisteriksi Goldsmiths Collegesta Lontoosta 2006 ja Kuvataiteen tohtoriksi Taideyliopiston Kuvataideakatemiasta, Helsingistä 2020. Hän työskentelee parhaillaan nykytaiteen lehtorina Turun Ammattikorkeakoulun Taideakatemiassa. Projektia on tukenut Koneen Säätiö ja Turun Ammattikorkeakoulu.
Nayab Ikram on Ahvenanmaalta kotoisin oleva valokuvaaja ja kuvataiteilija, joka asuu Turussa. Ikram työskentelee käsitteiden parissa, jotka käsittelevät väliinputoamisen tunnetta, kulttuuri-identiteettiä, kollektiivista muistia ja post-internetiä. Hän tutkii käsitteitä symbolien, rituaalien ja abstraktien ilmaisumuotojen avulla käyttäen valokuvaa, performanssia ja installaatioita välineinään.
Ikram valmistui kulttuurin ja taiteen kandidaatiksi vuonna 2015 Novia-ammattikorkeakoulusta Pietarsaaresta, pääaineena valokuvaus. Ikramilla on ollut lukuisia yksityisnäyttelyitä ja hän on osallistunut ryhmänäyttelyihin. Hänen teoksiaan on ollut esillä Mäntän kuvataideviikoilla (2021), Västeråsin konstmuseumissa (2019), Ahvenanmaan taidemuseossa (2018), Pakistanin suurlähetystössä Brysselissä, Belgiassa (2017) ja Moderna Museetissa, Ruotsissa (2016). Vuonna 2017 hän voitti Landskronan valokuvajuhlien nuorten pohjoismaisten valokuvaajien portfoliokatselmuksen. Vuonna 2019 hänelle myönnettiin Svenska Kulturfondenin kulttuuripalkinto.
(Sami Pikkarainen & Jenny Mild) – Trivial Zero on turkulainen, noin viidennes vuosisadan yhdessä viettänyt ja työskennellyt taiteilijapari. Molemmilla on vahva tausta video-, ääni- ja performanssitaiteessa. Taiteilijaparin teoksissa yhdistyy usein taide ja tiede.
"Meitä kiehtovat tekoälyn nousun mukana tuomat muutokset niin yhteiskunnassa kuin taiteessa ja miten perustavanlaatuisesti tekoäly ja koneoppiminen tulevat muuttamaan kaikkea yhteiskunnassamme. Meille mielenkiintoisempaa on etsiä merkityksellisiä, taiteellisia ja filosofisia näkökulmia tekoälystä ja sen kanssa työskentelystä, kumppanuudesta ja tekijyyden kysymyksistä kun taidetta tehdään tekoälyn kanssa, kuin pohtia sen vajaavaisuuksia."
Työskentelyä on tukenut Taiteen edistämiskeskus sekä Suomen Kulttuurirahaston Varsinais-Suomen rahasto.
---
EN
Porous Beings (in the age of machines)
8–31 Oct 2021
Opening 7 October 6–8 pm
Laura Dahlberg
Henna-Riikka Halonen
Nayab Ikram
Trivial Zero
The exhibition brings together four works, each of which deals from a different perspective with the agency of the animate and inanimate, and the elusive and complex relationship between humans and technology, especially artificial intelligence and machine learning. Our perceptions of humanity and embodiment change over time, as our apprehension of the agency of living things grows. The precise boundaries we understand and define around us blur, fade and disappear as the porous nature of things and beings becomes more pronounced. The age of machines, with a human being at its centre, has turned into the age of machine learning, forcing us to ask ever more fundamental questions about our agency, shattering the illusion of human omnipotence that is so pertinent in our industrial and capitalist heritage.
Trivial Zero unfolds as a multifaceted installation, presenting ideas about the embodiment of artificial intelligence and the human need to force the new entity it creates into some humanly determined form. Henna-Riikka Halonen's Tissue (The stage of your skin) reflects, through a playful and absurd, imaginary world, on the nature of the (human) body in an increasingly technological society and environment where everything, including bodily functions, is tightly controlled. Laura Dahlberg's three small robots, Mechanical Beings, wander in a vacuum, momentarily disturbed by exhibition goers, defining the limits of their existence in relation to the inanimate space and each other. Nayab Ikram's Babe, call me back reflects on the relationship between human and AI, and each other, the possibilities of technology, but also its distancing power. In the interactive installation, the machine becomes physically present in a multisensory way.
Laura Dahlberg's work explores the coexistence of people, machines, matter and other species. Her installations and sculptures often create an absurd experience using a variety of sensory stimuli, interactivity and new technologies. Dahlberg graduated from Saimaa University of Applied Sciences as a visual artist in 2016 and is currently completing her Master's thesis at the University of the Arts, Academy of Fine Arts. The project's soundscape has been realised by Heta Bilaletdin. The Finnish Cultural Foundation and the Paulon Foundation have supported the project.
Henna-Riikka Halonen is a visual artist who uses a wide range of artistic techniques and historical and cultural references, including theatre, literature and cinema. Her recent projects and research are concerned on how relations and spaces are conditioned by technological, ecological and political developments and are often initiated by a physical encounter with a specific context or a site.
Halonen has worked on and produced many collaborative and large scale projects and commissions in the Israel, Ireland, France, Finland, Sweden and the UK and has shown her work widely in international exhibitions and festivals. Halonen graduated with MFA Fine Art from Goldsmiths College, London in 2006. She completed a Doctorate at Academy of Fine Arts, Helsinki in 2020 and is currently working as a lecturer of contemporary Art at Turku University of Applied Sciences. The project has been generously supported by Kone Foundation and Turku University of Applied Sciences.
Nayab Ikram is a photographer and visual artist of Pakistani diaspora from the Åland Islands, based in Turku. Ikram works with concepts dealing with the feeling of in-betweenship, cultural identity, the collective memory and post-internet. She explores the concepts using symbols, rituals and abstract forms of expressions through photography, performance and installations.
Ikram graduated with a Bachelor of Culture and Arts degree in 2015, majoring in photography, from Novia University of Applied Sciences in Jakobstad, Finland. She has had numerous solo exhibitions and participated in group exhibitions. She has exhibited her work at The Mänttä Art Festival (2021), Västerås konstmuseum (2019), The Åland Islands Art Museum (2018), the Embassy of Pakistan in Brussels, Belgium (2017), and Moderna Museet, Sweden (2016). In 2017 she was the winner of the Portfolio Review for Young Nordic Photographers at Landskrona Foto Festival. In 2019 she was awarded with a culture award from the Svenska Kulturfonden.
(Sami Pikkarainen & Jenny Mild) – Trivial Zero is a Turku-based artist couple who have spent about a fifth of a century working together. Both have a strong background in video, sound and performance art. Their work often combines art and science.
"We are fascinated by the changes that the rise of AI will bring to society and art, and how fundamentally AI and machine learning will change everything in our society. We are more interested in finding meaningful, artistic and philosophical perspectives on AI and working with it, on partnership and authorship issues when making art with AI, than in reflecting on its shortcomings."
The work has been supported by the Arts Promotion Centre Finland and the Finnish Cultural Foundation's Southwest Finland Fund.
---
SVE
Porous Beings (in the age of machines)
8.–31.10.2021
Vernissage 7.10. kl. 18–20
Laura Dahlberg
Henna-Riikka Halonen
Nayab Ikram
Trivial Zero
Utställningen Porous Beings (in the age of machines) (sv. Porösa varelser (i maskinernas tidevarv))sammanför fyra verk/verkshelheter, där var och en ur olika synvinklar behandlar det levandes och det livlösas agentskap och den, särskilt i fråga om AI och maskininlärning, svårdefinierade och komplexa relationen mellan människan och teknologin.
Vår uppfattning om mänsklighet och kroppslighet förändras med tiden, samtidigt som våra observationer av de levandes aktörskap ökar. De exakta gränser vi förstår och definierar flyter ut, försvinner och bleknar omkring oss medan sakers och varelsers porösa väsen accentueras. Maskinernas tidevarv, där människan har stått i centrum, har genom sin förvandling till maskininlärningens tidevarv tvingat oss att ställa allt mer fundamentala frågor om vårt eget aktörskap, och därmed fått den av industrialiseringen och kapitalismen skapade illusionen om människans omnipotens att falla sönder.
Trivial Zero är en mångskiftande installation som går i vindlingar och slänger ut tankar om förkroppsligande av AI och om människans behov av att tvinga in den nya entitet hon skapat i en form som bestäms av människan. Henna-Riikka Halonens Kudos (Ihosi näyttämö) (sv.Vävnad (Din huds estrad)) begrundar via en lekfull och absurd fantasivärld (människo)kroppens väsen i ett ständigt mer teknologiserat samhälle och i en miljö där allt, till och med kroppsfunktionerna, är noga kontrollerat. Laura Dahlbergs tre små robotar, Mechanical Beings, driver omkring i ett vacuum som momentant störs av utställningsgästerna och definierar gränserna för sin existens i förhållande till det livlösa utrymmet och varandra. Nayab Ikrams Babe, call me back speglar människans relation till maskinintelligens och andra människor, teknologins möjligheter, men också dess alienerande kraft. I verket kommer maskinen fysiskt till besökaren och är multisensoriskt närvarande.
Laura Dahlberg undersöker i sitt konstnärliga arbete samlevnaden mellan människor, maskiner, materien och andra arter. Hennes installationer och skulpturer skapar ofta en absurd upplevelse och utnyttjar olika sinnesstimuli, interaktivitet och ny teknik. Dahlberg utexaminerades som bildkonstnär från Saimaan ammattikorkeakoulu år 2016 och håller för närvarande på att färdigställa sitt lärdomsprov för magisterexamen vid Konstuniversitetets Bildkonstakademi. Verkshelhetens ljudvärld skapades av Heta Bilaletdin. Projektet har fått understöd från Suomen kulttuurirahasto och Paulos stiftelse.

Henna-Riikka Halonen är en bildkonstnär som använder många slags konstnärliga tekniker och även historiska och kulturella referenser, som teater, litteratur och film. Hennes senaste projekt och undersökningar handlar om hur den teknologiska, ekologiska och politiska utvecklingen omformar relationer och utrymmen, och de uppstår ofta ur möten med en viss kontext eller plats.
Hon har genomfört flera kortfilmsprojekt och förevisningar i Finland, Sverige, Irland, Israel, Storbritannien och Frankrike. Under de senaste åren har verk av henne visats på flera internationella festivaler och utställningar. Halonen utexaminerades som konstmagister från Goldsmiths College i London år 2006 och som doktor i bildkonst från Konstuniversitetets Bildkonstakademi i Helsingfors 2020. För närvarande arbetar hon som lektor i samtidskonst vid Åbo Yrkeshögskolas Bildkonstakademi. Projektet har fått understöd från Konestiftelsen och Åbo Yrkeshögskola.
Nayab Ikram är en fotograf och bildkonstnär från Åland, bosatt i Åbo. Ikram arbetar med begrepp som behandlar känslan av mellanförskap, den kulturella identiteten, det kollektiva minnet och postinternet. Hon undersöker begreppen med hjälp av symboler, ritualer och abstrakta uttrycksformer, med foto, performance och installationer som redskap.
Ikram utexaminerades år 2015 som kandidat i konst och kultur från Yrkeshögskolan Novia i Jakobstad, med fotografering som huvudämne. Ikram har haft flera separatuställningar och deltagit i grupputställningar. Verk av henne har visats på bildkonstveckan i Mänttä (2021), i Västerås konstmuseum (2019), Ålands Konstmuseum (2018), i Pakistans ambassad i Bryssel, Belgien (2017) och på Moderna Museet, Sverige (2016). År 2017 vann hon årets Portfolio Review för unga nordiska fotografer vid Landskrona Foto Festival. År 2019 tilldelades hon Svenska kulturfondens kulturpris.
(Sami Pikkarainen & Jenny Mild) – Trivial Zero är ett konstnärspar från Åbo som levt och arbetat tillsammans i ett femtedels århundrade. Båda har en stark bakgrund i video-, ljud- och performancekonsten. I konstnärsparets verk förenas ofta konst och vetenskap.
"Vi är fascinerade av de förändringar som AI:s frammarsch fört med sig både i samhället och i konsten, och av hur fundamentalt AI och maskininlärning kommer att förändra allt i vårt samhälle. Vi är mera intresserade av att hitta betydelsefulla, konstnärliga och filosofiska aspekter på AI och arbetet med den, på partnerskap och frågor om upphovsmannaskap när man gör konst med AI, än att fundera på dess brister."
Arbetet har understötts av Centret för konstfrämjande och Suomen Kulttuurirahastos fond för Egentliga Finland.