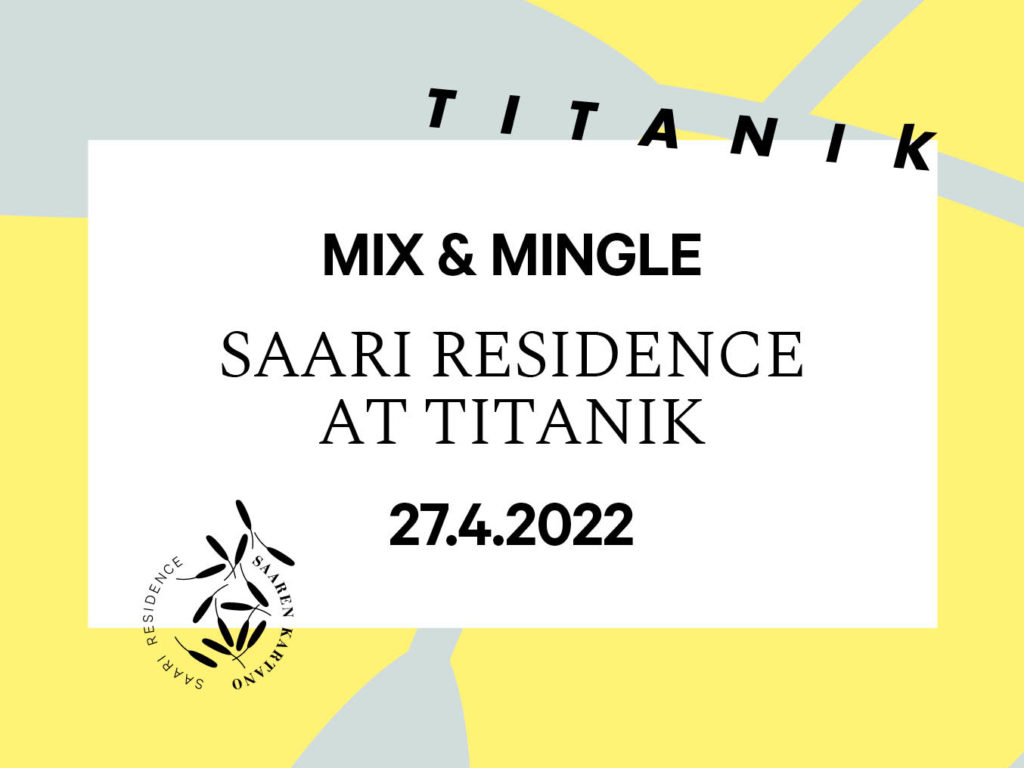 Wednesday 27 April 2022 6–8 pm
Location: Titanik-gallery | Itäinen Rantakatu 8, Turku
---
This event is launching a new collaboration between the Saari Residence and Titanik gallery. During the evening, residents from each two-month working period will briefly discuss their practice, after which there will be an opportunity for casual exchange of thought and ideas between the residents, guests and Saari and Titanik staff over a drink and some nibbles. During the Mix and Mingle events we wish to foster open dialogue on and around the topics the residents are bringing to the table.
The event will be held in English.
Saari Fellows March and April 2022:
Tuomas Laitinen is a performance and theatre artist whose work questions the role of the audience, experiments with it, and consequently develops new forms of performance. At the Saari Residence, Laitinen works with a doctoral research project, which focuses on what is (an) audience.
Pia Palme (Vienna, Austria) is a composer, performer, and artistic researcher in the field of contemporary music. Her work builds on the idea that listening mirrors the activity of composing. At the Saari Residence, she explores music and composition as ecosystems.
Siiri Viljakka (based in Turku) is making longform comics and visual art. Her works are stories about humane struggles and fascinating lives from a queer point of view. In the Saari Residence, Viljakka is working on a partly autobiographical project REKKIS, which combines comic art and drawings about butch identity and female masculinity.
Elie Halonen (they/them) is a Turku based visual artist and a bodyworker. Their studies in sculpture combine with their practice of shibari (Japanese influenced rope bondage). In their work, Halonen explores the somatics and materiality of the human body. At the Saari Residence, Halonen collaborates with dancer Satu Hakamäki in the intersection of movement and shibari, finding ways for emotion to make sculptural forms in the human body.
Satu Hakamäki is a performing artist mainly working with performance and contemporary dance. They like to explore interaction, nature relationships, sensuality, and power in their work. At the Saari Residence, Hakamäki works with Elie Halonen creating a performance where shibari tying, sculpture and movement discuss together.
Carlos Zerpa is a screenwriter, creative producer and street artist based in Caracas, Venezuela. His creative practice emerges at the intersection of storytelling, visual arts, and social commitment and is inspired by the concrete struggles of the global south. His work seeks to empower underrepresented characters by creating transgressive, engaging, and irreverent narrative devices.
Karolina Kucia (she/them) is a visual/performance artist and researcher with interests in slip, parasitism and monstrosity in the context of precarization of labour in post-neoliberal capitalism and the current form of art institutions.
Maria Zhiginas, a Ukrainian jazz singer, will perform at the event.