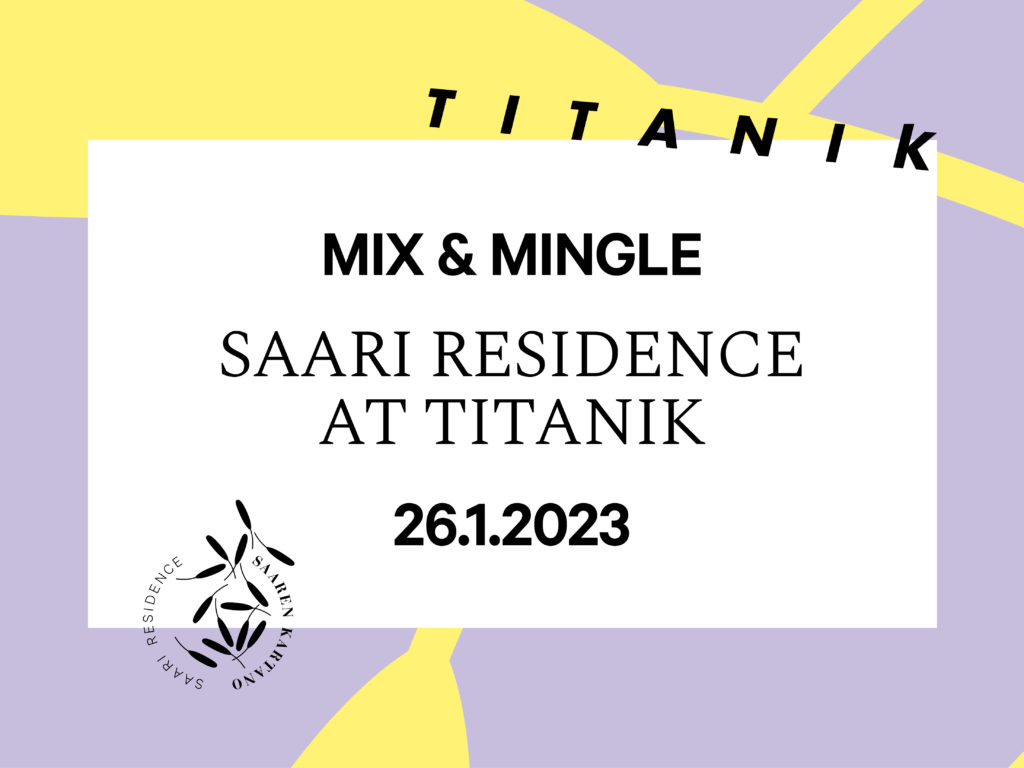 Time: 26 January 2023, 6–8 pm
Location: Titanik | Itäinen Rantakatu 8, Turku


During the evening, some of the residents from the current working period will briefly discuss their practice, after which there will be an opportunity for casual exchange of thoughts and ideas between the residents, guests and Saari and Titanik staff over a drink and some food. During the Mix and Mingle events we wish to foster open dialogue on and around the topics the residents are bringing to the table.
The event language is English.


Participating Saari Fellows:
Tamara Colchester is a tracker and forager who writes about the interconnected paths of humans, plants and animals. She has written a first novel, and now guides people on foraging-tracking walks that allow for renewed perspectives and a sense of being 'at home' in the outside world. She also runs a charity – Plant Listening – that offers these experiences to marginalised groups who don't have many opportunities to enjoy time in wild places.
Miia Kettunen is a multidisciplinary visual artist (MA) whose practice focuses on, but it´s not limited to working with environmental and community-related art as she considers her works to be site- and situation-specific by nature. Her work is fueled by the consideration for ecological issues, the urge to study the less known or unseen, and generating unconventional dialogic paths with the communities innately merging into her works. Recently, she has focused on observing interconnective dialogues between humans and nature by combining art and science in her practice. In her current works, she explores the use of components from environmental art, bioart, alternative photography techniques, and media arts.
Christopher Linforth is the author of The Distortions. His work focuses on psycho-geography and incorporates the studies of the landscape and the environment into his artistic practice, writing about a pre- and post-conflict society and culture and land, and the transformation of the cultural and economic landscapes, while the same forces concurrently burying the very traumatic consequences of the war.
Mohammed (Moe) Mustafa was born in Kuwait in 1985 to Palestinian parents, brought up in Jordan, and is currently based in Finland. He is proud of his mixed cultural background and heritage, considering himself an artist at once Palestinian, Jordanian, and Finnish.
Moe Mustafa is a multidisciplinary artist. His works vary from visual art, theatre, and performance to sound and sculpture. He deals with themes such as queerness and homosexuality, social interaction, and relationship.
Radmila Petrovic was born in Užice in 1996. Graduated from the Faculty of Economics in Belgrade, where she also earned a master's degree, Radmila Petrovic is one of the most sought-after poets in former Yugoslavia. She has been represented in anthologies, domestic and international journals and participated in numerous festivals and poetry readings across Europe. As the laureate of the 42nd Lim River Poetry Evenings, she published a collection of poems "The Scent of Earth" (House of Culture "Pivo Karamatijević", Priboj, 2014), and as the winner of the 22nd Poetry Competition "Desanka Maksimović" she published a collection "Cellulose Rock 'n' Roll" (SKZ and Valjevo Gymnasium, Valjevo, 2015).Her third collection of poetry, "My Mom Knows the Kind of Things that Happen in Cities", published by PPM Enklava in early summer 2020, has sold over 11 000 copies. The same collection was published in North Macedonia in 2021, and German, Polish, Slovenian and Bosnian editions are in the works. Her poetry has also been translated into English, French, Greek, Italian, Slovenian, Spanish, Hebrew, Ukrainian, Bulgarian, Latvian and other languages. She has been a scholarship holder of the Government of the Republic of Serbia. She has stayed at writing residencies in Skopje (Reading Balkans), Berlin (S. Fischer Stiftung), Vienna (Q21), Prishtina (READ) and Sofia (Traduki).
Teea Saanio is a visual artist (MA) who works with photography, collage, sculpture and found objects among other things. She is interested in questions dealing with existence and perception. In her latest installation Saanio combined sculpture with photography to address themes of memory and uncertainty. At the moment, she is interested in everyday things with a planetary scale, such as light and water. Saanio believes that, in addition to pictures and words, also material can carry meanings. Sensitivity towards materials as part of the content, rather than just a medium, is something she wants to think further as she develops her practice.
Meriem Wakrim is a visual artist from Morocco. She makes drawings that involve the use of paper and digital work, and subjects relating to the living, to nature, are particularly close to her heart. Coming from film studies, she approaches the image as we can approach a story, a scene, something that is always in movement.
Marcia Walker writes fiction, nonfiction, and plays. Her writing has appeared in Electric Literature's Recommended Reads, The Chicago Review, The New Quarterly, Fiddlehead, The New York Times, PRISM international, Room, EVENT, The Globe and Mail,CBC radio, and elsewhere. She often writes about women, desire, and the consequences and necessity of rupture. Before becoming a writer, Marcia worked in theatre and as a lawyer. Currently, she lives in Montreal, Canada.