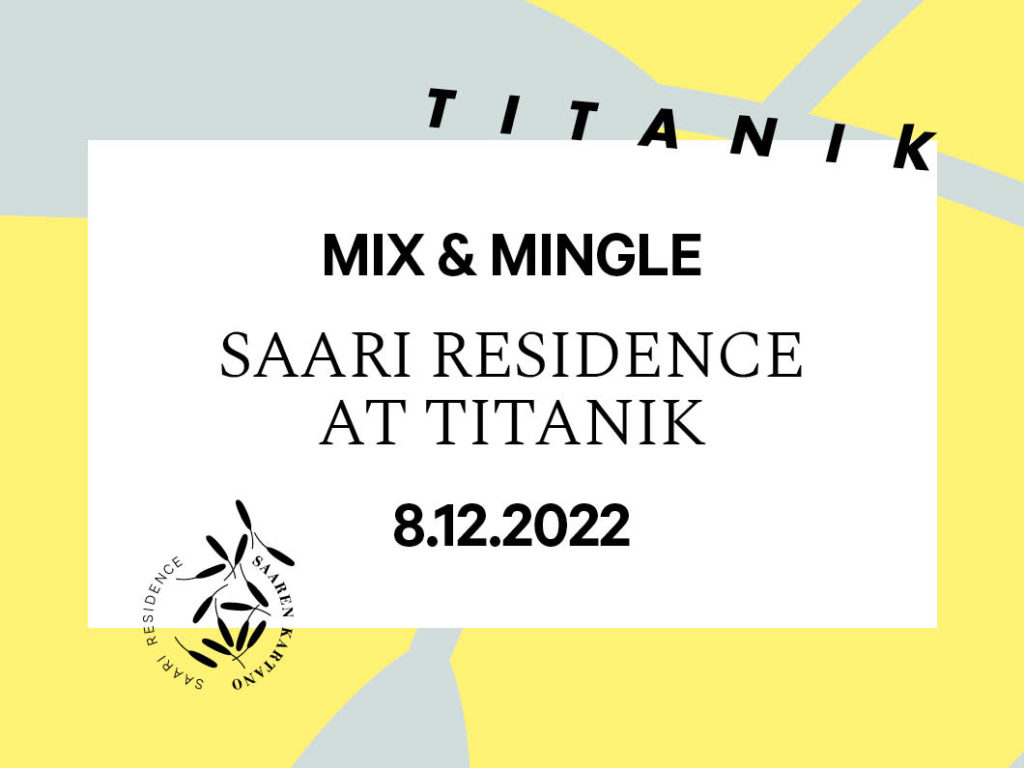 Time: 8 December 2022 6–8 PM
Location: Titanik | Itäinen Rantakatu 8, Turku
During the evening, some of the residents from the current working period will briefly discuss their practice, after which there will be an opportunity for casual exchange of thoughts and ideas between the residents, guests and Saari and Titanik staff over a drink and some food. During the Mix and Mingle events we wish to foster open dialogue on and around the topics the residents are bringing to the table.
The event language is English.

Participating Saari Fellows:
Aurora Ala-Hakula (1985) works as a writer and essayist. In their texts, they discuss the Anthropocene, human and non-human agencies, concrete utopias and change.
Jorge Tadeo Baldeon Rodriguez is an interdisciplinary artist and independent manager, living and working between Peru and Germany. They use diverse artistic media, including performance, pedagogical tools, and space design, to link glocal social and cultural processes in critical reflection. Their joint works with diverse collectives have been shown in Matadero (Spain, 2017), 34th Bienal de São Paulo (Brasil, 2021) and Museo Reina Sofía (Spain, 2022). They are co-director at elgalpon.espacio (Peru) and member of Yuyachkani Group (Peru), where they work as space and plastic designer and performer.
Soohyun Choi focuses on the moments of awkwardness, failures, and confusion that trigger her to question the customary concept of normality and ethics. Her first-person perspective writing, which is a foundational material of her time-based works, expands from her autobiographical voice while multiplying the concept of singularity. Using introspection and dry humour reflecting her position as an artist, her work de-mystifies ideological thinking and raises doubts about art as a social form while blurring the boundaries between memoir, fiction, and essay.
Maricarmen Gutiérrez Castro is a performance maker, researcher and feminist activist, from Cusco, Peru. Her interdisciplinary work centers the body-territory in the struggle and celebration against patriarchal, colonial and capitalist violence. Co-creator of Sonqo Ruro collective. She has created and co-created feminist performances in public spaces in Peru, Germany and The Netherlands. She has a MA in Performing Public Space by Fontys Hogeschool voor de Kunsten (NL). Currently she is part of the MA program Raumstrategien at Weissensee Hochschule (Berlin).
Helinä Hukkataival, visual artist, performance artist
Since 1990 Hukkataival has worked with performance art and, for the last fifteen years, also interdisciplinary using video, photography and installation. Live Performances are often site-specific and can be participatory. Performance installations have been durational and based on live presence. Most of her work deals with life seen through a woman's eyes. She tries to find the universal level within personal experiences by showing small incidents, subtle shades and relations which influence us even if unnoticed. At the Saari Residence, she collaborates with Inari Virmakoski. They work both separately and together on their joint project Suggestions.
Heidi Lampenius (b. 1977) graduated from the Finnish Academy of Fine Arts in 2011. She has subsequently participated in numerous group exhibitions in Finland and internationally, for example at Museum of Contemporary Art Kiasma in Finland, Norrtälje Konsthall in Sweden, Akureyri Art Museum and Berg Contemporary in Iceland, Hydra School Project in Greece and Nordic Contemporary in France. Lampenius' most recent solo exhibition at Helsinki Contemporary was Earthbound in 2021. Her works are represented in public collections such as Museum of Contemporary Art Kiasma, EMMA Espoo Museum of Modern Art, Proartibus, Aine Art Museum, Wihuri Foundation and the Swedish Region Gävleborg's public art collection.
jörg piringer
born 1974. currently living in vienna, austria. member of the institute for transacoustic research. member of the vegetable orchestra. master degree in computer science. works as a freelance artist and researcher in the fields of electronic music, radio art, sound and visual electronic poetry, interactive collaborative systems, online communities, live performance, sound installation, computer games and video art. http://joerg.piringer.net
Azade Shahmiri is a theatre director and performance maker, based in Teheran. She graduated in Theater Studies from the University of Tehran in 2009 and holds a Ph.D. in Art Studies. Her artistic practice oscillates between theater, performance, lecture, and forms of the installation. Her performances are research-based and closely interwoven with personal narratives, the notions of reality and documentary. Alongside the text, the collaboration between film, video, and sonic and visual materials are central to her creations. Her artistic works have been presented in various theaters and festivals across Europe and Asia in Tehran, Gwangju, Kerala, Vienna, Zurich, Basel, Edinburgh, Brussels, Berlin, Geneve, and Mannheim.
Inari Virmakoski, performance artist
Virmakoski works in Finland and also in international performance festivals and residencies. The topics of her performances have included human rights, issues of war and peace, humanity, love and nature. Often her performances have been rituals, and sometimes her performances are accompanied by an installation in the surroundings. At the Saari Residence, she collaborates with Helinä Hukkataival on their joint project called Suggestions.