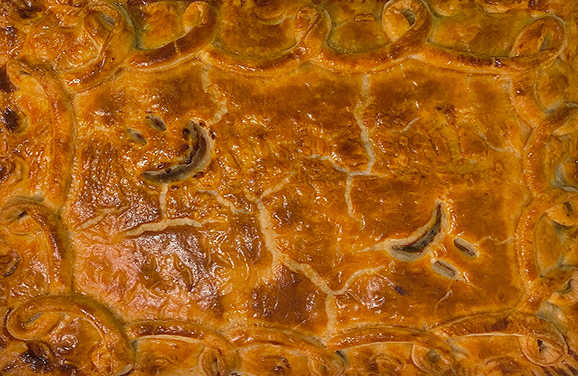 "The world knows many and various means of keeping body and soul together.
Stay And Hear what I have to say!
A country I lately chanced to see
´Twas very strange, unknown to me.
Those who sleep longest earn the most
No work is done the whole day long
By anyone old, young, weak or strong.
There no one suffer shortages,
The walls are made of sausages!
This is about the wonderful Land of Cockaigne
Stay And hear what I have to say!"
Land of Cockaigne (excerpt of rhyming text L), unknown author, fifteenth to sixteenth century
---
[FI] Johanna Härkönen ja Eetu Sihvonen: Matka Cockaigneen 11.6.–4.7.2021
Salvete!
Wanhan Turun psykomaantieteellisistä kerrostumista ammentava ja kaupungin keskiaikaisten markkinoiden aikaan sijoittuva Matka Cockaigneen haaveilee hairahtuneen, nurinkurisen hölmöläisutopian perään. Johanna Härkönen ja Eetu Sihvonen peijaavat katsojaa remontoidessaan myyttisen tuulentuvan nimeltä Cockaigne, jossa villeimmätkin talonpoikaistoiveet käyvät toteen. Elikkä, käyhän toki matkaan tähän feodaaliseen fantasiamaailmaan, jos uskallat!
Härkösen ja Sihvosen ensimmäinen yhteisnäyttely on radikaali maailmanrakennusehdotelma, jossa galleriatilaa on viritetty taitelijoiden uusien teosten lisäksi lavasteilla ja seinämaalauksilla. Niin Härkösen kuin Sihvosenkin praktiikat ovat tiiviisti menneiden aikojen ja nykyisyyden hermolla: näyttely voimaannuttaa keskiajan alempien säätyjen halut ja himot hullunkurisiin, anakronistisiin uudelleentulkintoihin, aivan kuin Brueghelin vimmaisia talonpoikauskuvauksia olisi modattu piraattipäivityksin.
Härkönen sepittää narrimaisen alter ego -hahmonsa salaisuuksia tekstiiliteoksissa, veistoksissa, kuparilevykaiverruksissa, kattokruunuissa ja erilaisissa pukimissa. Sihvonen puolestaan takoo perinteisiä ja nykyaikaisia käsityöläistaitoja hyödyntäen kriittisiä iskuja työn merkityksellisyyteen sekatekniikkaveistosten ja printtien muodossa.
Matka Cockaigneen on Härkösen ja Sihvosen yhteistyön ensimmäinen osa, jota täydentää ensi vuonna osuvasti nimetty jatkonäyttely Cockaigne, jonka tarkempi paikka ja aika julkaistaan myöhemmin.
Näyttelyä on tukenut: Suomen Kulttuurirahasto, Taiteen edistämiskeskus, Kuvataideakatemia ja Maker 3D.
Johanna Härkönen on kuvataiteilija ja tarinankertoja, joka asuu ja työskentelee Helsingissä ja New Yorkissa. Hänen taiteellinen praktiikkansa sekoittaa keskenään orgaanisia ja synteettisiä materiaaleja, perinteisiä ja digitaalisia tekniikoita sekä referenssejä eri aikakausilta. Johannan töiden tematiikka vaihtelee vapaasti surrealististen olomuotojen tutkielmista tragikoomiseen kerrontaan ja alakulttuurianalyyseista salatieteellisiin tulkintoihin.
Eetu Sihvonen on Helsingissä asuva ja työskentelevä kuvataiteilija. Hän käyttää työskentelyssään pääosin 3D-mallintamista ja -animointia sekä perinteisempiä materiaaleja kuten kipsiä, puuta ja metallia. Digitaaliset ja fyysiset veistokset yhdistyvät installaatioiksi ja yksittäisiksi teoksiksi, jotka ammentavat länsimaisen kaupunkikulttuurin estetisoiduista barrikadeista, utopioista ja roolipelien maailmasta.
Teksti: Anssi Vallius
---
[EN] Johanna Härkönen and Eetu Sihvonen: A Trip to Cockaigne 11 June – 4 July, 2021
Salvete!
Constituted upon the psychogeographical sediments of Ye Olde Turku and synchronized with the city's annual Medieval Market, A Trip to Cockaigne unlocks a topsy-turvy heretic utopia. Johanna Härkönen and Eetu Sihvonen sike the beholders out by a lucid imagination of mythical Cockaigne, a fool's paradise, where peasants' wildest dreams come true. Ergo, taketh the trip to this feudal fantasyland if you dare!
In a proposition of radical worldbuilding, Härkönen's and Sihvonen's first joint exhibition buffs the gallery space up with a range of new works by both artists, as well as an assortment of decorative props and drolleries. Sharing a distinctive feel for the bygone and the present in their practices, the artists reinvigorate the desires and passions of the Middle Ages' lower classes as part of the show's folly, anachronistic flair, akin to a feverish Bruegel genre painting modified with a bootleg patch update.
Härkönen depicts her jester alter ego's arcana with the use of tapestries, sculptures, copperplate engravings, chandeliers, and drapery. Sihvonen forges together present-day and legacy craftsmanship techniques, resulting in critical strikes on the meaning of work in the form of mixed media sculptures and dye sublimation prints.
A Trip to Cockaigne marks the first part of Härkönen and Sihvonen's collaboration, to be complemented next year by an aptly named subsequent show, Cockaigne, in a yet undisclosed setting/location.
The exhibition is supported by The Finnish Cultural Foundation, The Arts Promotion Centre Finland, Academy of Fine Arts, Helsinki, and Maker 3D.
Johanna Härkönen is an artist and storyteller based in Helsinki and New York City. Her practice mixes organic and artificial materials, traditional and digital techniques, and references from different eras. Johanna's works often examine the surreal planes of existence, tragicomic situations, fringe subcultures, uncanny valley, and the occult.
Eetu Sihvonen is an artist, who lives and works in Helsinki. Their practice mainly uses 3D modelling and animation, as well as more traditional materials, such as plaster, wood, and metal. In their practice digital and physical sculptures merge into installations and singular works, which are informed by aestheticized barricades in Western urban culture, utopias, and the world of role-playing games.
Text: Anssi Vallius
---
[SVE] Johanna Härkönen och Eetu Sihvonen: En resa till Cockaigne 11.6 – 4.7.2021
Salvete!
En resa till Cockaigne, som tar avstamp i Det Gamla Åbos psykogeografiska avlagringar och tilldrar sig samtidigt som stadens årliga medeltida marknad, bjuder in till en vrickad, uppochnervänd, dåraktig utopi. Johanna Härkönen och Eetu Sihvonen gäckar betraktaren med en mytisk fantasi vid namn Cockaigne, där även de vildaste bonddrömmar blir uppfyllda. Följ alltså med på en resa till denna feodala fantasivärld, om du vågar!
Härkönens och Sihvonens första gemensamma utställning är ett radikalt världsförbättringsförslag, där galleriutrymmet är utstyrt med nya verk av konstnärerna men också med dekorativ rekvisita och väggmålningar. I sin praktik har både Härkönen och Sihvonen en distinkt känsla för det förflutna och för nuet: utställningen får de medeltida lägre ståndens lustar och begär att leva upp i dråpliga, anakronistiska nytolkningar, som om Brueghels intensiva bondlivsskildringar hade modifierats till piratuppdateringar.
Härkönen fabulerar sitt narraktiga alter egos hemligheter i textilverk, skulpturer, kopparstick, takkronor och plagg av olika slag. Sihvonen smider ihop traditionellt och modernt hantverkskunnande och slår kritiska slag på arbetets betydelse, i form av skulpturer i blandteknik och färgsublimeringstryck.
En resa till Cockaigne är första delen i Härkönens och Sihvonens samarbete, som nästa år kompletteras med en uppföljning med det adekvata namnet Cockaigne. Plats och tidpunkt publiceras senare.
Utställningen har fått understöd av: Suomen Kulttuurirahasto, Centret för konstfrämjande, Bildkonstakademin och Maker 3D.
Johanna Härkönen är en bildkonstnär och berättare som bor och arbetar i Helsingfors och New York. I sitt konstnärliga arbete blandar hon organiska och syntetiska material, traditionella och digitala tekniker och referenser från olika tidsperioder. Tematiken i Johannas verk växlar fritt från studier av existensens surrealistiska sidor till tragikomiskt berättande, från analyser av underkulturer till tolkningar av det ockulta.
Eetu Sihvonen är en bildkonstnär som bor och arbetar i Helsingfors. I sitt arbete använder han huvudsakligen 3D-modellering och -animering och mer traditionella material som gips, trä och metall. Digitala och fysiska skulpturer förenas till installationer och enskilda verk med inspiration från den västerländska stadskulturens estetiserade barrikader och från utopier och rollspelens värld.
Text: Anssi Vallius