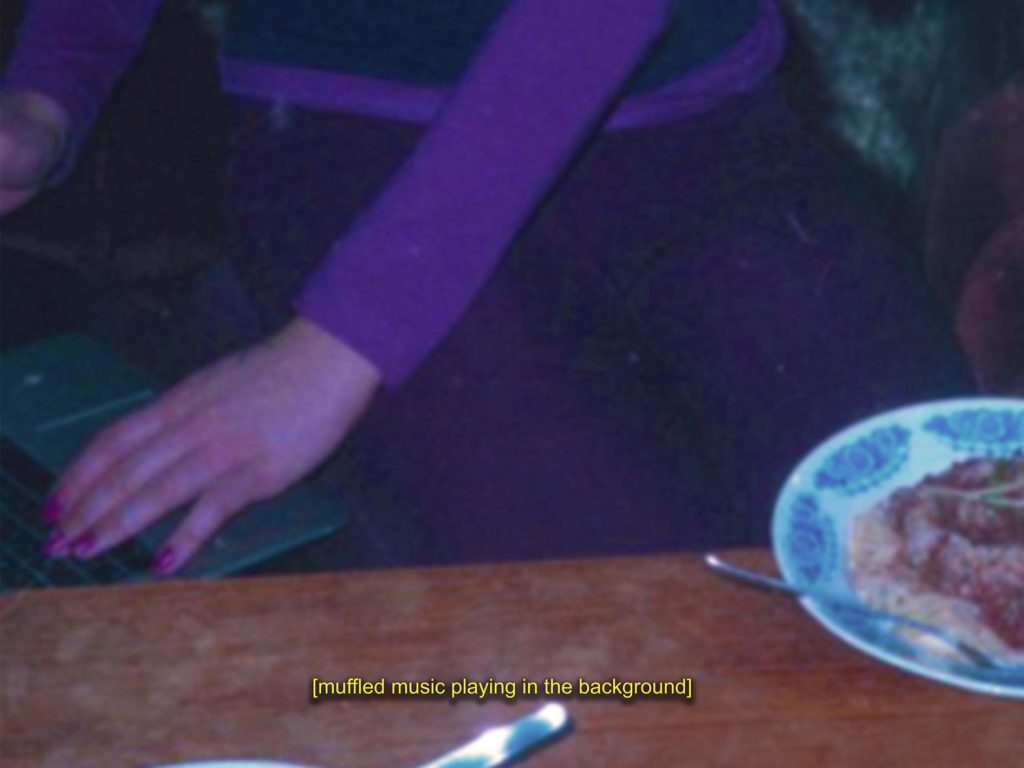 FIN
Jään toistuvasti jumiin, koska en pysty hahmottamaan etäisyyttä. En tiedä, miltä se näyttää. Jokin on mennyt ohi mutta kohtaamme vain taakse jääneen. Tarkistamme ja luomme uudelleen muistoja luottaen mukana kulkeneeseen hajanaiseen tietoon. On liian monia kasvoja, liian monia mielialoja ja väliaikaisia tilanteita mahtumaan yksiin kehyksiin. Miten luomme itsemme, kun palaset ovat hajallaan?
Amanda Lono, Hanan Mahbouba ja Saara Mahbouba tutkivat erilaisia etäisyyden kuvallistamisen tapoja – ajallisia, maantieteellisiä, sukupolvisia ja kulttuurisia. Heidän yhteistyönsä toimii ristiintarkistuksen muotona – erilliset muistot ja elämäntapahtumat kulkevat rinnakkaisilla muuttoliikkeen ja poissaolon kanavilla.
Projektia ovat tukeneet Koneen Säätiö ja Suomen Kulttuurirahasto.

Biot:
Amanda Lono (s. Caracas, 1990) tutkii identiteettipolitiikkaa myyteistä, unelmista ja absurdista nousevan halun ja viehätysvoiman kautta. Nämä ajatukset ja materiaalit ovat repeytyneet hajalle maahanmuuton ja toiseuden takia. Käyttämällä videota, arkistoja, muistoja ja veistoa Lonollla on tarve luoda eriarvoisuudesta uusia todellisuuksia. Hän asuu ja työskentelee Helsingissä.
Saara Mahbouba (s. San Jose, CA) on Helsingissä toimiva kuvataiteilija, kirjoittaja ja taiteellinen tutkija. Hänen työnsä käsittelevät vaikeutta ilmentää identiteettiä, joka ei toisaalta ole hegemonisten ja Toiseuden kategorioiden sisällä muttei niiden ulkopuolellakaan. Saaran projektit ammentavat usein kriittisen teorian ja populaarikulttuurin yhdistelmistä, ja hän pohjaa työnsä leikkimällä muiden alojen kuvallisilla kielillä ja strategioilla.
Hanan Mahbouba (s. San Jose, CA) on kirjoittaja ja elokuvantekijä. Hänen työnsä keskittyvät tarinankerrontaan, joka käsittelee kuulumisen ja toiseuden välistä tilaa. Hän on erityisesti kiinnostunut epävirallisten arkistojen tutkimisesta ja yksittäisistä hetkistä, jotka lopulta muovaavat käsityksiämme itsestämme ja muista.
EN
I keep on getting stuck because I cannot visualize distance. I don't know how it looks.
Something has passed by, but we encounter only what was left behind.
We revise and recreate memories, relying on the fragmented information that has been carried over. There are too many faces, too many moods, and temporary situations to fit into one frame.
How do we formulate ourselves when the pieces are scattered?
Amanda Lono, Hanan Mahbouba, and Saara Mahbouba explore different modes of visualizing distance – temporal, geographical, generational and cultural. Their collaboration functions as a form of cross checking — separate memories and life events running on parallel channels of migration and absence.
This project is supported by Kone Foundation and Suomen Kulttuurirahasto.

Bios:
Amanda Lono (b. Caracas, 1990) explores identity politics through the allure and desire that emerges in the myth, the dreams, the absurdity. These thoughts and materials have been torn in pieces because of migration, and otherness. By using video, archive, memory and sculpture, Lono has an urge to create new sets of realities out of disparity. They work and live in Helsinki.
Saara Mahbouba (b. San Jose, CA) is a visual artist, writer, and artistic researcher based in Helsinki. Her work explores the complexity of embodying an identity that is neither fully within nor without categories of hegemony and Otherness. Saara's projects often draw upon a mix of critical theory and pop culture, playing with the visual languages and strategies of other fields to ground her work.
Hanan Mahbouba (b. San Jose, CA) is a writer and filmmaker. Her work focuses on storytelling that explores the space between belonging and otherness. She is particularly interested in studying informal archives and in the singular moments that end up framing our understandings of ourselves and others.

SVE
Jag fastnar hela tiden eftersom jag inte kan visualisera avstånd. Jag vet inte hur det ser ut. Någonting har gått förbi men vi möter bara det som blev kvar. Vi reviderar och återskapar minnen och förlitar oss på den splittrade informationen. Det finns för många ansikten, för många sinnesstämningar och tillfälliga situationer för att rymmas inom samma ram. Hur ska vi ta form när bitarna är utspridda?
Amanda Lono, Hanan Mahbouba och Saara Mahbouba utforskar olika sätt att illustrera avstånd – tidsmässigt, geografiskt, generationsmässigt och kulturellt. Deras samarbete fungerar som en form av dubbelkontroll – separata minnen och livshändelser går på parallella migrations- och frånvarokanaler.
Projektet har understötts av Konestiftelsen och Finska Kulturfonden.

Bios:
Amanda Lono (f. Caracas, 1990) undersöker identitetspolitik via det förföriska och lustfyllda i myter och drömmar och i det absurda. Dessa tankar och material har slitits i stycken av migration och utanförskap. Med hjälp av video, arkiv, minne och skulptur vill Lono skapa nya verkligheter av ojämlikheten. Hen bor och arbetar i Helsingfors.
Saara Mahbouba (f. San Jose, CA) är en Helsingforsbaserad bildkonstnär, skribent och konstnärlig forskare. Hennes arbete behandlar svårigheten att förkroppsliga en identitet som varken sorterar inom hegemonins eller Utanförskapets kategori, men inte heller utanför dem. Saaras projekt hämtar ofta inspiration ur kombinationer av kritisk teori och populärkultur, och bygger på lek med visuella språk och strategier från andra områden.
Hanan Mahbouba (f. San Jose, CA) är skribent och filmskapare. I sitt arbete fokuserar hon på ett berättande som behandlar tillståndet mellan tillhörighet och utanförskap. Hon är speciellt intresserad av att utforska inofficiella arkiv och enskilda ögonblick som formar vår uppfattning om oss själva och andra.