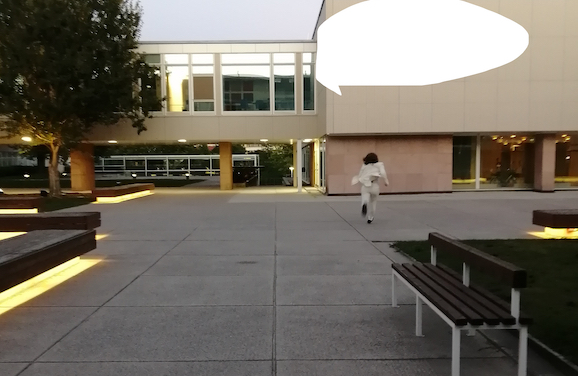 "Ja siinä se taas tuli: luvattomuus, omaehtoisuus, oletetun haastaminen."
Mitkä ovat lyyrisen ja ruumiillisen kaupunkitaiteen mahdollisuudet luentotilassa? Niin, mitkä ne ovat? Mitä on taidetoiminta kaupunkitilassa? Kuinka kaupunkitaide on suhteessa kaupunkiin? Onko luentotila avoin? Onko lyyrisyys "eteeristä höttöisyyttä", kuten luennoitsija käsitettä sanoiksi pukee? Mitä ovat ruumiit?
Filosofian maisteri Jani Virta on hakenut vastausta otsikossa implikoimaansa kysymykseen, mutta olisiko vastauksen esittäminen mahdollista vain kokeilemisen kautta, vain performanssin muodossa.
Lyyrisen ja ruumiillisen kaupunkitaiteen mahdollisuudet luentotilassa on jatko-osa Turun yliopistolla vuonna 2020 tai 2021 pidetylle samannimiselle, tieteellisyyteen suuntautuneelle muttei tiukassa mielessä tieteelliselle luentoperformanssille, jota ei pandemiasta johtuen ole voitu järjestää.
Tapahtuma Titanikilla koostuu päivittäin esillä olevasta videosta sekä kolmesta performanssista:
Ti 21.9. klo 17.30 Lyyrisyys ja mahdollisuudet
To 23.9. klo 17.30 Ruumiillisuus ja luentotila
Pe 24.9. klo 18 Ruumiillisuus ja kaupunkitaide
Jani Petteri Virta (s.1977) on Turussa asuva itäsuomalainen kuvataiteilija, jolla on takanaan yli kuusikymmentä performanssiensi-iltaa ja kuusitoista yksityisnäyttelyä. Taiteentekemisessä hänelle ovat tärkeitä maailmantilan kommentointi, suuret tunteet ja näistä seuraava käsittämättömyys.
Jani Petteri Virran työskentelyä tämän tapahtuman parissa on tukenut Taiteen edistämiskeskus. Sen sijaan Turun kaupunki, Suomen kulttuurirahaston Varsinais-Suomen rahasto ja Turun taideyhdistys eivät pyynnöistä huolimatta antaneet tukea.
---
Jani Petteri Virta: The Possibilities of Lyrical and Corporeal Urban Art in the Lecture Space 21.–26.9.2021
"And there it came again: the unauthorized, the autonomous, the challenging of the assumed."
What are the possibilities of lyrical and corporeal urban art in the lecture space? Yes, what are they? What is art activity in urban space? How does urban art relate to the city? Is the lecture space open? Is lyricism an 'ethereal fluffiness', as the lecturer puts it? What are bodies?
Jani Virta, Master of Philosophy, has sought an answer to the question implied in the title, but would it be possible to find an answer only through experimentation, only in the form of performance art?
The Possibilities of Lyrical and Corporeal Urban Art in the Lecture Space is a follow-up to a lecture-performance of the same name at the University of Turku in 2020 or 2021 – a lecture-performance which gravitated towards science but was not strictly scientific in the sense of the word, but which hasn't been able to organise due to the pandemic.
The event in Titanik will consist of a video that's shown daily and three performances:
Tue 21 Sep at 5:30 pm Lyricism and possibilities
Thu 23 Sep at 5:30 pm Corporeality and the lecture room
Fri 24 Sep at 6 pm Corporeality and urban art
Jani Petteri Virta (b.1977) is an Eastern Finnish visual artist based in Turku, Finland, with over sixty performance art pieces and sixteen solo exhibitions to his credit. In his art making, he is interested in commenting on the state of the world, big emotions and the resulting incomprehensibility.
Jani Petteri Virta's work on this event has been supported by the Arts Promotion Centre Finland. However, the City of Turku, the Finnish Cultural Foundation's Varsinais-Suomi Regional Fund and the Turku Art Society did not provide support, despite requests.
---
Jani Petteri Virta: Den lyriska och kroppsliga urbana konstens möjligheter i en föreläsningssal 21–26.9.2021
"Och där kom det igen: det otillåtna, det spontana, utmanandet av det förmodade."
Vilka är den lyriska och kroppsliga urbana konstens möjligheter i en föreläsningssal? Ja, vilka är de? Vad är konstverksamhet i stadsrummet? Vilken relation har den urbana konsten till staden? Är auditoriet öppet? Är det lyriska "eteriskt fluff", som är föreläsarens sätt att klä begreppet i ord? Vad är kropparna?
Filosofie magister Jani Virta har sökt svar på den fråga han implicerar i sin rubrik, men det är möjligen bara genom experiment, bara i form av en performance som frågan kan besvaras.
Den lyriska och kroppsliga urbana konstens möjligheter i en föreläsningssal är en fortsättning på den på vetenskaplighet inriktade, men inte i strikt mening vetenskapliga föreläsningsperformance med samma namn som hölls vid Åbo universitet år 2020 eller 2021. På grund av pandemin har fortsättningen inte kunnat ordnas.
Evenemanget på Titanik består av en video som visas alla dagar och av tre performancer:
Ti 21.9 kl. 17.30 Det lyriska och möjligheterna
To 23.9 kl.17.30 Det kroppsliga och föreläsningssalen
Fre 24.9 kl.18 Det kroppsliga och den urbana konsten
Jani Petteri Virta (f.1977) är en östfinsk konstnär som är bosatt i Åbo och har gett över sextio performancekvällar och haft sexton separatutställningar. Kommenterande av världsläget, stora känslor och den outgrundlighet som följer av dem är viktiga beståndsdelar i hans konstskapande.
Jani Petteri Virtas arbete med det här evenemanget har fått stöd av Arts Promotion Centre Finland. Åbo stad, Finlands kulturstiftelses regionala fond för Egentliga Finland och Åbo konstförening har däremot inte gett stöd, trots förfrågningar.