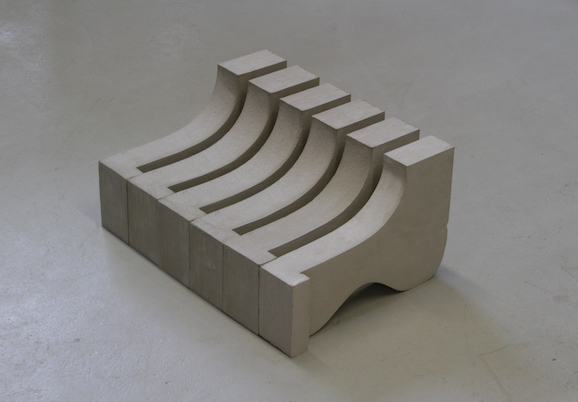 Muistan erään hylätyn vesitornin metsässä. Sen sisään piti kiivetä katon kautta. Vesitornin sisälle oli kerääntynyt kuivuneita puiden lehtiä, oksia ja muuta osittain maatunutta ainesta. Siellä ei ollut vettä, vaan tynnyrimäinen tyhjä tila, johon tuli hieman valoa katossa olevan luukun kautta. Seinillä oli aikaisempien vieraiden raapustuksia, nimiä ja päivämääriä. Kävin siellä ehkä kesällä 1994.
Rakennuspaikan veistokset viittaavat rakennettuun ympäristöön, kuviteltuihin tai todellisiin paikkoihin ja rakennuksiin. Ne ovat tutkielmia tyhjyyden, tekstuurien, massojen ja aineen keskinäisistä suhteista. Teoksissa toistuu aiheita, kuten labyrintti-teema, ja rakenteita, kuten veistosmuodon kasvattaminen modulaarisesti toistaen samaa muotoa.
Kaupunkitilan labyrinttimäisyys voi parhaimmillaan tarjota vapauttavan kokemuksen eksyksissä olemisesta. Kaukaa nähty outo rakennelma tai unessa koettu paikka jää mieleen kutsuvana. Tila, joka on hävinnyt, sijaitsee kuvitelmissa.
Hermanni Saarinen on valmistunut Kuvataideakatemiasta vuonna 2011. Hänen edellinen näyttelynsä Kulmat ja reunat oli Forum Boxissa vuonna 2020. Hän toimii osana taiteilijoiden ylläpitämää Monitoimitila O:ta.
---
A construction site

I remember an abandoned water tower in a forest. To get in, I climbed onto its roof. Inside there were crumbled leaves, branches and other partly decomposed stuff. There was no water remaining, only a cylinder-like empty space with a little light coming from a hatch in the ceiling. On its walls were scribbles made by previous visitors, names and dates. I was there maybe in the summer of 1994.
The exhibition consists of sculptures which refer to man-made environments, either imagined or real places and buildings. They are studies of the interaction between emptiness, textures, masses and matter. Certain structures and topics repeat in the works, for example a labyrinth-theme and a modularly expanding sculpture, consisting of repetitive parts.
A city space with a labyrinth-like structure can offer an emancipatory experience of getting lost. An odd construction seen from a far distance or a building in a dream attracts due to its inaccessibility. A lost space reappears in one's imagination.
Hermanni Saarinen graduated from the sculpture department of the Academy of Fine Arts in 2011. His latest exhibition Corners and edges took place in Forum Box, Helsinki, in 2020. He is a part of the artist-run space Monitoimitila O. 
---
Byggstället
Jag kommer ihåg ett övergivet vattentorn i skogen. För att komma in fick man klättra via taket. Torra löv, kvistar och annat, delvis ruttnat material hade samlats inne i vattentornet. Där fanns inget vatten utan ett tomt rum, likt en tunna, dit lite ljus kom in via en lucka i taket. På väggarna fanns skriverier efter tidigare gäster, namn och datum. Jag besökte det kanske sommaren 1994.
Byggställets skulpturer hänvisar till en konstruerad omgivning, imaginära eller verkliga platser och byggnader. De är studier i tomhetens, texturernas, massornas och materians inbördes förhållanden. I verken upprepas teman, såsom labyrinten, och strukturer, såsom det modulära upprepandet av samma form för att förstora den skulpturala formen.
Som bäst kan stadens labyrintaktiga rum erbjuda en upplevelse som frigör från vilsenheten. En konstig anläggning, sedd på avstånd, eller en plats upplevd i en dröm blir kvar i tanken som en lockelse. Rummet som försvunnit finns i fantasin.
Hermanni Saarinen utexaminerades från Bildkonstakademin år 2011. Han förra utställning Kulmat ja reunat visades på Forum Box år 2020. Han verkar i konstnärsdrivna Monitoimitila O.