Avajaiset torstaina 5.8. klo 18-20, tervetuloa! Avajaiset pidetään noudattaen rajoituksia. Suosittelemme maskien käyttöä ja korkeintaan 10 henkilön yleisöä sisätilassa yhtäaikaisesti.
Öppning torsdag 5.8. kl. 18-20, välkommen! Öppning kommer att hållas i enlighet med restriktionerna. Vi rekommenderar användning av masker. Högst 10 personer får vistas i galleriet samtidigt.
Opening on Thursday 5 August 6-8pm, welcome! The opening ceremony will be held in compliance with the restrictions. We recommend the use of masks and a maximum of 10 people in the indoor area.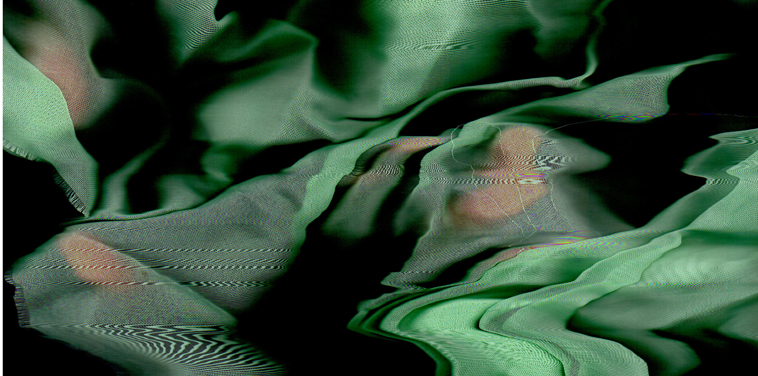 Inari Sandell: Gravity Blanket
Gravity Blanket -teoskokonaisuus käsittelee neuroepätyypillistä havainnointia, kosketusta, resilienssiä sekä pärjäämisen kulttuuria. Gravity blanket tarkoittaa kirjaimellisesti painopeittoa, alkujaan neuropsykiatriseen hoitoon kehitettyä apuvälinettä. Se on sittemmin arkistunut wellness-tuotteeksi, jota käytetään ahdistuksen lievitykseen ja nukahtamiseen.
Installaatio koostuu peittomaisista tekstiiliteoksista, skannerilla toteutetuista valokuvista sekä pienistä kipsiveistoksista. Kosketus, paine ja tekstuuri toimivat rauhoittumisen sekä juurruttamisen keinoina. Näyttelytilassa erilaiset painavat ja kevyet peitot voivat tuntua teräviltä.
Teoskokonaisuus ammentaa neuroepätyypillisyydestäni. Kuten monella muulla autismin kirjolle kuuluvalla, aistikokemukseni on korostuneen voimakasta. On kuin aistisin ympäristöäni filtteröimättä, jolloin aistimukseni sekoittuvat keskenään ja häkellyttävät. Se voi joskus tehdä kipeää: valot soivat liian kovaa, äänet värisevät punaisena. Vain paineen alla hahmotan mihin ympäristöni päättyy ja mistä minä alan.
Tällaista aistimista filosofi ja taiteilija Erin Manning kutsuu autistiseksi havainnoinniksi. Toisin kuin neurotyypillinen tapa jäsentää maailma ennalta määritellyiksi subjekteiksi ja objekteiksi, autistinen havainnointi mahdollistaa maailman mieltämisen ensin prosessuaalisina ekologioina; pikemmin suhteisuuksina kuin selvärajaisina olioina. Silloin kokonaisuuden jokainen osanen on yhtä tärkeä kuin kokonaisuus itse.
_____
Inari Sandell (s.1991) on Helsingissä asuva kuvataiteilija. Titanikissa esillä oleva näyttely on hänen kuvataiteen maisterin opinnäytetyönsä toinen osa Helsingin Taideyliopiston Kuvataideakatemiaan. Ensimmäinen osa esitettiin Kuvan Kevät 2021 -näyttelyssä Helsingissä. Aiemmin hän on opiskellut valokuvataidetta Turun AMK:n Taideakatemiassa sekä mediatutkimusta Turun yliopistossa.
---
Inari Sandell: Gravity Blanket
Verkshelheten Gravity Blanket behandlar neuroatypisk observation, beröring, resiliens och framgångskultur.Gravity Blanket betyder bokstavligen tyngdtäcke, ett hjälpmedel som ursprungligen utvecklades för bruk inom neuropsykiatrisk vård. Det har senare blivit en vanlig wellnessprodukt som används för att dämpa ångest och främja insomning.
Installationen består av textilverk som liknar täcken, fotografier framställda med skanner och små gipsskulpturer. Beröring, tryck och textur fungerar som medel för att ge ro och trygghetskänsla. I utställningsutrymmet kan de olika tunga och lätta täckena kännas vassa.
Verkshelheten hämtar stoff ur min neuroatypiskhet. Liksom hos många andra med symtom inom autismspektret är mina sensoriska upplevelser mycket starka. Det är som om jag upplevde min omgivning utan filter, vilket gör att mina förnimmelser blandas med varann och gör mig förvirrad. Ibland kan det göra ont: ljuset låter för högt, ljuden vibrerar röda. Bara under tryck kan jag uppfatta var min omgivning tar slut och jag själv börjar.
Filosofen och konstnären Erin Manning kallar sådana förnimmelser för autistisk observation. I motsats till det neurotypiska sättet att gestalta världen i form av fördefinierade subjekt och objekt gör autistisk observation det möjligt att först uppleva världen som processuella ekologier; snarare i form av samband än som klart avgränsade existenser. Då är varje del av helheten lika viktig som själva helheten.
_____
Inari Sandell (f. 1991) är bildkonstnär och bosatt i Helsingfors. Utställningen i Titanik är den andra delen av hennes lärdomsprov för graden bildkonstmagister vid Konstuniversitetets Bildkonstakademi i Helsingfors. Den första delen presenterades på utställningen Kuvan Kevät 2021 i Helsingfors. Hon har tidigare studerat fotokonst vid Konstakademin vid Åbo Yrkeshögskola samt medieforskning vid Åbo universitet.
---
Inari Sandell: Gravity Blanket
Gravity Blanket considers neurodivergent perception, touch, resilience and our culture of coping. In its literal meaning, a gravity blanket is a weighted blanket, a wellness product commonly used for anxiety and sleeping issues. It was originally developed as an aid for neuropsychiatric care.
The installation consists of blanket-like textile sculptures, scanned images and small plaster objects. Touch, pressure and sensing different textures are essential methods of calming and grounding. In the gallery space, a blanket might feel heavy, light, or sharp to the touch.
These works draw from my neurodivergent experience. Like many others on the autism spectrum, I sense my surroundings intensely. Sensory information comes to me unfiltered and uncategorized, often overwhelming me. Sometimes perception is pain: the lights are too loud, sounds vibrate in red. Only in pressure can I feel where my surroundings end and where I begin.
Philosopher and artist Erin Manning sees potential in autistic perception. As opposed to the neurotypical way of parsing experience into predetermined categories, autistic perception allows for a way of making sense of the world as processes and ecologies, rather than clearly defined objects. This way, each detail is as important as the whole.
_____
Inari Sandell (b. 1991) is a Helsinki-based visual artist. Gravity Blanket is the second part of their Master of Fine Arts thesis for Uniarts Helsinki. The first part was shown at Kuvan Kevät 2021 group show in Helsinki. Sandell has previously studied photography at Arts Academy at Turku University of Applied Sciences and media science at the University of Turku.