Yhteistyönä toteutettu näyttely toisin tietämisen ja kokemisen hautomona
Kristiina Koskentolan kanssa Bo Wang, Zoénie Deng, Rick Dolphijn, Stephan Dudeck, Taru Elfving, Fu Xiaodong, Han Xiaohan, Giovanna Esposito Yussif, Jussi Koitela ja German Popov
ENFLESHED – ELABORATED yhdistää mm. Uralin ja Mantšurian perinteistä ja shamanistista musiikkia, teoriaa runoutena, siperialaisia tarinoita, videoita, pohjoiskiinalaista ruokaa, ajatuksia erilaisuudesta ja materiasta, epärationaalisia esineitä ja sisäistä alkemiaa. Enfleshed – Elaborated avautuu yleisölle materialisoituneena ajatuskonstellaationa.
Näyttely tuo yhteen eri alojen ammattilaisia pohtimaan tiedon tuottamisen tapoja sanoin ja kehoin. Nämä yhteen liittyvät ruumiillistumat liikkuvat ajallisuuksien ja tilojen välillä haastaen dualismeja ja perinteisiä käsityksiä subjektiiviudesta. Nykypäivän taloudellisten ja ekologisten kysymysten sekä tiedon ja tieteen valtarakenteiden synnyttämä ristiriita kietoutuu yhteen taikuuden, spekulaation, politiikan ja runouden kanssa. Eri alojen, tiedon tuottamisen lähteiden ja ajallisuuksien kautta näyttely pyrkii synnyttämään keskustelua toisin tietämisestä ja kokemisesta. Erityisesti vallitsevien poliittisten ja kulttuuristen valtarakenteiden keskellä kysymme millä tavoin tieto voisi ruumiillistua ja mitä merkityksiä se voisi välittää ja tuottaa?
Näyttely avautuu Kristiina Koskentolan Flesh and Metal Light and Oil. -videoinstallaation ympärille. Teos pohtii Sisä-Mongolian ja Mantsurian (Pohjois-Kiina) shamanismia suhteessa alueen vakavaan saastumiseen, harvinaismaametalleihin, globaaliin kapitalismiin, sähkömagnetismiin ja taiteilijan omaan kehoon.
Näyttelyn kautta Titanik muuttuu moniaistisesti koettavaksi kokonaisuudeksi valon, mietiskelyn, kriittisyyden ja parantumisen tilana. Näyttely on kolmas osa jatkuvasti muuttuvaa hanketta, jonka eri muodot ovat olleet esillä Amsterdamissa puntWG:ssä syksyllä 2020 ja Suomessa Galleria Sinnessä keväällä 2021.
Kristiina Koskentola on kuvataiteilija. Hän on väitellyt tohtoriksi Lontoon taideyliopistosta Chelsea Collegesta. Vaikka Koskentola asuu Amsterdamissa, hän on talvehtinut Kiinassa yli kymmenen vuoden ajan. Pekingin studion purkamisen jälkeen (2017) hän suuntasi Pohjois-Kiinaan etsimään shamaanien tietoa. Koskentola käyttää työskentelyssään useita välineitä videosta, installaatiosta ja vuorovaikutteisista, performatiivisista projekteista julkaisuihin ja luentoihin. Viimeaikaisissa projekteissaan hän tutkii tiedon tuottamisen tapoja, moniäänistä subjektiviteettia ja toimijuutta (ihmillistä tai ei) usein "perifeeristen", henkisten tai unohdettujen ekologioiden kautta. Transkulttuuriset ja monistiset perspektiivit, nekropolitiikka ja rinnakkaiselo ovat hänen eettisesti ja sosiaalipoliittisesti motivoituneen työskentelynsä keskeisiä kysymyksiä.
Näyttelyyn osallistuvat eri alojen ammattilaiset ovat epäinhimillisen ja enemmän kuin inhimillisen, uuden ja vanhan, tutkimiseen omistautuneita maan asukkaita.
Hanketta on tukenut Amsterdam Fund for the Arts, AVEK, Koneen Säätiö, Mondriaan Fund, Suomen kulttuurirahasto, Svenska Kulturfonden
Yhteistyökumppani: Museum of Impossible Forms
Hankkeen yhteen kokoava julkaisun on luettavissa täältä ja Titanikilla 11.9.2021 järjestetyn tapahtuman taltiointi on katsottavissa täällä.
---
ENFLESHED – ELABORATED
A collaborative exhibition as an incubator for knowing and experiencing otherwise
Kristiina Koskentola with Bo Wang, Zoénie Deng, Rick Dolphijn, Stephan Dudeck, Fu Xiaodong, Han Xiaohan, Taru Elfving, Giovanna Esposito Yussif, Jussi Koitela and German Popov
ENFLESHED – ELABORATED is an exhibition with film, traditional and shamanic music from the Urals and Manchuria, theory as poetry, Siberian Stories, Northern Chinese food, Thinking Matters, thoughts on difference, non-rational objects, internal alchemy and more. Enfleshed – Elaborated opens up to audiences as an embodied constellation of thought.
The exhibition brings together a group of practitioners from diverse fields to reflect on modes of knowledge production, in words and bodies – in flesh. These intertwined bodies traverse temporalities and spaces challenging dualisms and conventional understandings of subjectivity. Conflicting realities created by today's global economy, ecological questions, and power structures of knowledge and science entangle with magic, speculations, politics and poetics. Across disciplines and multiple sites of knowledge production the exhibition aims to generate a dialogue on knowing and experiencing differently. Especially in the midst of the prevailing political and cultural power structures, it asks how might knowledge be embodied and what meaning might the embodiments convey and produce?
Enfleshed – Elaborated unfolds around Kristiina Koskentola's video installation Flesh and Metal. Light and Oil. that reflects on shamanisms of Inner Mongolia and Manchuria (Northern China) in relation to the serious pollution, heavy industry and rare-earth mining in the region, global capitalism, electromagnetism and the artist's own body.
Titanik is transformed to a sensory environment of light, contemplation, criticality and a space for healing. This installation is the third episode of the generative venture, which inaugurated in Amsterdam, puntWG, in Fall 2020 and continued in Gallery Sinne in Spring 2021.
Kristiina Koskentola is a visual artist. She earned her PhD from the University of the Arts, Chelsea College in London. Although based in Amsterdam, she has overwintered in China for over a decade. After the demolition of her studio in Beijing (2017), she migrated to Northern China, in search of the knowledge of the shamans. Koskentola's work spans various media including video, installations, interactive performative projects, publications and lectures. In her recent projects she explores polyvocal subjectivity and the agency of multiple co-actors (human and not), often through "peripheral", spiritual or forgotten ecologies. Transcultural and monistic perspectives, necropolitics, and coexistence are central to her ethically and sociopolitically driven practice.
The participating practitioners are earth dwellers all working with the potentials of the non- and more-than-human, old and new.
The project is supported by Amsterdam Fund for the Arts, AVEK, Kone Foundation, Mondriaan Fund, Finnish Cultural Foundation, Svenska Kulturfonden
In collaboration with Museum of Impossible Forms
The project has been gathered together as a catalogue, and the event organised at Titanik on 11 Sep 2021 can be viewed here.
---
ENFLESHED – ELABORATED
En samarbetsutställning som inkubator för alternativ kunskap och upplevelse
Kristiina Koskentola i samarbete med Bo Wang, Zoénie Deng, Rick Dolphijn, Stephan Dudeck, Taru Elfving, Fu Xiaodong, Han Xiaohan, Giovanna Esposito Yussif, Jussi Koitela och German Popov.
ENFLESHED – ELABORATED förenar bland annat traditionell och shamansk musik från Ural och Manchuriet, teori som poesi, sibiriska berättelser, videor, nordkinesisk mat, tankar om skillnad och materia, icke-rationella föremål och inre alkemi. För publiken öppnar sig Enfleshed – Elaborated som en förkroppsligad tankekonstellation.
Utställningen sammanför människor från skilda yrkesområden för att verbalt och förkroppsligat reflektera över olika sätt att producera kunskap. Dessa sammanflätade förkroppsliganden rör sig mellan timligheter och rum och utmanar traditionella uppfattningar om subjektivitet, mänsklighet och individualitet. Konflikter skapade av dagens globala ekonomi, ekologiska frågeställningar och kunskapens och vetenskapens maktstrukturer vävs samman med magi, spekulation, politik och poesi. Via olika discipliner och källor till kunskapsproduktion vill utställningen skapa en dialog om alternativ kunskap och upplevelse. Särskilt nu, med rådande politiska och kulturella maktstrukturer, frågar vi oss hur kunskap kan förkroppsligas och vilka betydelser förkroppsligandena kunde förmedla och producera?
Utställningen öppnar sig kring Kristiina Koskentolas videoinstallation Flesh and Metal Light and Oil. Verket begrundar shamanismen i Inre Mongoliet och Manchurien (norra Kina) i relation till den svåra föroreningen i området, sällsynta jordartsmetaller, global kapitalism, elektromagnetism och konstnärens egen kropp.
Med den här utställningen förvandlas Titanik till en multisensoriskt upplevbar helhet av ljus, meditation och en plats för kritiskt tänkande och läkning. Utställningen är den tredje delen av ett projekt i ständig förändring, som i annan form visats på puntWG i Amsterdam hösten 2020 och i Galleri Sinne i Finland våren 2021.
Kristiina Koskentola är bildkonstnär. Hon har doktorerat vid konstuniversitetet Chelsea College i London. Koskentola bor i Amsterdam men har i drygt tio år tillbringat vintrarna i Kina. Efter att ha lagt ner sin studio i Beijing (2017) flyttade hon till norra Kina för att söka shamanernas kunskap. I sitt arbete använder Koskentola varierande verktyg, som video, installation, interaktiva performativa projekt, publikationer och föreläsningar. I sina senaste projekt undersöker hon olika sätt att producera kunskap, mångstämmig subjektivitet och agentskap (mänskligt eller inte), ofta via "perifera", andliga eller bortglömda ekologier. Transkulturella och monistiska perspektiv, nekropolitik och samexistens är viktiga i hennes arbete som har en etisk och socialpolitisk utgångspunkt.
Hennes samarbetspartners är jordbor som representerar olika yrken och som alla arbetar med att undersöka det icke-mänskliga och det mer än mänskliga, det nya och det gamla.
Projektet finansieras av Amsterdam Fund for the Arts, AVEK, Konestiftelsen, Mondriaan Fund, Finska Kulturfonden, Svenska Kulturfonden
I sammarbet med Museum of Impossible Forms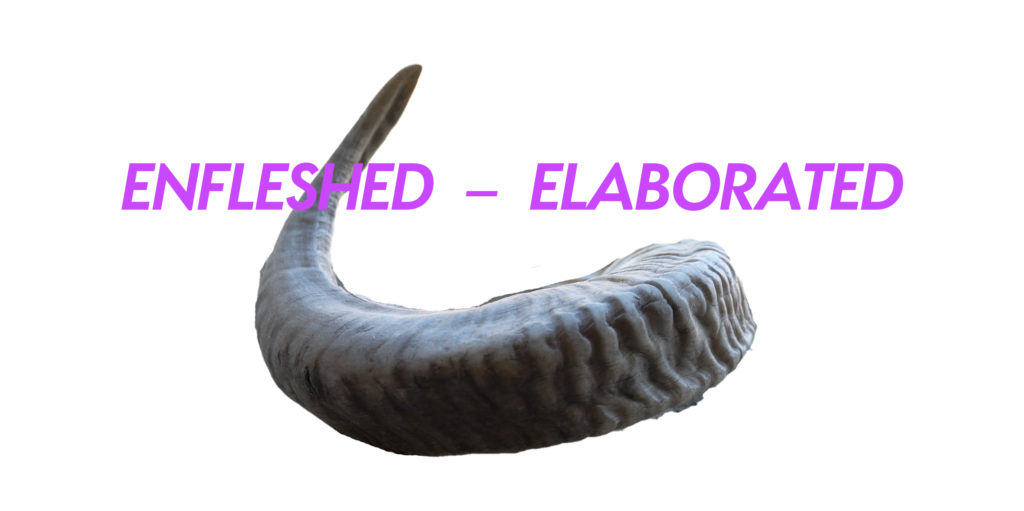 On Saturday 11 September Titanik and Museum of Impossible Forms gladly invite you to a joint public program further delving into some of the practices that inform and shape ENFLESHED – ELABORATED through its diverse iterations.
The programme will hybridly manifest via Zoom and live at Titanik gallery starting at 4 pm.
The evening begins with Giovanna Esposito Yussif introducing two special performances by Han Xiaohan and German Popov, who will share their contributions to the heritage of traditional and shamanic music from the Urals and Manchuria through the Internet's electromagnetic waves. To follow a conversation between Kristiina Koskentola, Rick Dolphijn, and Taru Elfving moderated by Mirjami Shuppert, ending with Northern Chinese style food prepared in Koskentola's pop-up kitchen Cooking Disorders. For those who can join us in site, the food may be take-away, or you can join us for a gathering on the Aura riverside to enjoy the meal.
To join the event via Zoom kindly send an email to museumofimpossibleforms@gmail.com at the latest by September 10th.
To join the event in Titanik please send an email to signup@titanik.fi
The event is in English.
About the participants:
Han Xiaohan is a Manchu musician and composer of contemporary music that has adopted elements of folk music from Northeast Asia. He is an heir of Manchu ulabun music (an ancient folk art of singing and talking of Manchu heroic legends, which is on the brink of extinction). He graduated as a composition major from the China Central Conservatory of Music and in cultural communication from Lu Xun Academy of Fine Arts.
Rick Dolphijn is a writer and philosopher. He holds an Associate Professorship at Utrecht University and an Honorary Professorship at the University of Hong Kong. He widely published on art, material culture and the history of thought. His new book The Philosophy of Matter: A Meditation is published by Bloomsbury Academic in 2021.
Taru Elfving is a curator and writer focused on nurturing transdisciplinary encounters and site-sensitive artistic enquiries at the intersections of ecological, feminist and decolonial thought. As director of CAA Contemporary Art Archipelago, she is currently leading the research programme Spectres in Change in collaboration with the Archipelago Research Institute on the island of Seili in the Baltic Sea. https://contemporaryartarchipelago.org/
Giovanna Esposito Yussif engages with curatorial praxis and research. Her background is in art history, museology, and critical theory. Giovanna has a long-standing commitment to nondominant praxes, dissentient imaginations, and epistemologies in resistance. She is currently the Artistic Director of Museum of Impossible Forms.
German Popov is a multi-instrumentalist musician, composer, sound artist and researcher. Throughout all of his projects, he works on re-establishing contact with sources and archetypes of modernity. He has been involved in various musical and social events focused on the topic of Central Asia. Under the stage name 'OMFO', he published several musical works and soundtracks. His current research is based on combining ancient art forms with novel techno-scientific pursuits and performative concepts.