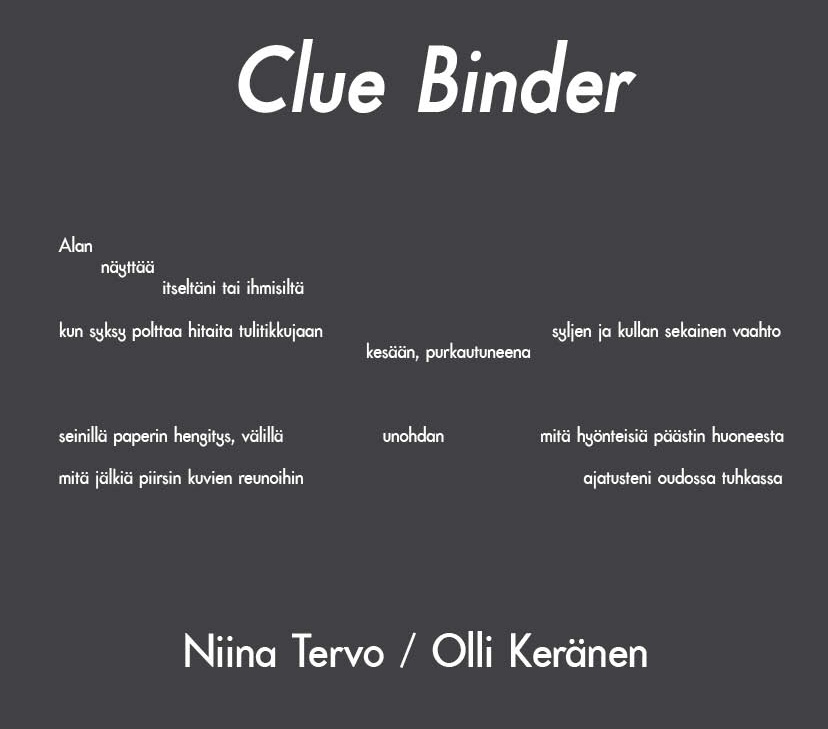 Näyttely avautuu ilman tarjoilua torstaina 5.11. Taiteilijat ovat paikalla avajaispäivänä.
Niina Tervon ja Olli Keräsen näyttely Clue Binder kokoaa yhteen erilaisten materiaalikokeilujen kautta syntyneiden huomioiden kudoksen. Molemmat tekijät ovat kiinnostuneet näyttelyssä jättämään jotain omassa osuudessaan avoimeksi ja katsomaan voisiko toinen tekijä olla tarpeeksi huolellinen havainnoissaan, jotta kykenisi vuorollaan löytämään puuttuvan osan, jonka lisätä toisen teokseen.
Näyttelyssä tekijöiden voi nähdä rakentavan toinen toisensa päälle muodostaen kerroksellisuutta, johon kumpikaan ei olisi pystynyt ilman toisen mieltä ja mieltymyksiä. Tekijyys ja esineiden liukeneminen valmiista epäilyttävän kautta murusiksi on molemmille tekijöille tapa hahmottaa ja keskustella meitä ympäröivän elämänpiirin kanssa.
Tekijät haluavat näyttelyssään esittää itselleen kysymyksen: Voiko taideteoksen käyttökelvottomuus luoda sen kokijalle mahdollisuuden havaita ristiriitaisten nykyelämän luomien tavoitteiden hajanaisuuden? Ja toisiltaan, voisivatko he olla kokonaisia yhdessä tai erikseen, vai kannattaisiko heidän olla jotain muuta ja jos niin onko muutos, syvällinen muutos mahdollinen? Toisin sanoen voiko esine, joka raapii itseään, koska sen sisällä on asetettu toiveita, joita se ei voi eikä halua täyttää, toimia jonkinlaisena parantavana tai toisaalta varoittavana esimerkkinä kokijalleen? Clue Binder on syntynyt vuoroin reippaan ja vuoroin ehtyvän hapuilun tuloksena.
Sour shell
Blackleg
Binder
nasal mucus
Snottite
in a frenzied mood
Reveller
Syzygy
Olli Keränen (s.1979) on opiskellut kuvanveistoa ja valmistunut vuonna 2006 Kuvataideakatemiasta. Viimeisimpiin näyttelyihin lukeutuu: Fount, SIC 2017 ja Interior, Den Nordiske Ambassadessa järjestetty duonäyttely Biba Fibigerin kanssa Kööpenhaminassa vuonna 2018. Keränen sai 2013 Raimo Utriaisen taidesäätiön palkinnon. Hän vietti kuusi kuukautta ISCP-residenssissä New Yorkissa keväällä 2018.
Niina Tervo (s.1983) on valmistunut Kuvataideakatemiasta maalauksen osastolta 2018. Hän on viimeisen parin vuoden aikana osallistunut ryhmänäyttelyihin Berliinissä Galerie Im Körnerparkissa, Helsingin taidemuseossa, Kiasmassa ja Wäinö Aaltosen museossa, sekä pitänyt yksityisnäyttelyn HAM-galleriassa. Hän on palannut juuri Suomeen vuoden mittaiselta residenssijaksolta Jan Van Eyck -akatemiasta, jossa hän myös osallistui Open Studios -ryhmänäyttelyyn, sekä teki duonäyttelyn yhdessä Youngeun Sohnin kanssa osaksi Environmental Identities -sarjaa.
Niina Tervo ja Olli Keränen työskentelevät yleensä omien praktiikoidensa parissa, mutta jakavat historian toistensa assistentteina. Titanikissa esitettävä näyttely on ensimmäinen kerta, kun he tuovat teokset yhteen ja kokeilevat tekijyyden jakamista teosten valmistamisessa.
Taiteilijoiden työskentelyä on tukenut Taiteen edistämiskeskus.
~~~
Niina Tervo / Olli Keränen: Clue Binder | 6.–29.11.2020
Utställningen öppnas utan servering på torsdag den 5.11. Konstnärerna är på plats.
Utställningen Clue Binder av Niina Tervo och Olli Keränen sammanför observationen som skapats genom olika materialexperiment. Båda författarna är intresserade av att lämna något öppet i sin egen del av utställningen och se om den andra författaren kunde vara tillräckligt försiktig i sina observationer för att kunna hitta den saknande delen att tillägga den andras arbete.
I utställningen kan författarna ses bygga ovanpå varandra och bilda en stratifiering vilken ingen av dem skulle ha nått utan den andras sinne och preferenser. Författarskap och upplösningen av föremål från det färdiga genom den misstänkta till smulor är ett sätt för båda författare att begripa och diskutera med livscirkeln runt omkring oss.
I utställningen vill författarna ställa sig själva frågan: Kan ett konstverkets oanvändbarhet skapa en möjlighet för upplevaren att iakttaga fragmenteringen av de motstridiga mål som skapas av det moderna livet? Och från varandra, kunde de vara hela tillsammans eller separat, eller borde de vara något annat och i så fall är förändring möjlig, djupgående förändring? Med andra ord, kan ett föremål som kliar sig själv därför att man har ställt in önskningar inuti det och som inte kan och inte vill uppfylla dem, tjäna någon form av helande eller å andra sidan bli ett varningsexempel för sin upplevare? Clue Binder är resultatet av en sökning, alternerande livlig och fumlande.
Sour shell
Blackleg
Binder
nasal mucus
Snottite
in a frenzied mood
Reveller
Syzygy
Olli Keränen (f. 1979) studerade skulptur och utexaminerade i 2006 från Konsuniversitetets Bildkonstakademi. De senaste utställningarna inkluderar Fount, SIC 2017 och Interior, en duo-utställning med Biba Fibiger på Den Nordiske Ambassaden i Köpenhamn i 2018. Keränen fick Raimo Utriainen konstsamfunds priset i 2013. Han tillbringade sex månader vid en ISCP-residens i New York i våren 2018.
Niina Tervo (f. 1983) utexaminerade från Bildkonstakademis målningsavdelning i 2018. Under de senaste åren har hon deltagit i grupputställningar i Berlins Galerie Im Körnerpark, Helsingfors konstmuseum, Kiasma och Wäinö Aaltonens museum och hållit en separatutställning i HAM-galleriet. Hon har nyligen återvänt till Finland efter ett års residensvistelse i Jan Van Eyck Academy, där hon också deltog i Open Studios grupputställning och gjorde en duo-utställning tillsammans med Youngeun Sohn som en del av serien Environmental Identities.
Niina Tervo och Olli Keränen arbetar vanligtvis med sina egna metoder, men delar historien som varandras assistenter. Utställningen på Titanik är första gången de sammanför verken och försöker dela verkens författarskap.
Konstnärernas arbete har fått stöd från Centret för konstfrämjande.
~~~
Niina Tervo / Olli Keränen: Clue Binder | 6.–29.11.2020
The exhibition opens on Thursday 5th November without reception. The artists are at the gallery. 
The exhibition Clue Binder by Niina Tervo and Olli Keränen brings together the fabric of observations created through various material experiments. Both artists are interested in leaving open an aspect of their contribution and to see if the other artist could be careful enough in their observations to be able to take turns finding the missing part to add to the other's work.
In the exhibition, the artists can be seen building on each other's work, forming a stratification which neither could have accomplished without the other's mind and preferences. Authorship and the dissolution of objects from the finished through the suspicious into crumbs is a way for both authors to perceive and converse with the circle of life around us.
In their exhibition, the artists want to ask themselves the question: Can the unusability of a work of art create an opportunity for the viewer to perceive the fragmentation of the conflicting goals created by modern life? And from each other, could they be whole together or separately, or should they be something else and if so is change, profound change possible? In other words, can an object that scratches itself because it has set desires inside that it cannot and does not want to fulfill serve as some kind of healing or, on the other hand, a warning example to its experiencer?
Clue Binder is the result of a search, alternatively brisk and at times fumbling.
Sour shell
Blackleg
Binder
nasal mucus
Snottite
in a frenzied mood
Reveller
Syzygy
Olli Keränen (b.1979) studied sculpture and graduated in 2006 from the Academy of Fine Arts. The latest exhibitions include Fount, SIC 2017 and Interior, a duo exhibition with Biba Fibiger at Den Nordiske Ambassaden in Copenhagen in 2018. Keränen received the Raimo Utriainen Art Foundation Award in 2013. He spent six months at an ISCP residency in New York in the spring of 2018.
Niina Tervo (b.1983) graduated from the Painting Department of the Academy of Fine Arts in 2018. During the last couple of years, she has participated in group exhibitions in Berlin's Galerie Im Körnerpark, Helsinki Art Museum, Kiasma and The Wäinö Aaltonen Museum of Art, and held a solo exhibition at HAM Gallery. She has recently returned to Finland after a year-long residency at the Jan Van Eyck Academy, where she also participated in the Open Studios group exhibition and made a duo exhibition together with Youngeun Sohn as part of the Environmental Identities series.
Niina Tervo and Olli Keränen usually work on their own practices but share history as each other's assistants. The exhibition in Titanik is the first time they bring their works together and try to share the authorship in making the works.
The artists' work has been supported by Arts Promotion Centre Finland.