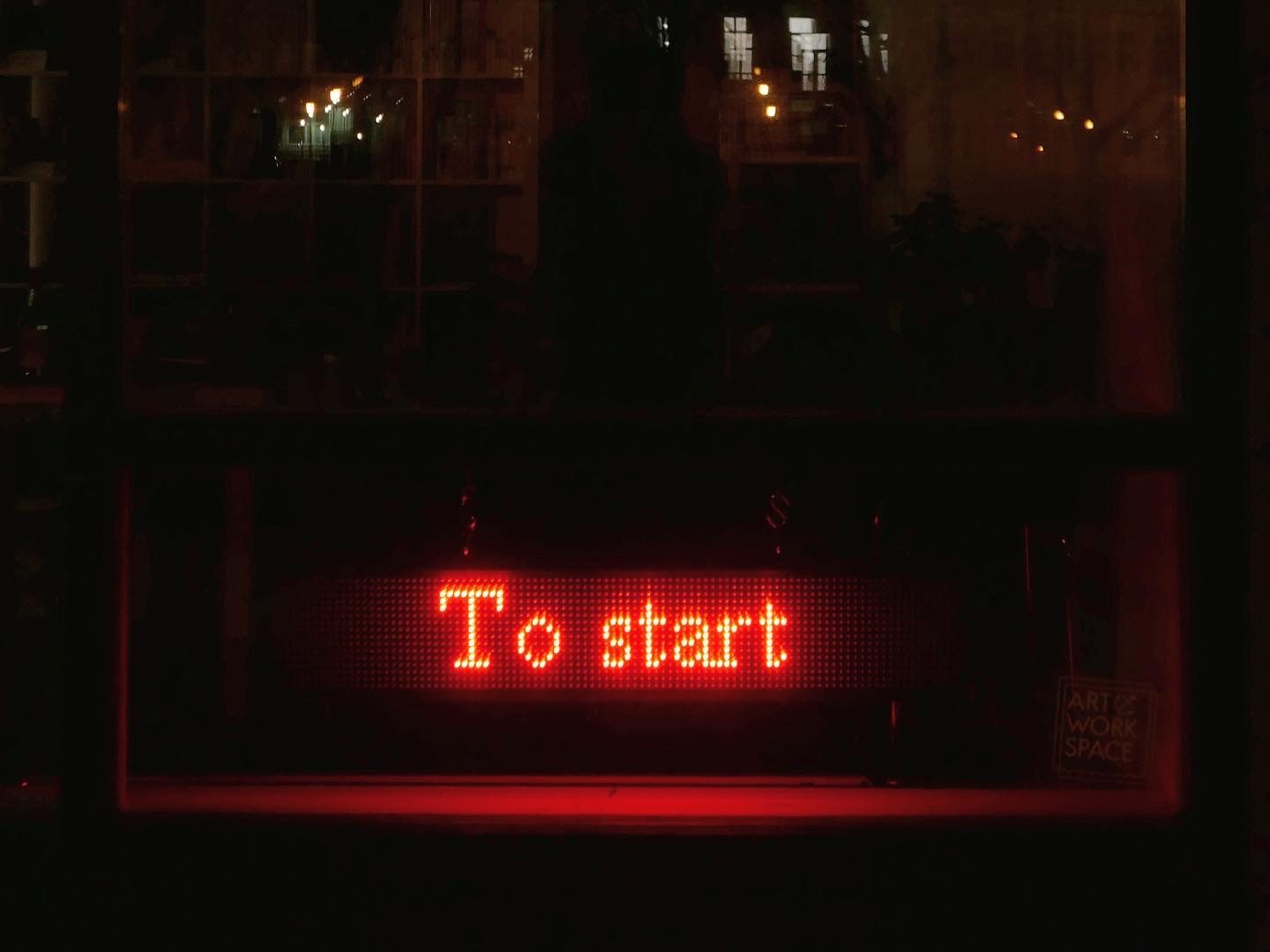 Jessie Bullivantin A Bad Sign on fragmentaarinen, episodinen, digitaalinen LED-tekstiteos, joka on tehty Titanikin toimistoikkunaan. Se julkaistaan näyttelyiden välillä vuonna 2021, alkaen pilottijaksosta 8. maaliskuuta 2021. Jokainen jakso on tarkkaan mietitty pituudeltaan, joka kestää enintään savukkeen polttamiseen kuluvat noin 5 minuuttia. Sen narratiivi jäljittää aikaa kulkien taiteilijan keräämien ja konfiguroimien muistojen, virstanpylväiden ja vuodenaikojen kautta. 
Kuraattori Katie Lenanton ja taiteilija Bogna Luiza Wisniewska tilasivat A Bad Signin osana pitkäkestoista näyttelyprojektia Weathering (2020–22). Seuraa projektia Instagramissa:  
@ something.is.weathering. 
 A Bad Sign toimii alkupalana Weatheringin loppunäyttelyyn Titanikissa joulukuussa. Siellä työryhmä etsii tapoja ratkaista ja jakaa miten he (ja joukko kuluneita teoksia) ovat yhdessä reagoineet tuntemattomiin asioihin ja muodonmuutoksiin. 
 
Työryhmä kiittää Taiteiden edistämiskeskusta ja Suomen Kulttuurirahastoa tuesta.
Kuva punaisena loistavasta "To start" -tekstistä pimeässä ikkunassa, jossa heijastuu valoja. Kuvaaja: Sonja Siikanen
---
A Bad Sign av Jessie Bullivant är ett fragmentariskt, episodiskt, digitalt LED-textverk för Titaniks kontorsfönster. Det går live mellan utställningar i 2021, och börjar med pilotavsnittet den 8 mars 2021. Varje avsnitt har en noggrant tänkt längd och tar inte mer än de ungefär fem minuter det tar att röka en cigarett. Dess berättelse spårar tiden som passerar genom minnen, milstolpar och säsongsmoment som samlats och konfigurerats av konstnären. 
A Bad Sign beställdes av kuratorn Katie Lenanton och konstnären Bogna Luiza Wisniewska som en del av det långvariga utställningsprojektet Weathering (2020–22). Följ projektet på instagram:
@ something.is.weathering. 
A Bad Sign fungerar som en aperitif till Weatherings avslutande utställning i Titanik i december. Där kommer arbetsgruppen att söka sätt att lösa och dela hur de (och en grupp vittrade konstverk) kollektivt har svarat på det okända och omvandlingar. 

Arbetsgruppen vill tacka Konstcentret och Finska kulturfonden för deras stöd.  
Ett foto av den i rött glödande texten "To start" i ett mörkt fönster med ljus som reflekteras av den. Foto: Sonja Siikanen
---
A Bad Sign by Jessie Bullivant is a fragmentary, episodic, digital LED text work made for Titanik's office window. It goes live in between exhibitions in 2021, beginning with the pilot episode on 8th March 2021. Each episode is a considerate length, lasting no more than the roughly 5 minutes it takes to smoke a cigarette. Its narrative traces time passing through memories, milestones, and seasonal moments collected and configured by the artist. 
A Bad Sign was commissioned by curator Katie Lenanton and artist Bogna Luiza Wisniewska as part of the durational exhibition project, Weathering (2020–22). Follow the project on instagram: @something.is.weathering. 

A Bad Sign acts as an aperitif to Weathering's concluding exhibition at Titanik in December. Here, the working group will seek ways to resolve and share how they (and a group of weathered artworks) have collectively responded to unknowns and transformations.  

The working group wishes to acknowledge and thank the Arts Promotion Centre and Finnish Cultural Foundation for their support.
A picture of a dark window with light reflections and the text "To start" glowing in red. Photo: Sonja Siikanen
---
Jaksot/ Avsnitt/ Episodes
Pilot: 8.–11.3. 
Episode 1: 5.–8.4. 
Episode 2: 3.–6.5.
Episode 3: 7.–10.6. 
Episode 4: 5.–8.7.
Episode 5: 2.–5.8.
Episode 6: 30.8.–2.9. 
Episode 7: 27.–30.9.
Episode 8: 4.–7.10.
Episode 9: 1.–4.11. 
Episode 10: 29.–30.11.
Episode 11: 5.–9.12.
Aiemmat jaksot ovat nähtävissä Instagramissa/ Tidigare avsnitt kan ses på Instagram/ Previous episodes can be accessed on Instagram: @something.is.weathering