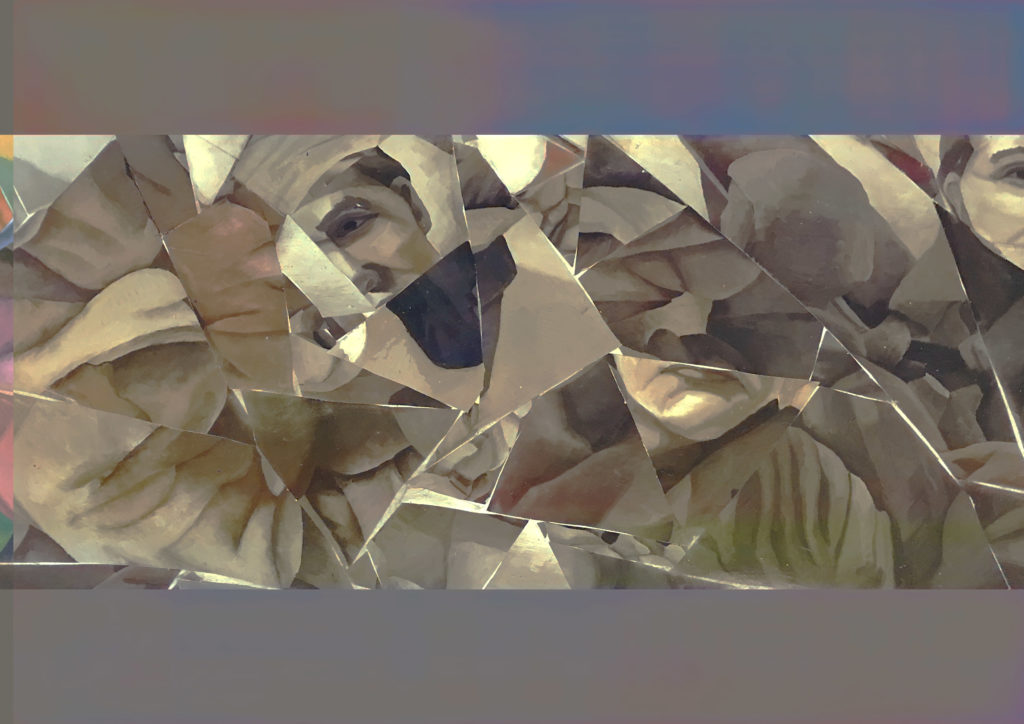 FIN
Loppusuora | 25.2.–20.3.2022  
Anu Tuomi  
Avajaiset torstaina 24.2.2022 klo 18–20  

Näyttelyni Loppusuora on lopun alku. Kuten moni ikäiseni kollega, joka on tilan puutteen vuoksi joutunut hävittämään varastonsa, olen minäkin aloittanut maalauksieni kuolinsiivouksen. Mietin miten pilkkoisin 70-luvun teoksiani, mihin jätteeseen öljymaalaukset cadmiumväreineen kuuluisivat, entä muoviset akryylimaalaukset – ongelmajätettä monella tavalla. Ahdistavalta kuulostavat leikkaussuunnitelmat osoittautuvat kuitenkin innostavaksi tavaksi luoda uusia teoksia, olenhan koko työskentelyni ajan hyödyntänyt ja kääntänyt pohjia uusille maalauksille kooten palapelimaisia kollaaseja. Näyttelyn teoksissa toistuvat yhä ajankohtaiset teemat kuten pakolaisvirrat, sodan vastustaminen, asunnottomuus sekä vanhojen rakennusten hävittäminen.  
Arte ja Titanik ovat taidekotini, en osaa ajatella muuta paikkaa, jossa voisin aloittaa työskentelyni loppusuoran. Olen pitkän linjan artelainen; ensimmäisen kerran teoksiani on ollut esillä Arten kesänäyttelyssä vuonna 1973.
Titanikin Loppusuora on ajallisesti osittain rinnakkainen Anu Tuomen Väristä retrospektiivi näyttelyn kanssa, joka on esillä Wäinö Aaltosen museossa 8.5. asti.
---
EN
Final Stretch | 25.2.–20.3.2022   
Anu Tuomi  
Opening: Thursday 24 February 2022 6–8 pm 

My exhibition Final Stretch is the beginning of the end. Like many colleagues of my age who have been forced to dispose of their stored works due to lack of space, I have begun to clear out my paintings. I wondered how I would chop up my works from the 1970s, where to put oil paintings with cadmium inks, and plastic acrylic paintings – hazardous waste in many ways. What sounded like a distressing plan to cut the paintings into pieces, turned out to be an inspiring way to create new works. After all, throughout my career I have rearranged the plain canvases for new paintings into jigsaw-like collages. The works in the exhibition continue to explore the still topical themes of refugees, resistance to war, homelessness, and the destruction of old buildings.  
Arte and Titanik are my art home, I couldn't think of another place where to start the final stretch of my working practice. I am a long-standing member of Arte; my works were first exhibited at the Arte summer exhibition in 1973.
Titanik's Final Stretch coincides with Anu Tuomi's retrospective Colour Vibrations at the Wäinö Aaltonen Museum, which is on show until 8 May.
The event is co-organised by WAM and Titanik.
---
SVE
Sista etappen | 25.2.–20.3.2022
Anu Tuomi
Vernissage torsdag 24.2.2022 kl. 18–20 

Min utställning Sista etappen är början på slutet. Liksom många av mina jämnåriga kollegor som på grund av utrymmesbrist tvingats göra sig av med sitt lager, har också jag börjat med döstädning bland mina målningar. Jag funderar på hur jag ska sortera mina verk från 70-talet, till vilken avfallskategori oljemålningar med cadmiumfärger hör, och hur det förhåller sig med de plastiga akrylmålningarna – problemavfall på många sätt. Utrensningsplanerna gav ångest men visade sig ändå vara ett inspirerande sätt att skapa nya verk, i mitt arbete har jag ju alltid vänt på bottnarna och använt dem för nya målningar som blivit pusselliknande collage. Verken i utställningen upprepar alltjämt aktuella teman som flyktingströmmar, krigsmotstånd, bostadslöshet och rivning av gamla byggnader. 
Arte och Titanik är mitt konsthem, kan inte föreställa mig någon annan plats där jag kunde inleda sista etappen av mitt arbete. Jag hör sedan länge till Artes stall; första gången mina verk ställdes ut var på Artes sommarutställning år 1973.
Sista etappen på Titanik sammanfaller tidsmässigt delvis med Anu Tuomis retrospektiva utställning Vibrerande färger som visas på Wäinö Aaltonens museum till den 8 maj.